Ugo Monye rejected a move to France in order to win back Test place
Ugo Monye has revealed that he turned down lucrative moves to France in an attempt to revive his England career.
Last Updated: 01/11/12 8:44am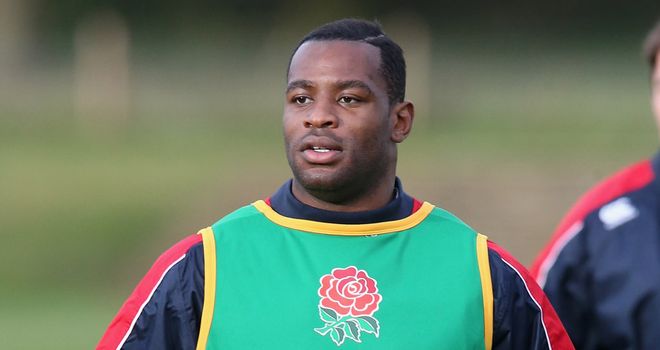 Monye has been recalled to England's senior squad for the QBE autumn internationals after a blistering start to the season and he is poised to feature against Fiji on November 10.
The Harlequins wing has been stuck on 13 caps since he suffered a neck injury at Murrayfield during England's desperate 15-15 draw with Scotland back in 2010.
In the intervening time, Monye has struggled with injuries which affected his form and confidence. But he never gave up on his England ambitions.
"It would have shown a real lack of ambition from me to go to France,'' Monye said. "I am an ambitious player. Thirteen caps. You want to achieve all you can achieve and I didn't feel as if I had done that.
"It was a huge decision whether to stay at Quins or go abroad. It affects everything. I thought if I was in France, watching the Harlequins boys win the Premiership on TV, I really would have been heartbroken.
"England was part of it too. If you go to France you put yourself out of the England picture. There are too many good players in the Premiership playing well in a tough league to put yourself out of the picture.
"I have given everything and sacrificed a lot to be in this position and I am desperate to play for England. I was excited driving up to this training camp. I was nervous before my fitness tests because I wanted to do well. This is a good place to be.
"I certainly wouldn't be here now with England if I had gone to France.''
Hunger
England backs coach Andy Farrell has seen a renewed vigour about Monye's game, a hunger to improve this season that had not been as evident in recent years.
"Sometimes when you lose a bit of confidence it can give the impression that your hunger has gone because you are trying to find your feet and get your basics back,'' Monye said.
"Fortunately for me I am playing with confidence now, scoring tries and Quins are flying high at the top of the Premiership. I have got a hunger.
"This is the time when I feel I have deserved England selection the most - even more then when I got my first cap.''
Monye toured with England in the summer and the environment he has found under Stuart Lancaster is poles apart from the one he experienced under Martin Johnson.
"The last time I was involved with England, we weren't going well as a team,'' he said.
"It was a poor game at Murrayfield. It was wet - as it normally is against Scotland - it was a draw and then I got knocked out on top of all that. You never want to be carried off the pitch.
"I guess that was my last memory of playing for England. It would be nice to get some better ones.
"Watching the development of the guys over the last year, and having been here in camp for the last couple of days, I am so excited because I feel I can really make an impact on the team.
"We have a confident squad with a lot of players who are playing well for their clubs and we have a really good team bond and a real understanding of where we want to go. That is so powerful.
"I'm probably more excited now than I was when I won my first cap. Once England is taken away from you, I think you appreciate it even more. If the opportunity comes I'll be buzzing.''