Mieres lauds Camacho coup
Ignacio Mieres has backed Gonzalo Camacho to be a real hit with Chiefs fans following his move from Harlequins.
Last Updated: 12/07/11 9:11am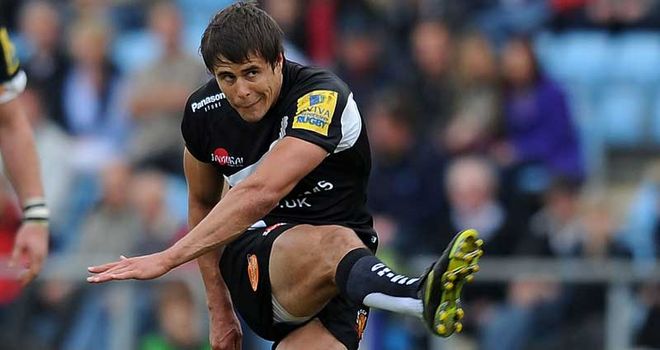 Exeter fly-half Ignacio Mieres has backed compatriot Gonzalo Camacho to be a real hit with Chiefs fans following his move from Aviva Premiership rivals Harlequins.
Argentina international Camacho agreed a two-year deal with Exeter last month and will join the South West outfit after the upcoming Rugby World Cup in New Zealand.
And Mieres, who grew up with versatile back Camacho in the Argentinean capital Buenos Aries, believes the 26-year-old to be a great acquisition for the club.
"I have known Gonzalo for a couple of years and he is a really good guy - I know him pretty well," Mieres said.
Quality
"It's really good now to have another Argentinean player in the squad, especially as he's a great player and a really good lad too.
"I have played with him before and also against him - and he is a quality player. He is fast and strong and he likes to tackle."
For Mieres, however, his aim right now is to pick up from where he left off last season and look to cement his spot as the club's first-choice No.10.
"All the boys are excited about the season ahead," he said.
"We know that the clubs in the division will look at us differently and we will have to play even better to beat them. But it is also a challenge we are all looking forward to - we will have to perform even better this season."
Mieres, 24, arrived at Sandy Park from French giants Stade Francais last October, meaning he missed the Chiefs' pre-season preparations for their debut season in rugby's top-flight.
Rob Baxter's side recorded a fine eighth-placed finish in the Premiership, with Mieres starting the last two games to help earn himself a new 12-month contract.
Tough
Despite missing last year's pre-season training, Mieres says he could not wait to start it this time after hearing about its intensity from his team-mates.
"I heard from the guys that last year's pre-season was really tough but very useful and an important reason for us having such a good season," he said.
"I was looking forward to it this year, and so I am really happy to be doing it and I think it is going really well.
"I had already been training hard during the off-season in Argentina because I was due to play with the Pumas. Unfortunately I couldn't play but I have still kept myself in very good shape all throughout the summer, so I feel really fit for the season ahead."