Chiefs switch for Chudley
Exeter have confirmed the signing of Will Chudley from Aviva Premiership rivals Newcastle Falcons.
Last Updated: 26/04/12 11:09am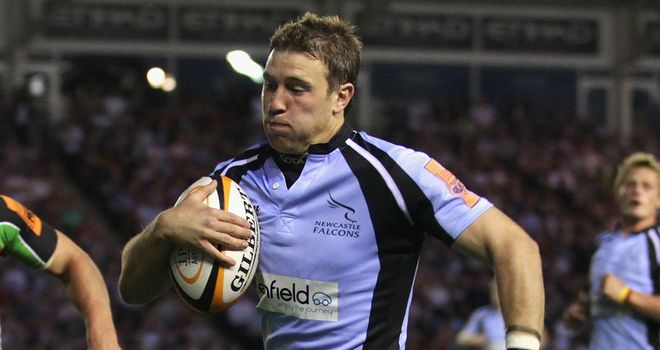 Exeter have confirmed the signing of Will Chudley from Aviva Premiership rivals Newcastle Falcons.
The 24-year-old scrum-half made 14 appearances for the Kingston Park club after joining from Bedford Blues last summer.
However he now joins Dean Mumm, Ian Whitten, Alex Brown and Jack Yeandle in signing for the ambitious Chiefs.
Chudley told the club's official site: "I'm over the moon to have signed on with the Chiefs. I've played against Exeter a few times in the past and I know what a great club and great set-up they have down there.
"Obviously the club have had a great year and next season promises to be even better for them, so it will be great to be part of it all. All the reports I've heard about the place have been very positive and you often here about the great work ethic they have within the squad.
"The good thing for me is that I know one or two of the boys already, like Myles Dorrian from my days at Bedford, so I am sure will help me settle in a lot quicker."
Potential
Exeter boss Rob Baxter is pleased to have finally agreed a deal with Chudley after monitoring his progress over the past few seasons.
Baxter said: "We were initially looking at him when he was doing very well in the Championship with Bedford and we've followed his progress ever since he moved to Newcastle.
"He's a player who likes to make breaks and play with a bit of tempo, so he's just the kind of player we like here. At the same time, though, we feel he can still develop even further and that he can push the current guys we have here at the club.
"Scrum-half is obviously a specialist position, a very important position in the side, and it's kind of the heartbeat of what we do as a club. We feel Will has the raw materials and the potential to do very well and a guy we feel we can really develop into something special.
"He has a lot of good attributes to his game; he's a good character and I know he will fit in well here. He's a humble, hard-working guy and I know Ricky Pellow is really looking forward to working with him. I've no doubt Ricky will really help develop his game and that he will add something to the group."