Attack strikes back
The Rugby Club panel hail the overthrowing of the defence coach in the Aviva Premiership.
Last Updated: 14/09/12 10:38am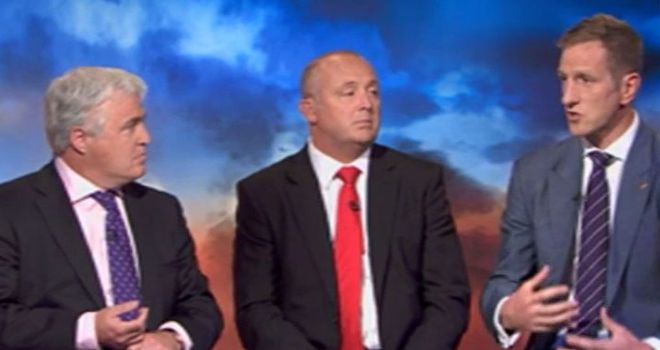 The Rugby Club panel hailed the quality of rugby in the Aviva Premiership this season and welcomed the overthrowing of the defence coach as the dominant voice in the dressing room.
The new season has begun with an explosion of attacking rugby. In the first two weeks of last season the Premiership teams scored a total of 126 points, 45 tries and picked up two bonus points. In the first two weeks of this season they have scored 226 points, 64 tries and landed eight bonus points.
Will Greenwood, Stuart Barnes and Dewi Morris believe the transformation is down to a shift emphasis at the clubs with the reign of the defence coach over for now.
"The defence coach was king and the attack coach has struck back," said Greenwood on the Rugby Club. "The defence coach is strangling and suffocating teams and now they are coming back with the attack coach in terms of the short sharp passes.
"The offloads and the number of tries in this first two weeks is all about the intent that we are talking about
"Everyone wants their hands on the ball at the moment and everyone is comfortable. It has taken five or six years for teams to adjust and to adapt.
"I still think Leicester are adjusting to it in terms of getting their forwards handling but other teams, like London Irish, are always looking to play and move the point of attack."
Inspired
Barnes, a former England and Bath fly-half, believes the style and success of the All Blacks at international level, and Leinster in the Heineken Cup, last season has forced Premiership clubs to rethink their game plans over the summer.
"I think it is a state of mind more than anything else," he said. "The fact that New Zealand are world champions and play such a positive brand, the fact that Leinster are the greatest Heineken Cup team we have seen and the big edge is their attacking game, I think the whole mystique of defence, defence, defence has been blown apart by successful attacking teams. God bless them."
Morris added: "I am all for it. It is the way forward. I would love to see the England top side adapt some of these skills that we are seeing in the Premiership."