Exeter head coach Rob Baxter takes the positives from heavy Heineken Cup defeat
Exeter head coach Rob Baxter remained upbeat despite a heavy defeat by Clermont Auvergne in the Heineken Cup
Last Updated: 20/10/12 9:58pm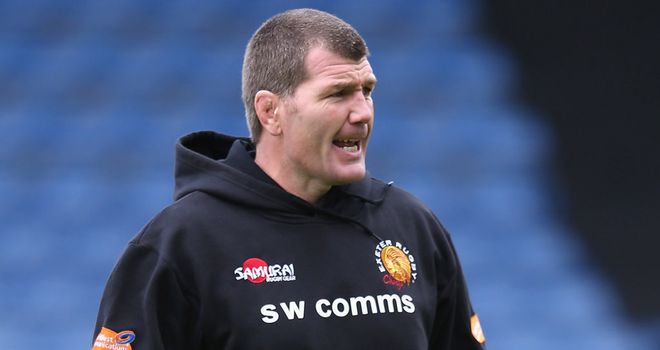 The Chiefs held a narrow half-time lead over last season's semi-finalists, only for the French outfit to score 36 unanswered second-half points to return to the top of Pool Five as the competition's newcomers wilted.
Baxter said: "At half-time I thought we were doing pretty well but I was also
sitting there thinking reality-wise are we going to rue missed try-scoring
opportunities from the first half and ultimately we did.
"I am not going to run away from the fact that lots of what we did in the game
was good.
"I had said to the players that we wanted them to brave and that we want them to play from everywhere, making it as much as possible with the ball in hand.
"We did that fantastically well for probably 50 of the 80 minutes but for half
an hour there was far too much coming in the other direction.
"They were more clinical than us, we went a little bit soft defensively and we paid the price. The Heineken Cup is a massive challenge for us but it is about challenging ourselves and we will be better for it.
"It is about experiencing things, learning to be a better side and learning of the teams we play against."
Clermont Auvergne head coach Vern Cotter added: "The idea was to get out there and score as many tries as we could and we got there.
"I think it is good for the players to come from a situation and turn the tables just because apply themselves and use their strengths. Hopefully it will give us the confidence for the rest of the competition."