Aviva Premiership: Exeter boss Rob Baxter delighted with convincing win
Exeter head coach Rob Baxter was quick to praise his side's bonus-point 47-16 victory over London Welsh.
Last Updated: 24/02/13 11:59am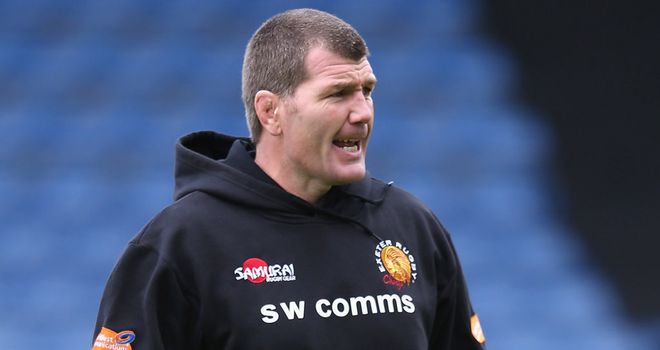 Five tries combined with 22 points from the boot of Gareth Steenson saw Exeter end a run of five top-flight games without a win.
"It freshens up the season for us and keeps things exciting. A point behind Bath and seven behind Northampton and there are still plenty of Premiership games left for us," said Baxter.
"It's nice now to be thinking about where we can go if we put together some good performances rather than worrying about what we might get caught up in. I think that might be playing on a few people's minds.
"There are still a lot of points on the table in front of us so this was an important win to get under our belts. We've had a couple of nervy performances recently and we were nervy again for the first quarter of the game.
"Ultimately once we got control of the breakdown, which was the one area we were struggling in for the first 20 minutes, and we could create some good phase play. We looked a good side.
"We looked more than a handful and in the end London Welsh couldn't really hang on to us. We were looking hungry in defence and it was a step up from where we've been for a couple of weeks.
"Something that we have been focusing on this week is making sure our defence becomes a weapon for our attack. London Welsh are a very competitive side and they don't often get beaten by quite large scores."
Unhappy
London Welsh head coach Lyn Jones was unhappy with his side's poor performance, defeat leaving them just three points above bottom side Sale with four of the Exiles' remaining six games away from home.
"I feel like to apologising to the crowd because they came along for a contest and we really didn't compete," said Jones.
"I don't know if Exeter were really that good or we were that bad, it may be a mixture of both. You can't take anything away from Exeter because they scored five very good tries.
"It was probably our worse performance of the season and everything that we did turned to dirt really. We scored one try and we had enough field position to possibly score more points.
"But we weren't good enough and the Exeter defence was tight and well-disciplined unlike ours. We have to go away and take a look at what we are doing to make sure that what we are doing is the right thing.
"There is still a long way to go and we have played well in the past couple of weeks. But it was just pretty poor today from us so we are not going to panic but today was a backward step."