Aviva Premiership: Paul Burke takes the positives after Leicester beat Exeter
Leicester attack coach Paul Burke took the positives after Sunday's 21-9 Aviva Premiership victory over Exeter.
Last Updated: 29/09/13 6:30pm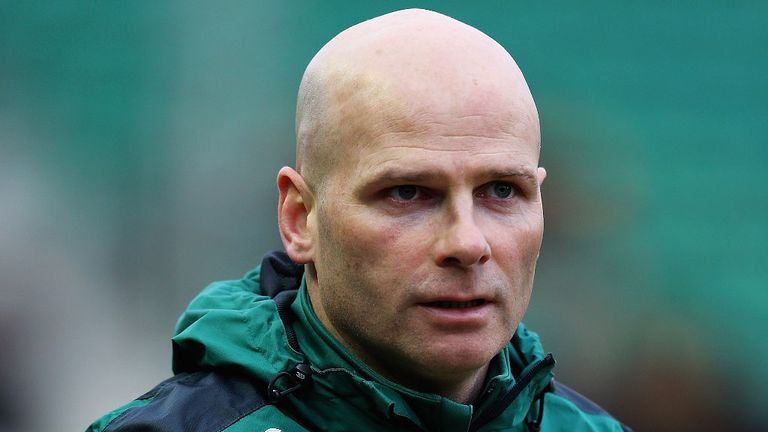 The triumph lifted the Tigers, who won by just three points at this venue in March, into the top three in the table.
Burke, who is in charge on matchdays while director of rugby Richard Cockerill serves his nine-game ban for unprofessional behaviour at last season's Premiership Final, was pleased with his players' display - particularly in the first half - and felt there were numerous positives to take ahead of next Saturday's clash with Northampton at Welford Road.
Burke said: "It was an outstanding effort from our players because Exeter really came at us in the second half. They threw everything at us and not to concede a try today at Sandy Park was good.
"We felt that if we tied Exeter up at the start, got momentum and quietened the crowd down, we would get a foothold in the game. You play in the right areas, get field position, keep hold of the ball and recycle, you will get your rewards.
"I was disappointed that we allowed them to get back into the game in the second half.
"The scrum was a real force today and we got a lot of rewards out of it."
Big games
The reigning champions will head into next weekend's game against Northampton at Welford Road level on points with second-placed Saints - the pair four points behind leaders Saracens.
"We have some big games coming up with Saints next week and then two Europeans," Burke said.
"We haven't really got going this season but there are positive signs in that we are grinding out wins and not putting in real performances."
He added: "It is a completely different ball game next week with Saints. They are playing very well and are playing with a lot of momentum and flair. There is no bigger game for us and to be tied at second in the table adds an extra bit of spice to the game.
"We know Northampton's threats. We have watched them play in the last couple of weeks and George North is key to them."
Baxter unhappy
Exeter head coach Baxter, meanwhile, was wounded at his side's horror show in the first period.
Baxter said: "That is as disappointing with our showing in the first half that I can ever remember in the Premiership. I don't mind the wins and the losses as such. You deal with those as they are going to happen.
"But you have always got to fire some shots and give yourself a chance. I said to the guys at half-time that, if I was a supporter watching that, I would think we were afraid.
"When I say that, I don't mean afraid of the physical contest, I mean afraid to put ourselves out there and go for it.
"We showed in the second half how effective that can be, even against Leicester. The fact is we are sat here now disappointed not to have scored two or three tries with the pressure we had on their line.
"We have won the second half 9-6 and made it a real contest, but we have got what we deserved because of our first-half showing. You can't run away from that and I have told the guys that, at this stage, if it does not feel nice and exciting to be playing someone like Leicester, then we have got something wrong."