Exeter prop Hoani Tui to join Lyon at end of season
Hoani Tui will leave Exeter at the end of the season after signing a two-year contract with French club Lyon.
Last Updated: 08/01/14 6:20pm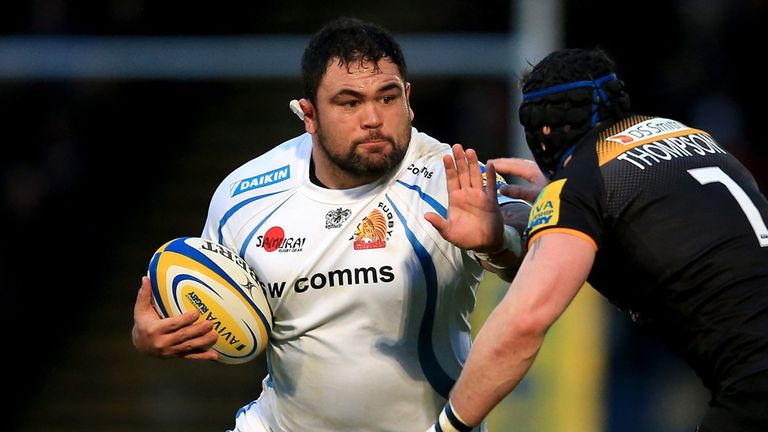 Chiefs head coach Rob Baxter confirmed that the prop has agreed to join the French second division leaders.
The 29-year-old joined Exeter from Italian side Calvisano in 2010 and has made over 100 first-team appearances, scoring six tries.
Baxter said: "It's like anything, he has been a great player for us over the years. He was one of those guys that came in during that first Championship year when we got promoted and he's only really known success since he has been here.
"I have no problem with a player moving on for positive reasons. Hoani is moving on - not because we don't want him to stay - but more that a very good French club is prepared to offer him a very good contract.
"He has been a great player for us, he's a good guy around the place and he's continued to perform very well for us even since we knew he was going to leave.
"For me it's not a negative when a very good player who has done so many good things for you gets offered a good contract elsewhere. It's nice that we want to keep him and that other clubs want him, I don't have a problem with that.
Great servant
"Hoani has been a great servant for the club and I've no doubt he will continue to be until the end of this season. After which we wish him all the best for the future."
Tui added: "Choosing to leave the Chiefs wasn't easy, it was probably one of the toughest decisions I've had to make.
"Obviously moving to France is going to be a new challenge for me, but it's one that I am looking forward to.
"Before then I have work to do here in Exeter and I want to make sure I leave the club on a high. Since I arrived it's been an amazing time, both on and off the field, and the club has come so far in such a short space of time."
"The group of lads we have here are pretty special and this club is certainly one of a kind. I don't think you could go anywhere in the world and find a squad that is as together as we are here.
"For sure I'll miss all of that, but I'll also have plenty of memories to look back on."