Heineken Cup Pool 2: Gregor Townsend reflects on victory over Exeter Chiefs
Glasgow head coach Gregor Townsend happy to keep his side's European hopes alive.
Last Updated: 11/01/14 6:43pm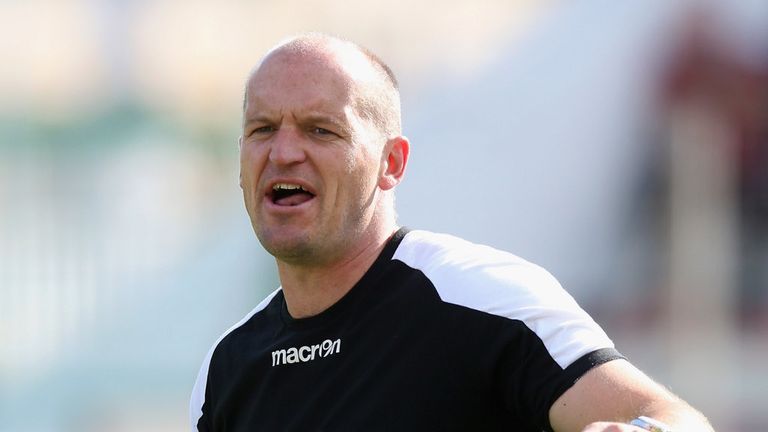 "We'll have a good look at the rest of the results from the other teams over the next day or two," said Townsend after the 15-10 win at Exeter.
"We knew that if were able to pick up a win here against Exeter, and other teams were to lose, then there could be a chance of getting into the Amlin if we were to pull off a win next week against Toulon.
"But it was great to get the win this afternoon. We didn't play well, especially in the second half, but we hung in there and defended well throughout the 80 minutes. To win in England was also great.
"There were many mistakes in the second half, we were a bit rusty at the beginning of the game which you could say was natural as we haven't played many games over the past few weeks.
"But we picked it up, we did a lot of good things in attack in the second quarter. Exeter played well in the first half but both teams in the second half never really got into their game and it wasn't a good spectacle with too many mistakes."
Townsend does not accept that there is any added pressure on his side next weekend when they host Toulon, who beat Cardiff Blues 43-20 at the Allianz Riviera to go through to the knockout stages of the Heineken Cup.
He added: "When you have Toulon coming and there is nothing to lose, and if we play like we did in the second half against them when the game was a wee bit away, that was some of our best rugby that we have played this year.
Difficult
"We know how difficult it is going to be because they will be coming to Glasgow looking for a win to get a home quarter-final tie. They have great depth and quality throughout their squad but we believe we can play better."
Exeter head coach Rod Baxter, whose side have slipped to the foot of the Pool Two table following defeat by Glasgow, admitted: "I don't think that there was a lot left in the Heineken Cup for us, other than an outside chance of getting through to the Amlin.
"We have looked at this group of two Heineken Cup and two LV=Cup games to make sure we are in a really good place for the next round of the Premiership. We put out a very strong team with quite a few changes from the Wasps game.
"If we had forced a try in that last passage of play, having made 10 changes and beaten a Glasgow team going full on, then we would be pretty pleased with ourselves. The positives are there for us and we have come up with a losing bonus point.
"Obviously you would like to force wins, but some of these guys lack game time and were probably blowing a bit after half an hour. But we have come through a very competitive game and finished pretty close.
"I told the team that we are not losing games in the final quarter but we are losing games because of lack of focus moments earlier in the game. We scored a good try, we're controlling the game, getting good tempo but we have a switch off moment.
"We are expecting the Cardiff match to be a helter-skelter game of rugby and if it is flat out for 80 minutes then fantastic and that will suit us. We go there looking to play and looking to score tries."