Aviva Premiership: Exeter Chiefs prepare in style for cup semi-final
Rob Hunter reckons the Chiefs' 18-0 victory over London Irish is the perfect springboard for the LV= Cup semi-final.
Last Updated: 01/03/14 8:41pm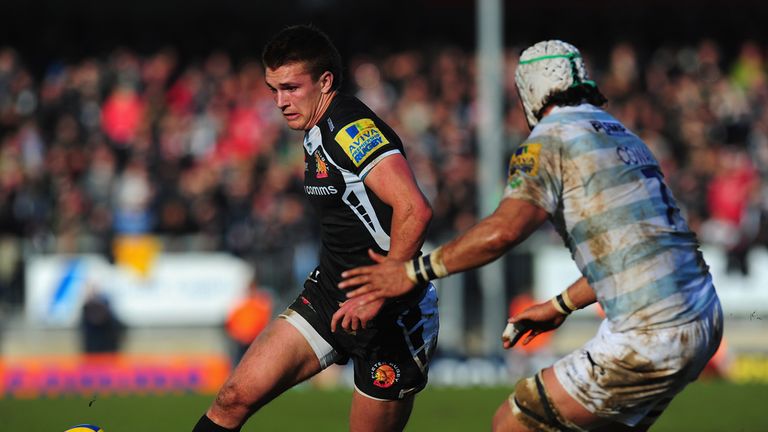 The Sandy Park game was the first time the Exiles have not scored in the Premiership this season.
Hunter said: "It was the perfect tonic although it wasn't the perfect game and we have stuff to work on.
"But to keep another Premiership side to zero is a pretty good achievement because it doesn't happen very often.
"It was a huge credit to the boys after all the work that they put in this week and transferring that to the pitch.
"Keeping your line intact, when you are under pressure - as we have been for the past few months - is a great achievement.
"What we have to get better at is dealing with pressure. There is an expectation that we are a young side that has a lot to learn - we are an evolving club - but we have performed quite well in the past few months but the odd mistake has undone us.
"If you hide behind those odd little things - whether it be mistakes or decisions not going your way - you miss the point. There are a lot of things that we can control and that is what we should focus on, then we get better as a team.
Pressure
"Don't worry about the pressure - we want that pressure - we want to be in the semi-finals next week and we want to be pushing hard to be in the top half of the league table."
He continued: "Our defensive discipline was good and that makes it difficult for the opposition.
"There is no doubt we want to beat Bath next weekend - there is every reason to beat them after the last couple of games - because there is a final here at Sandy Park up for grabs. It will be a massive game for us."
London Irish director of rugby Brian Smith commented: "We took a bit of gamble through the Amlin Challenge Cup and LV= Cup matches because we really wanted to make a dent in this block of four Premiership matches.
"We got a good start but I thought we may run out of juice with a small squad but it was really important that we hit those first two games with everything we had. We have come away with nine points out of these four matches.
"It is a sort of 'pass mark' but it is not what we wanted as we felt that we were a team capable of coming away with 15 points so we are disappointed.
"Take nothing away from Exeter, they outplayed us in the tackle area and managed the conditions very well.
"It was probably a game too far for us. I've asked the same boys to go in to battle for the last eight weeks essentially but in some areas of the squad we are wafer-thin at the moment."