Aviva Premiership: Richard Cockerill hopeful on Vereniki Goneva deal
Leicester boss Richard Cockerill remains hopeful of holding on to winger Vereniki Goneva despite interest from France.
Last Updated: 23/03/14 6:23pm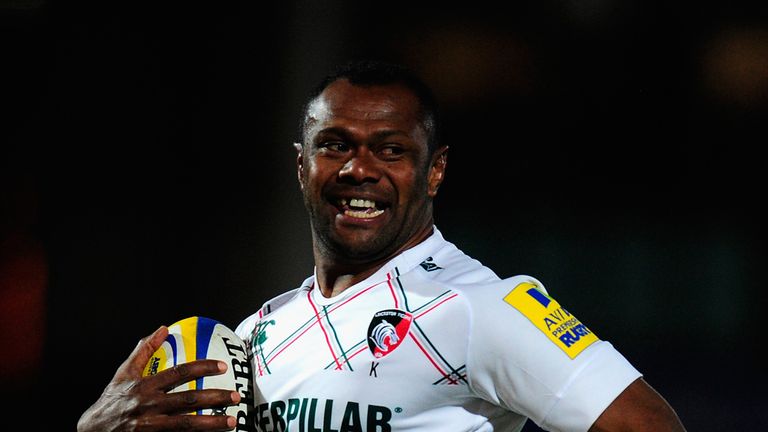 The Fijian, who scored a try in the 45-15 defeat of Exeter at Welford Road on Sunday, has been heavily linked with a move to Castres at the end of the season.
But Cockerill insists contract talks with the 29-year-old, who signed from Tarbes in 2012, are ongoing.
He said: "Niki is not under contract to anyone at this point for next season, but we are a long way down the line to sorting that out, so I am hopeful that will be the case.
"In the world of rugby never say never, so until it's signed I am as confident as I can be. But I am always slightly more pessimistic than optimistic.
"We have got a good environment here. Niki came from Tarbes and we gave him the opportunity. He was in the shop-window, we look after him and we pay him as well.
"We are not going to match the French financially, none of us in the Premiership can, but what we can offer him is good coaching and a good environment.
"You saw today, he is enjoying himself. He wants to be part of this team because he likes it. We are a big club, let's not forget that."
Cockerill added that the return of Tuilagi for his first home game since September after a chest muscle injury was a major boost to his team.
Right time
He said: "We caught Exeter at the right time. We thought if we got it right physically after the couple of weeks they have had, physically and emotionally, we could dominate the gain-line, and we did.
"That was probably as well as we have played ball in hand for a long time."
Leicester closed the gap on second placed Northampton, who they meet next week, to 10 points and Cockerill has not ruled out catching the Saints in the table.
"If we get over the line next week it makes it interesting," he said. "Two weeks ago I would have said the top two would have been the top two at the end. We will see."
Exeter boss Rob Baxter admitted the defeat had brought his side down to earth with a bump after their LV= Cup triumph last week.
"It was the cold bath we needed," he said. "That shocked us back to reality. We were just off and if you are a bit off against a good Leicester side you will pay the price.
"That's what happened. We got knocked out of our stride early on and it took us a while to recover. We did but we could not sustain it for long enough. I am hoping it was the shock we need."