Chris Whitehead of Exeter has been forced into retirement by a neck condition
Exeter hooker Chris Whitehead has been forced to quit rugby due to a degenerative neck problem.
Last Updated: 25/03/14 6:36pm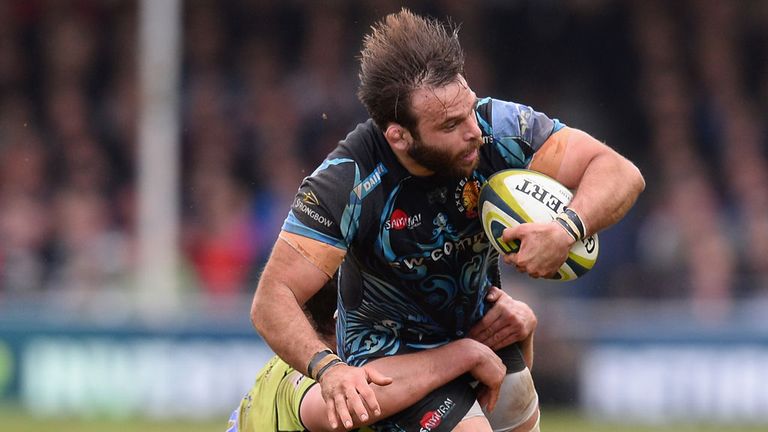 The 27-year-old front-rower will retire with immediate effect after taking advice from specialists about his condition.
Having joined Exeter from Wasps in 2010, Whitehead has gone on to make 76 appearances for the first-team and has scored a pair of tries.
And the second of those came in what has turned out to be his last appearance for the club, a 15-8 victory over Northampton in the LV= Cup final.
Whitehead told the Chiefs website: "Obviously, I'm incredibly disappointed to be told to stop playing.
"I've been struggling with my neck for a little while now, even though I had surgery done on it last year, and there comes a time when you have to put your health first and foremost.
"When top specialists are telling you stuff like they did with me, you have to listen to them, despite how much you love the sport and the club.
"I'm 27 years old, I'm playing in the top division and with a great club, so it's a huge kick to the stomach and not something I was really planning for.
"That said, I'm proud of my career and what I've achieved. I'm fortunate and honoured to be part of the Chiefs for the past four seasons.
"There is never a nice or an easy time to retire from the game.
"However, I know I'm bowing out on a high, having been part of the Exeter side who beat Bath for the first time in years and then obviously going on to beat Northampton and lift the club's first major silverware."
Baxter salutes Whitehead
Exeter head coach Rob Baxter added: "It wasn't something that was a complete shock because we've been aware he's had an on-going neck problem.
"It's very disappointing for Chrissy, that's the most important thing. He's a professional rugby player and he loves playing rugby and the hardest thing is on him.
"However, if there was ever a time to bow out playing for Exeter it is after we have won our first top-flight trophy. To be part of it as well, and play so well in the semi-final and final - he could easily have been man of the match in the final - is fantastic.
"His tackle stats in the final mirrored the game I analysed of him in the Championship that made me want to bring him to the club.
"In the final, he made 21 or 22 tackles and that shows the contribution he was making.
"He's been a really hard-working tough cookie and he's played a big part in how the club has fared in the Premiership."