Ryan Jones is confident Ospreys can reach the Heineken Cup quarter-finals
Ryan Jones believes the Ospreys hold realistic quarter-final ambitions despite a tough Heineken Cup pool draw.
Last Updated: 09/10/12 4:12pm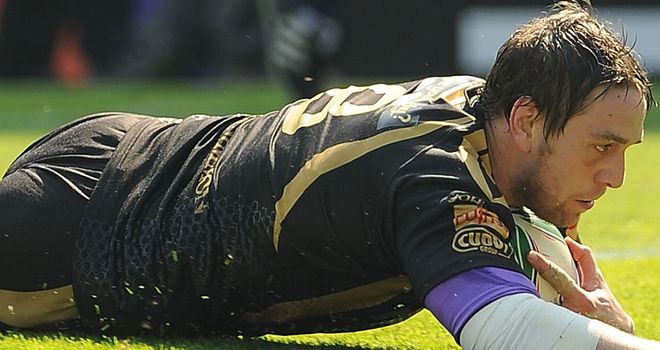 The Welsh side have been grouped with two heavyweights of the European game in Toulouse and Leicester, as well as Italian outfit Treviso.
Former Wales captain Jones has been part of three Six Nations Grand Slam-winning sides, four league titles with the Ospreys and an Anglo-Welsh Cup triumph, but previous Heineken Cup missions have either ended at the quarter-final stage or sooner.
But he believes the Ospreys can hold their own, saying: "We are really looking forward to this tournament and looking to lay a marker down. This is something I believe we are capable of.
"From the players' point of view, the expectation is still sky-high. We are highly competitive, and you always look forward to pitting yourself against the best teams in Europe.
"We have really got our work cut out, but I believe we are capable of doing it. It is about getting out there and getting it done. You will certainly know after the second round of games who is firing and who is not.
"You only realise where you are as a team when the final whistle goes. It's going to come down to key fixtures.
"We talked years ago about winning your home games, and then maybe getting a win away from home, and that would be sufficient to qualify for the quarter-finals.
"But it is not like that now. You have got to win them all now really, which when you are away to Toulouse and Leicester becomes a very, very tough challenge."
Treviso hopes
Treviso, though, are first up on Friday night and they will arrive at the Liberty Stadium after defeating the Ospreys this term and beating last season's Heineken Cup semi-finalists Edinburgh away from home on their last league outing.
"The benefit of this pool is that any one team is capable of beating another, so it's going to be extremely tight," Treviso boss Franco Smith said.
"It is undoubtedly another difficult pool for us, but once again we don't have that much to lose.
"We want to be the first Italian club in the history of the tournament to qualify for the knockout stages, and it is all about creating belief among the players.
"We've beaten some top sides at home and we've played some good rugby away from home, and now we have got to stop feeling sorry for ourselves.
"Italian players have caught up technically and physically over the past three years, and now we need to focus more on the mental aspect. We don't want to be dominated in any way this season.
"We will be striving more to play rugby on our terms, and we have to be defensively stronger. There is no way we will be giving away four tries in every game."