Mike Rayer names RFU Championship XV squad for Maori All Blacks clash
RFU Championship XV coach Mike Rayer has announced a strong 23-man squad for Saturday's clash with the Maori All Blacks.
Last Updated: 12/11/12 2:17pm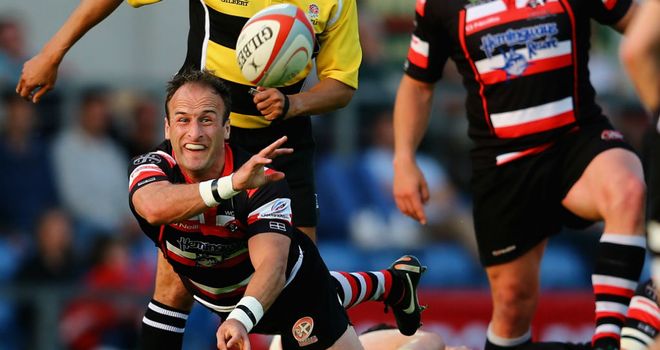 Rayer, who will be assisted by Ian Davies and Diccon Edwards, has included the likes of England Under-20s international Josh Bassett and Leeds Carnegie captain Jacob Rowan in the squad.
Free-scoring Rhys Crane, Cornish Pirates stalwart Gavin Cattle and Jersey skipper Nathan Hannay will also get their chance to shine in the match at Castle Park.
"There are some guys who have done really well in the RFU Championship and have been around this division for a number of years," said Rayer.
"It's important that you have that blend of more experienced guys guiding the young enthusiastic players around the pitch. That's exactly what I'm expecting of guys like Gavin Cattle, Nic Rouse and Alan Paver, who are very experienced at this level.
"There are some really exciting looking backs in the squad as well. I'm really excited by the potential centre partnership, and what we have out wide. It's a good mix."
RFU Championship XV - Backs: Luke Baldwin (Bedford Blues), Josh Bassett (Bedford Blues), Gavin Cattle (Cornish Pirates), Rhys Crane (Nottingham), Charlie Hayter (Moseley), Dante Mama (Doncaster Knights), Tristian Roberts (Bristol), Jake Sharp (Bedford Blues), Tim Streather (Nottingham), Jack Tovey (Bristol). Forwards: Dan Baines (Rotherham Titans), Phil Burgess (Cornish Pirates), Tom Davies (Doncaster Knights), Calum Green (Leeds Carnegie), Nathan Hannay (Jersey), Mark Irish (London Scottish), Richard Mayhew (Newcastle Falcons), Alan Paver (Cornish Pirates), Ben Pienaar (Moseley), Nic Rouse (Nottingham), Jacob Rowan (Leeds Carnegie), Oliver Tomaszczyk (Newcastle Falcons), Jon Vickers (Plymouth Albion)