RFU Championship: Dean Richards plans for life back in the Aviva Premiership
Dean Richards declared it 'job done' after seeing Newcastle Falcons seal promotion back to the Aviva Premiership.
Last Updated: 30/05/13 8:22am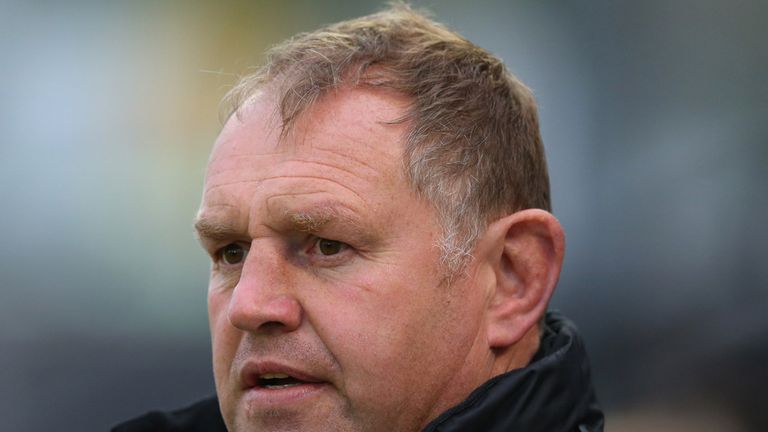 The Falcons, who were RFU Championship league leaders during the regular season, beat the Blues 18-9 in the first leg of the final and ran in two tries at home to seal a 49-33 aggregate win.
Newcastle director of rugby Richards, whose side overcame Leeds Carnegie 34-30 on aggregate in the semi-finals, is now planning for life back in the top flight.
"We've won, we've achieved our objective. I still think it's a pretty awful way to get promoted," he told Sky Sports, believing the present system "probably doesn't suit people with a little bit of ambition who are going to get up into the Premiership and staying there."
He added: "So in that respect job done tonight. I'm really pleased for the players, I think outstanding. They've acquitted themselves well throughout the year but let's start looking towards next year now.
"That's what we strive for (Premiership rugby). You want to play at the highest level and we'll get up there and hopefully stay up there and not just stay there but flourish. The world's your oyster once you get up there.
Bedford director of rugby Mike Rayer was delighted with his side despite the defeat, the Blues fifth against the Falcons this season.
"I'm massively proud. I mean we were going right at the end, beyond 80 minutes, and it just shows what the group have been about this year, incredible spirit," he said, believing the two tries Newcastle scored proved the difference in the second leg.
"We've just got to learn from experiences like this. We've got a few experienced boys and we've got a few changes coming next year but hopefully we will be competitive again and hopefully we'll be back in another final."