Premiership: London Welsh target up to 15 new signings ahead of Premiership retrurn
Last Updated: 05/06/14 9:29am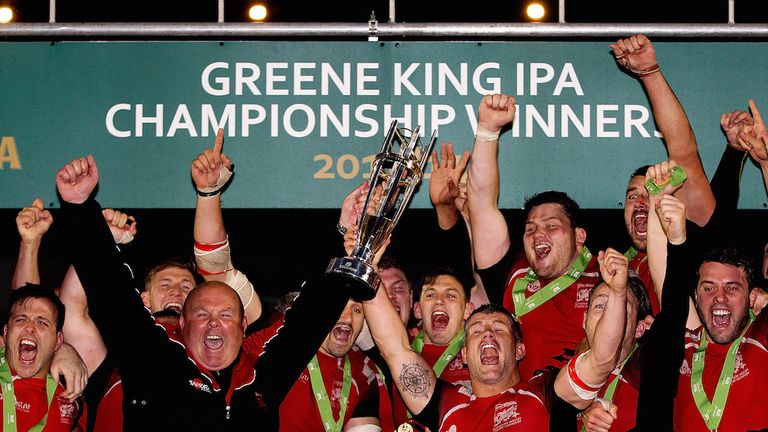 Justin Burnell insists London Welsh are not about "just signing superstars" as they prepare to build a squad for life back in the Aviva Premiership.
The Exiles' head coach estimates he needs to sign "another 12 to 15 players" after securing the Championship title with a 48-28 aggregate victory over Bristol.
Welsh took a 19-point advantage with them into Championship final second leg, and Bristol - despite being roared on by an 11,000 Memorial Stadium crowd - never seriously threatened to wipe out that deficit as Welsh prevailed 21-20.
"We have got 36 players on board, but we are going to have to sign another 12 to 15 players," head coach Burnell said.
"But I won't just sign people for the sake of it. I would rather move forward and work with the people we have got than do that.
"We are not about just signing superstars, as you have seen this year. We will have to scour the southern hemisphere, but it will be difficult.
"People who now come into our environment have to fit in to what we are about. It is about the London Welsh environment.
"We have done a certain amount of planning. We are not exactly in a position like Bristol, and it is going to be hard work again.
Fantastic
"I was hoping to have some time off after a tough season, but it's straight back to London for me and straight back into work on Monday. Everyone else will be dispersing on Friday morning, but not for me."
Bristol were not helped by fly-half Nicky Robinson missing three penalties and two conversions, with tries by wing Andy Short, number eight Mitch Eadie and substitute Adam Hughes - plus a Robinson penalty and a conversion from Adrian Jarvis - proving insufficient.
Exiles wing Seb Stegmann scored the second of two late tries that finished Bristol off, and fly-half Gordon Ross slotted 11 points through a drop-goal, two penalties and a conversion, securing a place back in the Premiership as replacements for relegated Worcester.
It represents a huge triumph for a club who dropped out of the top flight last term when they fell away following a points deduction for fielding an ineligible player, but now they can look forward to rubbing shoulder with clubs like Northampton, Saracens and Leicester once again.
"They (Bristol) are a good side, and I feel a bit for Andy Robinson," Burnell added.
"I don't think they took us for granted, but I think it showed today that you can have one philosophy, but if you don't kick the points it's disappointing.
"But they are a fantastic club, and no doubt they will be pushing for promotion next season, too. However, they will have another big-spending side (Worcester) to compete against."
Bristol, despite having signed a host of new players for next season - individuals like Ryan Jones, Dwayne Peel, Anthony Perenise and Matthew Morgan - will remain in the Championship, but move grounds from the Memorial Stadium to Ashton Gate next term.
"I thought our performance tonight was truly outstanding. It just shows the character of the side," Bristol rugby director Andy Robinson said.
Chasing
"Unfortunately, we were chasing too much (London Welsh won the first leg 27-8), and we still left a lot of points out there. We didn't take those opportunities, and we have got to look at that for next year.
"We moved the ball, we had a balance to the game. You saw the commitment the players put in on the back of a fantastic support.
"We weren't good enough in the first game, but today I thought our performance was outstanding.
"Sometimes it is about inches in this game, and we missed out on the inches today. In games like this, you have got to keep building the pressure, but we didn't keep building the pressure.
"We've played some very good rugby this season. I felt a lot of what we did today was very good and showed the potential this group has got.
"It is disappointing for everybody, but that is the nature of the qualification process. We have got to set our sights on our ability to beat Worcester."