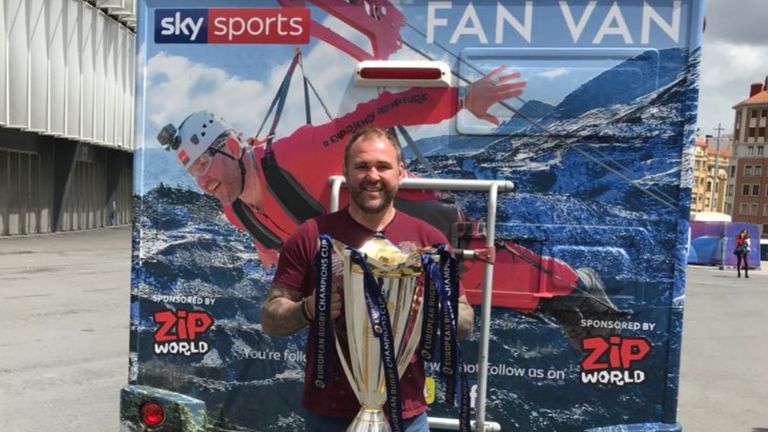 From boxing to Bilbao, Premier League Darts to Super League, the #FANVAN has experienced it all as it continues on its epic sporting odyssey across Europe.
#FANVAN Ep.1 - The journey begins!
Scott Quinnell got so excited he kitted up in something from all the sports he's visiting over the next month before tracking down a hibernating Bear in the caves of North Wales and hitting 120mph on a zipline to locate the van with its new wrap.
Bear and SQ then went whitewater rafting where they met Legs. Despite calling him out, Will Greenwood was nowhere to be seen but Scott's old mucker is sure to be popping into the van sooner rather than later as the team head for London next to watch Haye v Bellew 2 at the O2.
#FANVAN Ep. 2 - Bellew vs Haye 2
Johnny Nelson put SQ, aka 'The Welsh Wizard', through his paces and gave him a flavour of what to expect when it came to the big fight.
He then showed what he is made of and Eddie Hearn gave his verdict on Wales' 'next big thing' before an exceptional finish to the team's visit inside the O2.
#FANVAN Ep. 3 - Chelsea v Liverpool
The #FANVAN crew continue their epic journey around the UK and Europe with a trip to watch Scott's beloved Liverpool play Chelsea and then they headed west for Scott's first taste of netball.
While the result was not what he had hoped for, Scott had a memorable day at Chelsea as Alan Smith gave him a tour of the ground where they had a run-in with some sprinklers.
After the game, the team headed to Bath where Scott decided he would try and make some extra cash and use the #FANVAN as a tour bus with Tamsin Greenway as his co-host.
Tamsin also did her best to teach Scott some tricks on the court as he got to meet Commonwealth Games gold medallist Jodie Gibson.
#FANVAN Ep. 4 - Spanish Adventure
After the delights of Stamford Bridge and SQ's first taste of Vitality Superleague netball with Tamsin Greenway in Bath, the team (well, almost all of the team) hit the sea to make it to their next stop.
On their trip across the Bay of Biscay they carried some important cargo, the Champions Cup trophy, and thankfully arrived safely in Bilbao.
Some important guests visited the #FANVAN before the two European finals. Cardiff Blues prevailed in the Challenge Cup and Leinster were crowned Kings of European Rugby for a fourth time.
An overnight drive to Barcelona followed, with pit-lane access and getting up close to Fernando Alonso's F1 car being just some of the rewards.
#FANVAN Ep. 5 - French road trip
They decided it was time for a bit of R&R after a tough few days, so they headed to a campsite just outside the beautiful town of Saint-Emilion, famous for its wine.
The team took the opportunity to have some fun kayaking on the campsite lake and took a scenic bike trip around the local area, culminating in sampling some of the local fine wines, before making their way across the Channel ahead of Scottie 'too hottie' Quinnell's big night at the darts...
Click on the videos above to get up to speed with the team's adventures and don't forget to get in touch on social media using #FANVAN.
The Sky Sports #FANVAN is sponsored by Zip World - for more information click here.