Top 14 round-up
Toulon stormed to the summit of the Top 14 standings on Saturday after a bonus-point win at home to Bordeaux-Bègles.
Last Updated: 09/09/12 10:00am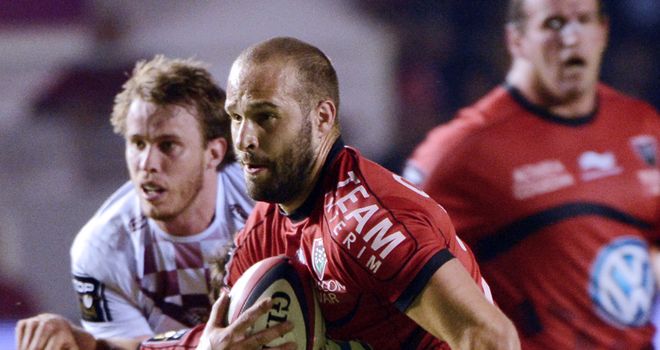 Toulon stormed to the summit of the Top 14 standings on Saturday after a bonus-point win over Bordeaux-Bègles on a day characterised by massive home wins.
Perpignan got their first win of the season at home to Bayonne on Saturday while Toulouse ran eight tries past Agen.
Stade Français needed a late try to scrape a draw at home to Castres while Grenoble smashed Mont-de-Marsan.
Earlier in the day, Biarritz continued their undefeated start to the season with victory over Montpellier.
USA Perpignan 18-13 Aviron Bayonnais
Stade Aime Giral, Perpignan
The relief was palpable on the Catalan coast as USAP , who led from start to finish, finally get a win under the belt.
The only five-pointer of the day came via the ref giving Bayonne a penalty try as the home scrum - decimated by injuries - buckled.
The visitors' indisciplined was punish by James Hook however, with his six penalties enough to secure the spoils.
Stade Toulousain 62-13 SU Agen
Stade Ernest Wallon, Toulouse
Les Toulousains finally hit their straps in an impressive display based around a dominant scrum and a masterclass of attacking play and goal-kicking from Luke McAlister.
Eight tries in total including two for Vincent Clerc and one for Mr Monster, Edwin Maka.
Toulouse climb into the leading trio while Agen are still searching for their first win of the season.
Stade Français Paris 20-20 Castres Olympique
Stade Charlety, Paris
Things are not right in Paris. Stade Français needed a 75th minute try from Geoffrey Doumayrou (after a pass from Sergio Parisse) to snatch a draw at home.
The hosts led 9-6 at half time but found themselves in trouble when Castres centre Romain Cabannes scored just before the hour mark.
Felipe Contepomi attempted a last-minuted drop to win it - after Paul Warwick was forced off injured - but the Argentine's effort was just wide.
FC Grenoble 52-7 Stade Montois
Stade Lesdiguières, Grenoble
Now with three wins from four starts, Grenoble provisionally climb to an unbelievable third in the standings after a festival of tries on home solid.
Mont-de-Marsan were struggling from kick-off and trailed 31-7 at the break. Three yellow cards and a red didn't help the visitors cause either as they found themselves down to 13 men on two occasions.
Still without a single point after four games, relegation beckons already for les Montois.
Rugby Club Toulonnais 42-12 Union Bordeaux-Bègles
Stade Felix Mayol, Toulon
Toulon are now one point clear at the top of the standings thanks to their fourth straight win which included five tries and a bonus point.
Jonny Wilkinson lasted just twenty minutes after taking a blow to the head but Fred Michalak came on to steer the ship and keep the scoreboard ticking.
The hosts only led 13-6 at the break but a yellow card on the stroke of half-time signalled the beginning of the end for UBB.
Four second-half tries for RCT, including a double for Maxime Mermoz, ensured a full house of points as Toulon made sure their fans were not disappointed with their first game on home soil.