NZ v ENG: Visitors kicked poorly, crumbled defensively, and were too gung-ho
By Stuart Barnes (Rugby Union Expert & Columnist)
Last Updated: 23/08/14 3:55pm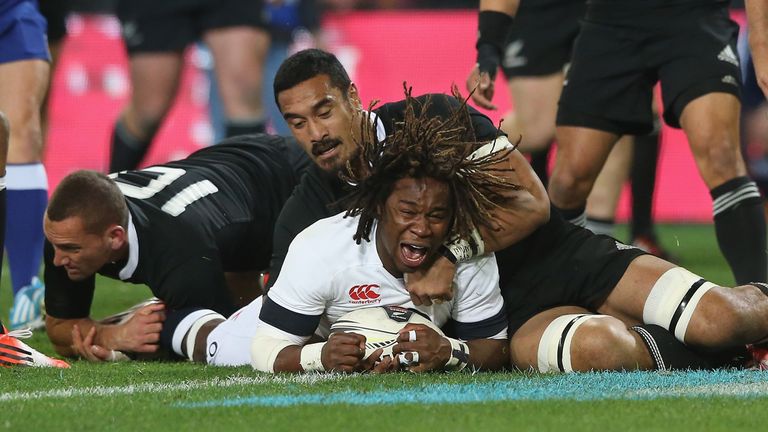 It's Sunday night in Christchurch as I sit here in my hotel room and England's Under 20 team has just thrashed Ireland and made it to the Under 20 final to defend the title they won last season.
It is some consolation after England's hopes of a second Test victory in Dunedin were dented by a combination of All Black brilliance in a thirty-minute burst in the second half and - alas - tactical ineptitude of the worst kind.
Excellent for the first ten minutes, England drove New Zealand, squeezed them, kicked a penalty and scored a try as Marland Yarde burst through the tackle of none other than Richie McCaw. The All Blacks, captain and all, were struggling against the direct power of the English game.
By half time England's lead had been cut to 10-6 but the writing might as well have been written in graffiti on the Dunedin roof that covered this superb pitch. The All Blacks looked more and more dangerous as the game got quicker and quicker.
England kept long instead of into touch. Yarde, in particular, kicked thoughtlessly to Ben Smith and the deadly All Blacks back three. The winger is inexperienced and will improve for the evening but England has to think, not just execute, a better kicking game.
The running lines were lacerating as England's much-vaunted defence crumbled against the quality of their opposition.
Stuart Barnes
What England's aimless and inaccurate long kicking was trying to achieve remains impossible to work out. England needed to be tighter as they got looser, they needed to slow New Zealand down as they offered them attacking opportunity, one after the other.
The floodgates burst as Julian Savea, Ben Smith, Ma'a Nonu and Conrad Smith provided some magnificent touches and performance. In particular, Ben Smith and Savea were superb with the full back doing for New Zealand what he does at his home ground for the Highlanders.
Walloped
England played as if they didn't know what was coming; the home crowd and those of you regular Super Rugby followers certainly did. The running lines were lacerating as England's much-vaunted defence crumbled against the quality of their opposition. For thirty minutes New Zealand were as good in Dunedin as they had been in Ellis Park against South Africa last year and that is very good.
There is no shame losing away from home to such a team but England should take scant consolation from the character and commitment that helped them finish with their heads held high. New Zealand walloped England for half an hour and England needed them to ease off to cut the differential on the scoreboard.
LIVE ON SKY SPORTS
NEW ZEALAND v ENGLAND
Third Test
8am, Sat, Sky Sports 1
Credit the visitors with bravery and courage and commitment but don't think for a minute that is enough. For those who believe these very English virtues can turn the tide it is worth pointing out that New Zealanders as a race are not exactly short of similar qualities. And therein is the problem. To beat New Zealand on a regular basis England has to find a way to close the gap in class.
That something' is not the blind madness of taking the All Blacks on at their own game; it is a tightened game and utilisation of the size and power.
The All Blacks and the press talked about England wanting to slow the game down in Auckland. At times it appeared England almost wanted to prove their critics wrong.
England will need tempo to beat New Zealand but it must be controlled and on their own terms. Saturday was a lapse into sporting insanity.
Masterly
This England team cannot match the New Zealanders for talent and basic skills. They must control the terms in Hamilton, which brings me back to semi-final win against Ireland.
A scrappy second half but a masterly first forty in which England drove hard and tight. Overpowered their opposition and played almost exclusively to their strengths. The senior team should watch the youngsters first forty minutes to see how a game should be managed and physical superiority translated into points.
Elsewhere it was a bad weekend for Wales as South Africa, inspired by Willie Le Roux, thrashed them. The match sent two clear messages - one, that South Africa is definitely the second best team in the world at present and two, that Wales, without a few key players, are a struggling side. Warren Gatland's team are going to need a clean bill of health come the World Cup.
Australia, the other giants in the so called 'Pool of Death' were not as impressive as the previous week in beating France 6-0. Australia will see the performance as a retrograde one despite the result.
France is a fading force under the erratic lead of Philippe Saint-Andre, so it was left to Ireland to restore European pride in Argentina in what was another grim Southern Hemisphere weekend for the Northern challenge.