Women's Rugby World Cup Team guide
We look at the contenders for the 2014 Women' World Cup which kicks of on Friday in France.
Last Updated: 31/07/14 6:49pm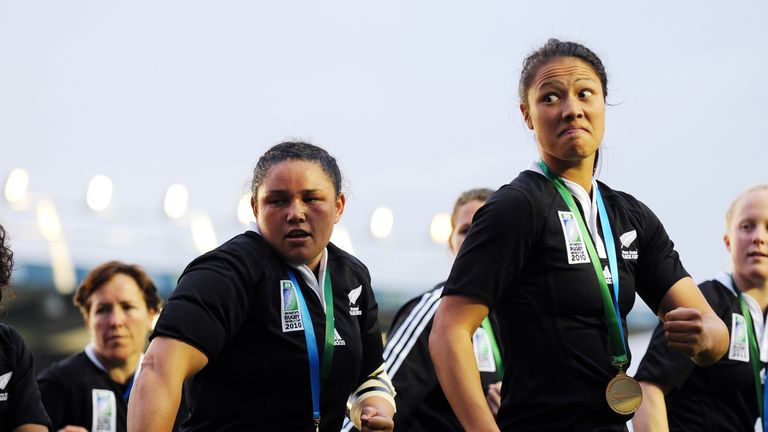 The Women's Rugby World Cup kicks off on Friday with New Zealand bidding for their fifth consecutive title.
However the likes of England, France and Canada will be hoping that they can break the Black Fern's impressive run as all eyes turn to France.
POOL A: England, Canada, Samoa, Spain
ENGLAND
England have made the most finals in the history of the competition – five in all but have only won once when they beat France in 1994. They have lost the last three finals to New Zealand but coach Gary Street has left no stone unturned for the 2014 competition. Sevens took precedent for a lot of their key players in 2013 and their 15-man game suffered – they lost a three test series in New Zealand 3-o and were runners up to France in the 2014 Six Nations.  However they possess a quality squad with plenty of experience and will be aiming to go one better than they di in the last three tournaments.
Key Players: Emily Scarratt, Maggie Alphonsi, Katy Mclean
CANADA
On paper Canada are England's strongest competitors for Pool A top honours. Expectations are high for the 2014 tournament after a disappointing sixth place in 2010 and they have had a good build-up by berating fierce rivals USA and showed promise in their two match loss to New Zealand in  June.
Key players: Kelly Russell, Mandy Marchak
SPAIN
Spain have a pretty young side and will be looking to Captain Ana Maria Aigneren for inspiration. This will be the 36-year-old's third World Cup  and they will be looking for damage control against England and Canada whilst looking for a win against Samoa.
Key player: Ana Maria Aigneren
SAMOA
Samoa have not had the best build-up to France as they were annihilated 90-12 by New Zealand recently. They will be targeting Spain for a win but could find themselves overpowered by the more experienced sides like England and Canada.
Key player: Bello Milo
POOL B: New Zealand, Ireland, USA Kazakhstan.
NEW ZEALAND
The Black Ferns are favourites to win their fifth consecutive World Cup. Worryingly for their rivals, they come into the 2014 tournament better prepared than they have ever been. As expected from a New Zealand rugby team, they play a highly skilled game at pace and possess a strong pack to launch an attack from anywhere.
Key players: Linda Itunu, Honey Hireme
IRELAND
Surprised everyone with their first Grand Slam Six Nations title in 2013 and have shown great improvement. May not have the strength in depth as some of the other contenders but if they can keep their first-choice players fit, they will be very completive.
Key players: Laura Guest, Ashleigh Baxter
USA
Always strong and competitive, many feel that it will be a tough tussle with Ireland to get out of this pool as runners-up. However the USA will be gunning for a shock win over the Black ferns too. Have plenty of pace to attack from deep.
Key players: Meya Bizer
KAZAKHSTAN
Known as the Nomads, rugby has a strong tradition in the  defence force where both male and females take part. Ranked No.1 in Asia, the Nomads have not had as much preparation as their rivals and could find the going tough in a very good pool.
Key player:  Svetlana Klyuchnikova
 POOL C: France, Wales, Australia, South Africa
FRANCE
The host nation is confident this time around having won a Grand Slam in the 2014 Six Nations. They have had a good warm-up – beating South Africa 46-8 in early July. The possess a very combative forward unit who can cause some damage.  They should top their pool and will be looking to break the England v New Zeland stranglehold on the final.
Key players: Christelle Leduff, Safi N'Diaye
WALES
Passion and tradition runs deep in Wales but they have a young squad that may not be ready for this tournament. They were disappointing in the Six Nations where they beat Scotland 25-0. They were well beaten by Ireland and narrowly lost to USA in their war-up games. They played and lost to both Australia and South Africa in the 2010 competition but will be hoping to turn that result around in at least one of their games.
Key player: Rachel Taylor
AUSTRALIA
Have lost to both New Zealand and Canada in their warm-up games and could find this tournament a bit heavy going. They have barely played the 15-man game since 2010 decising instead to concentrate on 7's. They have plenty of pace out in the backs with a plethora of Sevens stars on show but may lack the grunt to lay the platform for those backs to perform.
Key players: Sharni Williams, Tui Ormsby
SOUTH AFRICA
Coached by former Springbok prop Lawrence Sephaka, the boks are looking to have a real impact on the 2014 competition. They have a relatively young and inexperienced squad who could find the pace tough going.
Key player: Phumeza Gadu, Cindy Cant
Click here for our live coverage of the Women's Rugby World Cup