Marcos Ayerza fires warning to Wales debutant Aaron Jarvis
Argentina prop Marcos Ayerza is promising to make Wales rookie Aaron Jarvis' debut a baptism of fire.
Last Updated: 09/11/12 3:01pm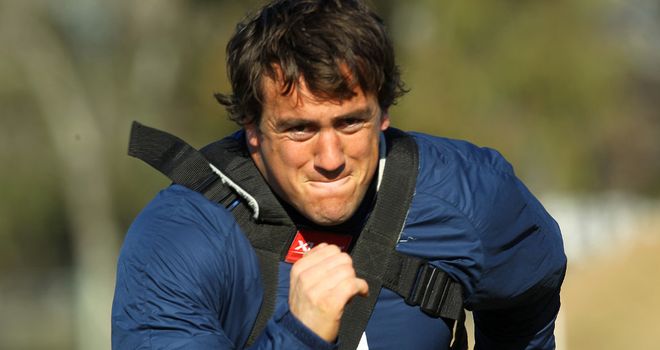 Ospreys tighthead Jarvis, 26, faces the challenge of trying to fill the boots of Adam Jones, widely regarded as one of the best props in the world.
He will up against one of the most feared packs in the game and he will go head-to-head with Leicester star Ayerza.
The two clashed just a month ago when the Tigers won their Heineken Cup match with the Ospreys 39-22 - but Jarvis impressed, winning a couple of penalties scrummaging against Ayerza.
Ayerza, 29, remembers them well and warned his rival he did not get to see the best of him that day.
He said: "I played against him in Leicester and I only had two opportunities to scrum against him, and on both occasions it was a reset scrum where we were penalised so we could not actually scrummage properly against him.
"So it is a massive challenge for me to properly scrummage against him. He is well regarded in Wales and the Ospreys and it will be a big test for me and the rest of the pack against the Wales forwards.
"Adam Jones will be massively missed for them, he has been the anchor man in their scrum for many years and is a big personality in the Wales squad.
"He has been doing really well, Wales will miss him a lot and they will want him to come back fit soon as he is a quality player and one of the best tightheads in the world.
"Hopefully we can take advantage. We know Jarvis will be up for the battle and the occasion because it is a massive game for him and we need to make sure he does not receive a good welcome to Test rugby.
"We pride ourselves on our scrum and we want to have dominance up front in every game we play. We respect the Welsh scrum but we are confident there will be a huge battle there and we are looking to have a dominance up front and get some momentum in the game."