Youngs - I'm back to my best
Ben Youngs says he is feeling "as sharp as ever" ahead of England's World Cup clash with Georgia on Sunday.
Last Updated: 14/09/11 3:02am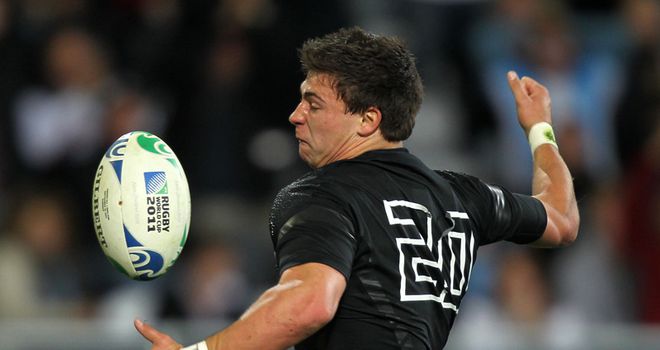 Ben Youngs says he is feeling "as sharp as ever" ahead of England's World Cup clash with Georgia on Sunday.
The scrum-half is bidding to regain his place in the starting XV after fully recovering from keyhole surgery on his knee at the end of June.
The 22-year-old missed all of the World Cup warm-up matches but made an instant impact on his return as he came off the bench to score the decisive try in England's 13-9 victory Argentina.
However, Youngs admits that when he first suffered the injury while wrestling with Leicester team-mate Toby Flood, he feared that he may have been ruled out of the tournament.
"When I first did it, it was a little bit worrying," Youngs said.
Target
"Luckily I have great guys who were there. As soon as I knew the target was to get fit to be here at the World Cup I knew I was good to go.
"I went through some pretty gruelling sessions but it's all for a good cause. I've been fit and ready to go for a couple of weeks now.
"I was chomping at the bit at the weekend and happy to get on. It was just nice to get back in the swing of things.
"I feel as sharp as ever. I feel really good. If I get to wrestle Floody again I'll certainly look to dominate him. I'll grab his ears and chuck him out the ring.
"The mental side is probably the hard part, being tackled for the first time after surgery, but as soon as you get that out the way you know you're good to go."
Youngs' match-winning contribution against the Pumas means he is in line to start his first Test since the defeat to Ireland at the end of the Six Nations when England face Georgia.
Painful
And he is eager to erase the painful memories of the defeat in Dublin, which denied England a first Grand Slam since 2003.
He added: "I've had my highs and I've had my lows but it makes you a better player and a stronger player.
"Obviously Ireland was a poor performance by me and a frustrating time. At the same time I learned so much from it.
"At the time you are absolutely devastated but you look back now and think it put me in a real good stead and made me address things that you thought you were all right at but need to work on a lot.
"I'll never be where I want to be as a player. Luckily in training I get to test myself against other very good scrum halves so your standards can never drop."