Rugby World Cup 2015: George Gregan offers an exclusive tournament preview
On his way into the Blues Mountains on the Rugby World Cup Trophy Tour, the IRB Hall of Famer caught up with Sky Sports to discuss potential winners, dangermen, Australian ambition and beers with Brian O'Driscoll…
By Ben Hampshire | @BH92
Last Updated: 19/06/14 4:59pm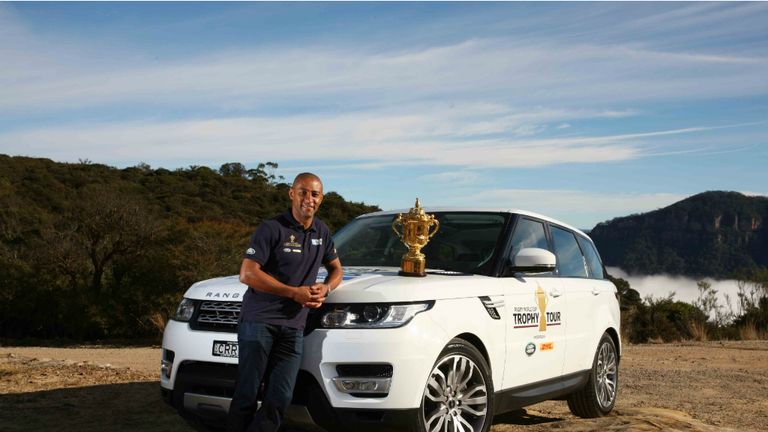 After a 139-cap international career with Australia, defined by relentless determination, tactical nous and quick wit, World Cup winning scrum-half turned Espresso connoisseur George Gregan continues to find unending joy from the terraces.
Gregan called time on his 15-year career, spanning both the amateur and professional game, in 2011 and is busy expanding the Gregan Group of espresso cafes and bars across Australia, but rugby remains a central love of his life.
The William Webb Ellis Trophy is currently touring Australia before it sets off for British shores ahead of next year's global showpiece event and Zambia-born Gregan is excited by the Wallabies' prospects in the eighth edition of the Rugby World Cup.
"I like our chances," admits Gregan as he negotiates the long and winding roads into the breath-taking Blue Mountains with Rugby World Cup Worldwide Partner Land Rover.
Brian O'Driscoll and Jonny Wilkinson have inspired a lot of players, in the southern hemisphere those players have been really looked up to for the way they went about their business on and off the field and that's one of the biggest compliments you can pay to them.
George Gregan
"A World Cup is a different tournament to anything else that is played, before and after it. You come down to those few weeks and have to make sure you're playing well, then at the back of the tournament you probably need two really strong performances to just get the job done.
"That's the challenge of a World Cup, it always comes down to the teams that can play that tight, grinding game and for me, in that scenario, you need a solid set piece game, your line-out and scrum needs to hold up.
"It doesn't necessarily come down to who has got the best attacking formation and structures, although that helps, it normally just comes down to dealing with that high-pressure moment."
Despite retiring from international rugby seven years ago, Gregan's passion for the Wallabies has never wavered and despite admitting there are some areas of concern 12 months out from the World Cup, their blend of youth and experience enthrals the 41-year-old.  
"Australia have got a bit of work to do, but I think in another year's time, playing in those conditions on the end-of-season tour is really going to help them," Gregan adds.
"I just like the average of this Wallaby team compared to the last World Cup, a lot of players have got a lot more Test match experience.
"It shows you probably need to have the disappointment of a World Cup to go to that next level of becoming champions.
"It's all ahead of them but there are a number of teams who will be looking towards it positively, New Zealand will be there, England are on their way there. I think it's going to be a very tight and exciting tournament."
Dangerous
Gregan has seized the opportunity to watch Australia's latest series against France, one which they lead 2-0 with a game to play, from the touchline and has been impressed by their ever-advancing nature.
"They really are dangerous from nine to 15," reflects the 1999 World Cup winner.
"They are providing such quality and I'm a big fan of Bernard Foley, I thought he played really well in that first Test match.
"If you provide players like Bernard and those outside him with quality ball as well as time and space, they are very tough to defend against and they will cause a lot of headaches for opposing teams.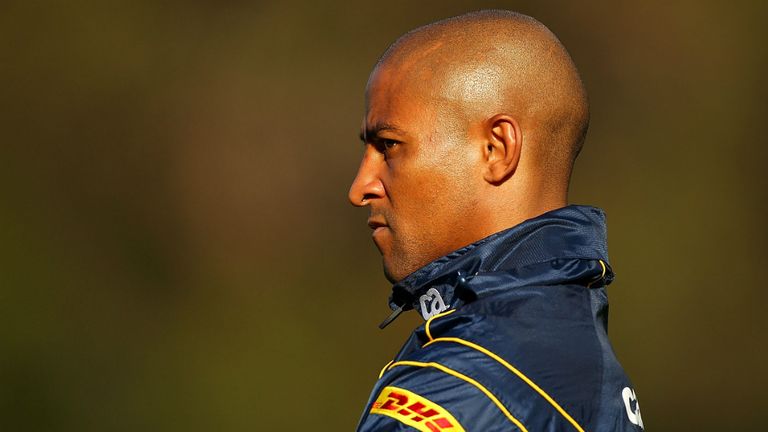 "Israel Folau is getting better and better with each game, he's a magician, especially when there's a kick-chase.
"They're world class and they're getting better and better and I understand you have to play with each other and it's all coming from quality ball presented by the Australian forward team from the set piece and around the breakdown."
With the Rugby World Cup final set to be staged at Twickenham on October 31 next year Gregan, who featured heavily in Australia's most recent World Cup triumph as they beat France 35-12 at Cardiff's Millennium Stadium, believes previous experience of such iconic venues can only help visiting nations.  
"When you play Twickenham you've got the grand stands, obviously playing against the host nation you'll hear the national anthems, you'll hear the atmosphere and I think it's really important to sample that," he claims.
"I was speaking to someone after they'd been to South Africa for the first time, playing against the Springboks at Newlands, and to have that kind of experience under your belt is a big step and it's not unfamiliar territory which is a real positive."
The elation of being on top of the world was replaced by the heartbreak of final defeat in 2003 for Australia and Gregan, who stood by as Jonny Wilkinson slotted the famous drop-goal which sealed World Cup glory for England, refuses to rule out the host nation.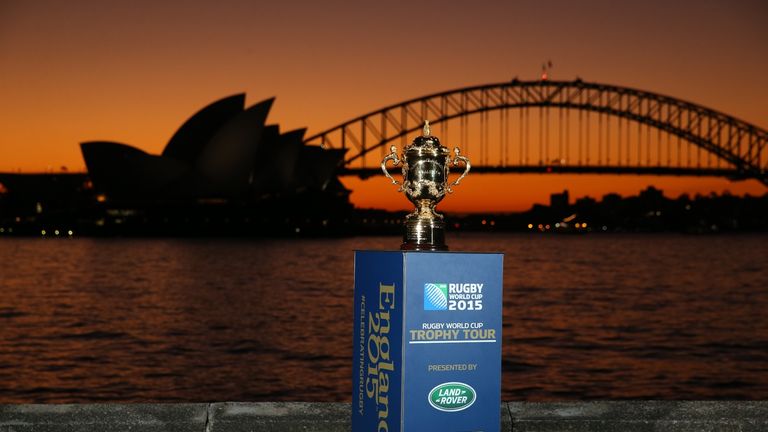 "I think they're definitely a side to watch out for," insists Gregan. "There's an enormous amount of energy that you get from being the host nation, a lot of support and a lot of build-up.
"If they show more of what they've shown on this tour of New Zealand then rightly so they'll be in the mix.
"France will be there or thereabouts too, they've played in three finals but not won, they need to find a team that can raise their game on the day because that's what a World Cup is all about.
"The English with a strong set piece, playing at home, will definitely be in the mix with Australia, South Africa and obviously New Zealand are looking to become the first team to defend their title."
As well as being impressed by recent performances from Australia and England, Gregan's head has been turned by the French midfield partnership of Wesley Fofana and Gael Fickou, who he believes will shine on the biggest stage of all.
"I've managed to catch up with some of the French players and I think Gael Fickou is an amazing centre," he adds.
"He's been centring up with Wesley Fofana and I like what I've seen, I think he's the sort of player that will just raise his game. There'll be no expectation or pressure on him, he'll just enjoy playing.
"I'm can't wait to see Israel Folau playing on the World Cup stage, I think he's just that sort of player; I call him the big-match changer.
"He plays at a really high level, the bigger the match, the better he plays. I think he'll just thrive in a World Cup environment."
Australia hold an unassailable 2-0 lead in their Test series against France having prevailed 50-23 in a seven-try thriller before claiming a 6-0 win in a dour affair last weekend and Gregan remains confident they will wrap up a series whitewash at the Allianz Stadium on Saturday.
"I think following the first Test France will have gone away to do a lot of work on their preparation; there were a lot of areas they needed to work on for the second Test," he says.
"The breakdown was one area and the tackle contests allowed the Wallabies to get good speed of ball and create more opportunities in attack.
Whitewash
"I think they can complete the whitewash. How they started that first Test match, they will look to do that again. Conversely, the French will look to set up a lot better than they did, particularly in the first Test match and look to get Australia chasing a game which hasn't happened in this series.
"It's all there to play for, it's going to be a dangerous match, really good conditions so I'm expecting a really entertaining but also a tight game too."
Although the Wallabies continue to be Gregan's central focus, the former Brumbies pivot has been engrossed by England's tour of New Zealand, which has seen Stuart Lancaster's side keep the All Blacks within six points over two Tests despite slipping to defeat in both.
"It's been a really enthralling series," admits Gregan. "I thought the All Blacks would have found their attacking rhythm and had a more significant victory but England deserve credit for the way they're playing.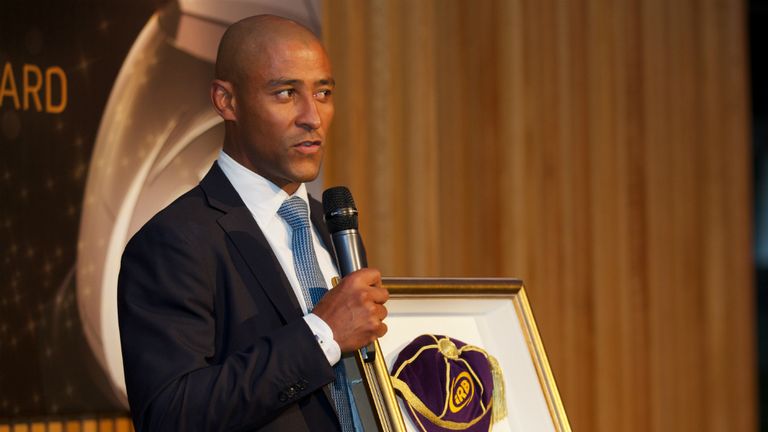 "If you'd have asked me two weeks ago I would have said England couldn't do it. But the way they've played I think it's going to be another Test match within seven points."
Prior to the 2014 Six Nations Championship, Gregan was the most-capped player in the history of international rugby and the former Wallaby half-back was quick to lavish praise on his successor, Ireland's Brian O'Driscoll.
On the home nations front it has been a season of poignant departures with O'Driscoll calling time on his career after 141 internationals, while Wilkinson bowed out by completing a European and domestic double with Toulon.
"They've inspired a lot of players, in the southern hemisphere those players have been really looked up to for the way they went about their business on and off the field and that's one of the biggest compliments you can pay to them," Gregan reflects.
"They'll enjoy a well-earned retirement where they can enjoy watching rugby and just being inside the arena, I think they'll enjoy that."
Come September 2015 when the World Cup gets underway, all former rivalry will be set aside and Gregan reveals he is excited to reacquaint with his former adversaries in much more relaxed circumstances.
"I'm really looking forward to catching up with Brian and obviously with Jonny, I've actually never had a beer with Jonny so that'll be interesting," he admits.
"I've heard he's into some red wine so I think I'll have to take him up on that and I know Brian likes a Guinness so I'm going to have to have a beer with him, that's a given.
"That's a part of retirement, when you're playing all you're thinking about is the next series, the next tour so it will nice to just catch up socially."
Land Rover is proud to be a Worldwide Partner of Rugby World Cup 2015 and a Presenting Partner of the Rugby World Cup Trophy Tour. Follow @LandRoverRugby on Twitter for exclusive video, imagery and insights from around the Rugby world.