Bowe feeling bullish
Tommy Bowe believes it's time for Ireland's "golden generation" to finally prove their worth on rugby's greatest stage.
Last Updated: 06/09/11 4:29pm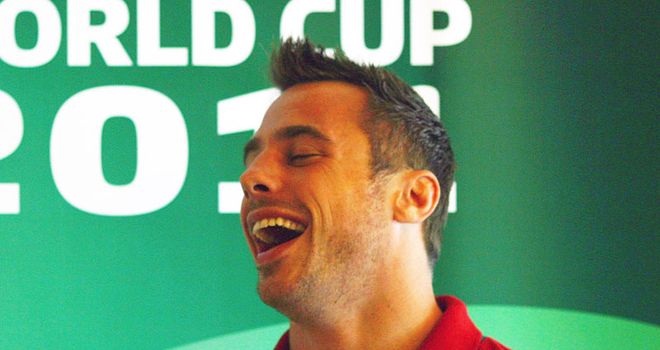 Tommy Bowe believes it's time for Ireland's "golden generation" to finally prove their worth on rugby's greatest stage.
The Irish have never progressed beyond the quarter-finals of a World Cup and even failed to reach that stage in 1999 and 2007.
In a pool containing Australia, Italy, the USA and Russia, they have a great chance of reaching the last eight in New Zealand.
And one big performance against either the Wallabies or South Africa - their likely quarter-final opponents - should send them into the last four.
Bowe feels that's a target well within Ireland's reach and said: "People have looked at us as bit of a golden generation. We've won a Grand Slam and countless Triple Crowns (four in six years).
"But within a successful Irish team, the World Cup is the one we really want to make an impact in.
"Ireland have had disappointing World Cups in the past. The players are extremely motivated about making this a special one."
Moving on
Ireland's form has been poor with the resounding victory over England in March the unchallenged highlight of the year.
Four successive defeats in the warm-up internationals have done little to silence doubts that the World Cup's oldest team - their average is 29 - may be in decline.
Bowe, however, insists all that will be forgotten if they produce a statement of intent in their opener against the USA in New Plymouth on Sunday.
"Losing those games last month will be in the back of our heads but once we get off to a good start against the USA, that will be behind us," he said.
"We want to go out there, put things right and move onto bigger and better things."
A challenging August, which saw injuries and results combine to darken the mood, has faded from memory since the team's arrival in spectacular Queenstown.
Selecting the adventure sports capital of New Zealand as the squad's base for the build-up week to the tournament has proved an inspired decision.
Bowe has revealed the players have been revitalised by their breathtaking surroundings, stressing that a content team is more likely to produce results.
"We've really been enjoying it here. It's a great spot. The training facilities are great," said the Ospreys winger.
"It's a great place to go for a coffee or a wander. The luge has been my favourite activity so far.
"There were almost a few broken bones and a few boys knocked out of the World Cup!
"It was a good crack, a bit of fun and a diversion. I wasn't great, I was trying to knock people off the road!
Team morale
"The social side of it has been brilliant. The social committee of myself, Isaac Boss and Rory Best have come up trumps.
"The boys are enjoying themselves and a happy team off the pitch leads to a happy team on the pitch.
"After the disappointment of last month, that's important."
Bowe, who was restricted to one appearance against England last month because of a foot problem, intends making the most of his time in New Zealand.
"I was the 31st man in 2007. It was a disappointing time for me and my rugby. It was a difficult tournament to watch," he said.
"Ireland didn't do very well. I was getting messages back from the boys that it wasn't a very happy camp.
"They weren't staying in a very nice place in France. They were having a tough time of it.
"In a way I was happy that I wasn't there, but I'm Irish and I wanted them to do well.
"I'm delighted to be here now. But I'm here to be part of a successful team, not just to make up the numbers.
"I don't want to be part of an Irish team that goes through the motions, I want to be successful."