Wales' wings clipped?
Wales may be on the brink of a Grand Slam but Dean Ryan has spotted some areas of concern
Last Updated: 13/03/12 12:04pm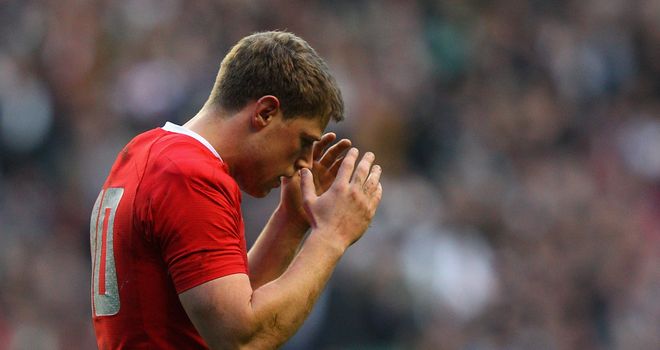 With Wales just one win away from their third Grand Slam in eight years now might not be the right time to point out any potential issues. But here goes.
I am a huge admirer of this Welsh side and the way that they go about trying to win games. Any team that has enough confidence to keep the ball in play both in attack and when kicking so they can defend infield, deserves credit for backing their structures against all comers.
Now any observations are not to question their chances of sealing the Grand Slam but in their development towards greater things. With the age profile of this current side it would be a travesty if this weekend's game was not just a stepping stone to bigger and better things.
The key point centres around how much they play off Rhys Priestland, the fly-half who has almost single-handedly changed the way that Wales play.
Since his introduction we no longer see the almost laborious march all the way around the corner to the 5m line of the Welsh forwards, something that was a hallmark of Wales with Stephen Jones or James Hook at the helm.
Now we see a fly-half who wants the ball in his hands as often as possible, keen to reach the outside spaces with his flat wide pass where the likes of George North and Alex Cuthbert lurk.
"What is wrong with that?" I hear you question. And on the evidence of a pulsating contest against Ireland where speed of ball and a fast pass from nine to ten was the order of the day, nothing.
But the one thing that has changed since I moved away from the coaching coalface is my appreciation of the need for variety within a team.
It is often so easy to exaggerate an area that your team is best at, pushing to challenge your players to strive for even higher standards at that one particular aspect so that no one else can compete.
But there will come a time when that particular tactic doesn't work and the need to change tack is required.
For the last two weekends now both England and Italy have defended in similar ways (albeit with the help of referee George Clancy last weekend). That is to say, very little contest at the breakdown with more numbers on their feet around the corner.
As long as you are able to withstand the first strike move - sometimes only by the finger-tip tap tackle on North by David Strettle - then your line is massed in front of the opposition nine and ten. Any amount of fast ball between Mike Phillips and Priestland shouldn't stress anybody on the outside because of the security of numbers on his inside.
Welsh tries in both games have come from opportune moments with Scott William stripping the ball off Courtney Lawes at Twickenham and both Jamie Roberts and Cuthbert scoring from broken field situations against Italy.
Think of a defensive line as a Concertina at full stretch across the field, there is very little space for anyone to find. This is where tactically you have to look for a different answer, to try and force the Concertina into closing up.
Tactics to achieve this can be a driving lineout or more importantly for Wales, who favour a more dynamic high tempo, is the forwards playing off nine with a clever mix of carrying outside Phillips and a quick pick and go game through the middle.
There is no doubting that the Welsh forwards are capable of this as their ten minute demonstration of ball control while Priestland was in the bin against England spoke volumes.
If Wales can get this mix right then opposition defenders will be forced to sit tighter, contest more at the ruck and Priestland might just get the ball with a bit of space in front.
Croft comes good
What a fantastic weekend for English supporters in Paris. A stunning win away at the Stade de France is special at any time but for this young group to experience this at such an early stage in their development is very encouraging.
Special mention has to go to the performance of Tom Croft, a man who has had his share of criticism since he set the bar so high on duty for the British and Irish Lions.
As a back-row forward who, along with Geoff Parling, took the lineout contest to the impressive French trio of Imanol Harinordoquy, Yoann Maestri and Julien Bonnaire and came out on top, it was great to see him seal an impressive performance with a trademark score.
In international rugby it is difficult to operate as one of the main lineout men and have a responsibility to appear in the wide-open spaces as a back-row forward. The catcher is often one of the last to leave the lineout and therefore any chance of him appearing in the early phases is minimal.
With Croft so important to England's lineout is almost impossible to relieve him of that duty to get him out quickly. Therefore he is totally dependent on England playing a multi-phase game with width to come back and find him in the outside spaces.
Therefore his try was a reminder of what a gifted player he is when given space and what England must keep doing to get the best out of him.
Admirable but misguided Scots
Finally, a look at Scotland and their Wooden Spoon decider against Italy.
I, like many others, admire what Scotland are attempting to do and with players of the ability of Richie Gray in their midst it is important that they continue. But it is also important that they respect just how difficult this game can be, as attempts to run the ball from all opportunities from deep may make for good TV but is unlikely to build a platform for victory.
Maybe a couple of steps backwards in order to take a step forward may just be the order of the day.
Predictions:
Italy v Scotland - home win
Wales v France - home win
England v Ireland - home win