Jonny Wilkinson praised after Heineken Cup heroics for Toulon
'Genius' Jonny Wilkinson deserves a Lions call after his Heineken Cup heroics for Toulon, says Dean Ryan.
Last Updated: 29/04/13 8:53pm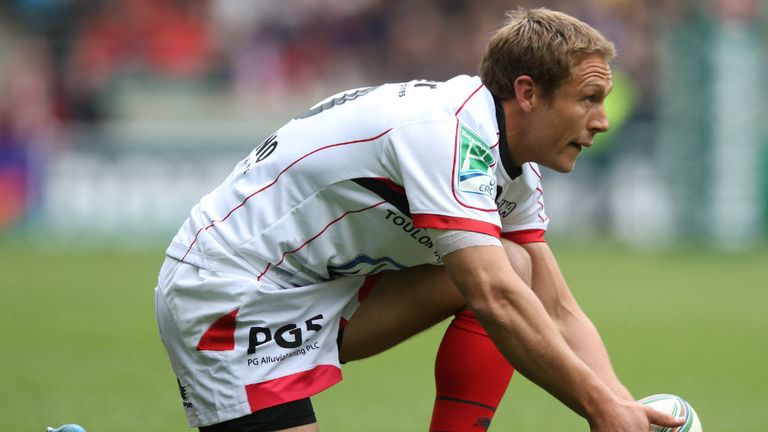 The number 10 scored all of his side's points in their 24-12 win to set up an all-French final with Clermont in Dublin on May 18.
And Ryan reckons the World Cup winner has boosted his chances of making Warren Gatland's Lions squad - which is named on Tuesday - with his his virtuoso performance, which was capped with a splendid drop goal at the death to seal the win.
"The game was two sides working very hard to try and find the winning margin - and Wilkinson was it. He was the margin for Toulon," said Ryan.
"The drop goal was of unbelievable quality - he had no right to get that at all, he had to drop to his left foot, there was pressure, he had to thread it through the middle and he still did it.
"In terms of Lions Tours, they are all about the here and now. If Gatland is looking for a kicking 10 then it is pretty hard to argue against taking him. He's the best right now.
"In both the quarter-final and semi-final he has defined the game."
Will Greenwood was equally impressed with the performance of his former England team-mate and said his display at Twickenham, as well as his fine quarter-final against Leicester, proved he has what it takes to compete at the top level - despite what Wilkinson tells the press.
"Jonny is always chasing perfection and after the game he just talked about working on things ahead of the next game - well, his kicking was perfection today," he said.
"That's a quarter-final and semi-final Toulon have played and we haven't seen a try but they march on, powerful, strong. Saracens just didn't have any answers.
"Jonny keeps stepping up and he keeps defying the critics. We keep saying the back lines he plays in don't score many tries - and they don't - but his back lines keep winning games. Toulon are in the final of the Heineken Cup and they're at the top of the Top 14."
And, as for the all-French final, Ryan reckons it will be a fascinating encounter.
"It's a contrast of styles that are going to meet in the final and Clermont are going to be true to their approach and go at them for the first 30 minutes," he said.
"Toulon are going to have to hang on to them. If they can, then it becomes an interesting contest."
Clermont 16-10 Munster
As for Clermont's semi-final win over Munster on Saturday, Greenwood said the French side just held on - despite a spirited effort from their opponents.
"What a fascinating game of rugby," he said.
"You like to watch athleticism, physicality and the one bit you can't see, in the mind - and Clermont were wobbling. They were on the ropes and just wanted the whistle to go.
"Munster fed off it, Ronan O'Gara produced an outstanding kicking performance to keep pinning them back and it was one of the great finishes. It felt like a test match.
"Clermont are an outstanding rugby side but to win and lift trophies it takes more than just being an outstanding rugby side."
Alan Quinlan also credited the battling attitude of both sides - and reckons the French outfit can lift the trophy in Dublin.
"Clermont showed a lot of character but Munster's character is unquestioned, the way they came back in a way we didn't expect after the first 20 minutes," he said.
"They were magnificent. They were working off slow ball, poor possession and they didn't get their maul going but it was all heart and when they got the try they had a real lift.
"But Clermont have the quality, now they have the mentality and I think they're ready to win the Heineken Cup."