Dean Ryan and Dewi Morris impressed with Leicester's win over Harlequins
Sky Sports experts hail Leicester's ruthless display as they reach the Aviva Premiership final.
Last Updated: 11/05/13 6:01pm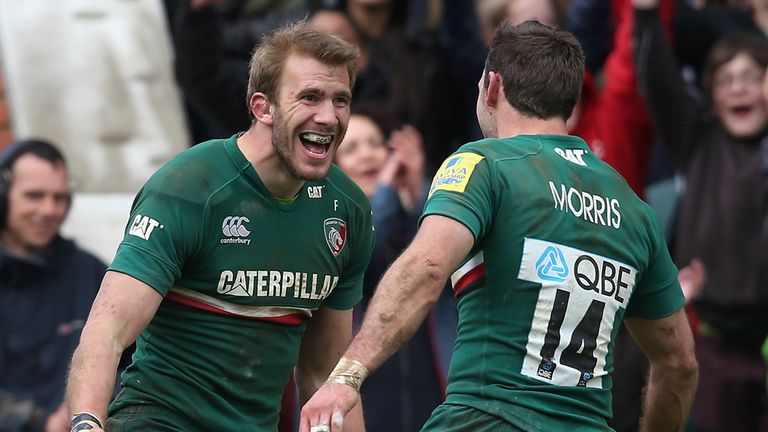 Harlequins led 9-6 approaching half time but Niki Goneva's converted try edge the Tigers ahead by the break. And in the second half Leicester ran in three tries with Niall Morris, Tom Croft and man of the match Mathew Tait all crossing.
Ross Chisholm scored late on for Quins but Leicester had done more than enough to secure their place in the Aviva Premiership final.
"If you came in and looked at the score having missed the game, you would think they out powered them," Ryan told Sky Sports. "With a bit of rain around you would think their scrum and driving lineout was key, but in reality the second half was about counter attack and turnover.
"They are things you wouldn't necessarily attribute to Leicester. They were much sharper. Quins handed ball back to them. Leicester saw the opportunities and found space on the edge. Ultimately they showed why they are in such good form because of their variety."
Fellow pundit Dewi Morris was similarly impressed with Leicester's attacking game in the second half, and picked out former England back Tait as a shining light in the Tigers attack.
"They did not take the conservative route in the second half," he said. "Toby Flood could have kicked the ball into the corners but he didn't. They carried on playing and that is why the scoreline is so big. This is a professional outfit that knows exactly how to turn it on.
"He [Tait] was pretty good in one of the World Cups but he has been injured. He does frustrate you at times, he does ridiculous things, he can drop high balls but when he is in the zone he is pretty good. He can see things. He is a confidence player and he has his confidence back."
Ryan believes Tait's prominence for Leicester in recent months is indicative of the strength in depth in the Tigers' squad and the culture within the club.
"This place just keeps going," he said. "No other club would be able to lose a Geordan Murphy but then suddenly Tait is man of the match. They do that so well. They have strength in depth and have a lot of quality coming through but they manage that group and move on seamlessly.
"They are clearly well coached and there are clearly high expectations around the environment where as soon as you come here you have to buy into that and they keep bringing people through."
Quins' failure to defend their Premiership crown, which they won against Leicester at Twickenhma last May, was ultimately down to making too many errors and their opponent's ability to offer a variety of threats, according to Will Greenwood.
He said: "There error count was just too high and at times they were just squeezed a bit physically. Their set piece went well in the first half and they were able to press but over the 80 minutes the collective power came through. They won't change. They want to play this fast, quick, loose way.
"They just have to add a bit in terms of the gainline now and then and they need to be able to just turn to like Leicester can do A, B or C."