Jonathan Davies: Lessons to be learnt from Clermont loss
Jonathan Davies says Scarlets can build on their first-half display against Clermont in the return.
By Jonathan Davies
Last Updated: 16/12/13 6:01pm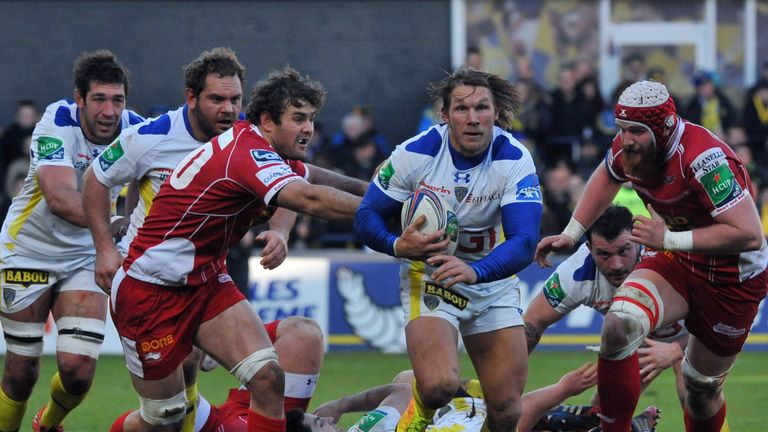 This week I have spent a lot of time doing some weights, on the bike and working hard on getting my full movement back.
I'm almost there and am feeling a lot more comfortable, but I thoroughly enjoyed the rugby last week as there were some great performances.
I thought the Scarlets did a good job in the first half against Clermont Auvergne where we really competed.
In the second half Clermont showed their power upfront and went for the pick-and-go mentality and tried to go through the middle. It worked pretty well for them.
We were disappointed that we let them get the bonus point, but we were pushing for one ourselves so it was a bit of a 'catch-22' situation.
Maybe concentrating on not letting them get the bonus point would have been better but I do think it was the right call going for it - every point counts in this pool.
We can definitely build on that first half performance though and I know all the lads are looking forward to hosting Clermont in the return fixture. This weekend we will have to front up again and make sure that we maintain the ball.
We let them have far too much possession last week and that really tells. We need to keep hold of it and make sure that when we do kick, we kick it smarter.
Gareth Maule will come back fit and should slot in for Saturday. I'm looking forward to seeing him back in action; he always seems to score a try in the Heineken Cup so if you fancy putting a bet on then he is not a bad shout!
Away
It will be interesting to see how Clermont go away from home.
It's a really difficult to explain why the French sides tend not perform on the road. It's in their nature I guess - even in the Top 14 the wins away from home are few and far between.
I am not too sure what to make of it - I really don't mind playing away at all. Sometimes the travel can affect you, you get stuck in an airport and delayed which does not improve your mood.
But, at the end of the day, you are paid to play rugby and you need to turn up and perform. I guess it's just a quirk of the French, but I think Clermont will come to play on Saturday.
There were some interesting results in Round Three and well done to Connacht for getting the Toulouse scalp. The other performance I enjoyed was Leinster at Northampton; I really could not believe how clinical Leinster were and they made all their chances count.
The way the Leinster team were carrying the ball was great; they just seemed far more powerful in the tackle area and were getting over the gain line each time. That is wonderful momentum to have and the backs really enjoyed working with that front-foot ball.
I also enjoyed Cardiff's performance on Friday night against Glasgow - it was really entertaining game and the high tempo game really suited the Blues.
They left a couple of tries out there, though - Cuthy (Alex Cuthbert) missed out on a couple of chances but it was a good result for them and backed their credentials up after victory against Toulon.
I'm building up for Christmas, I'm a bit of a last-minute panic buyer and I'm hopeful that my pec allows me to run through the shops and grab some stuff!
I won't have time to do any shopping on Saturday, though, as I'll be at Parc y Scarlets cheering on the lads and cannot wait. I think it is a sell-out crowd; the Scarlets fans are superb and will really give us an edge on Saturday.
Hopefully the boys can put in a performance that will make the fans proud.