Jonathan Davies is relishing the chance to silence England at Twickenham
Jonathan Davies is looking forward to returning to action as Wales prepare to quieten Twickenham.
By Jonathan Davies
Last Updated: 07/03/14 9:47am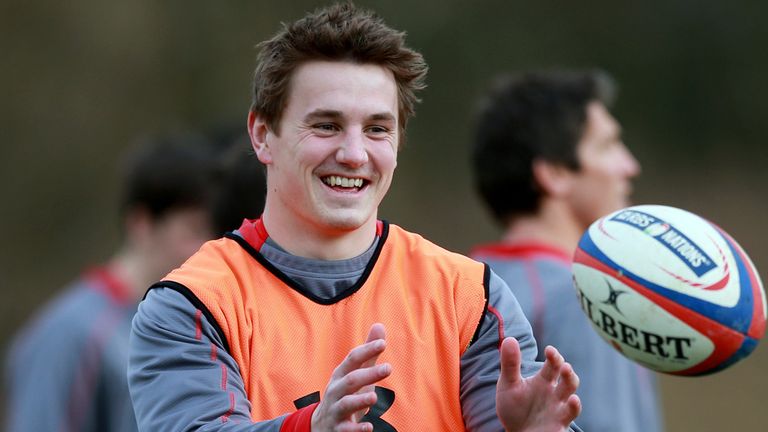 Playing for the Scarlets last weekend went very well and we got a great win over Munster, which really sets us up nicely for the rest of the season. The boys put in a massive performance and it was good to see my pec holding up to the contact.
This week has obviously been pretty busy as I step back into the Wales starting XV and make sure I am fully prepared for the challenge.
Preparations have gone very well; the boys are in good form and are confident after a brilliant performance against France, but we have to step it up this weekend because going to Twickenham will be tough.
It's a great atmosphere - we know the Twickenham crowd are going to be mainly booing us but the atmosphere will still be electric and that is the sort of atmosphere you want to play in front of.
There is nothing like the big-game feeling. We are not afraid of that and we are looking forward to taking it to England and taking the Twickenham factor out of the game.
There has always been a rivalry between Wales and England but it is a healthy one - I would not say it was a hatred at all. At the end of the day it is a big match and obviously we love to beat England.
I still remember that try that Scott Gibbs scored at Wembley and Jinks [Neil Jenkins] slotted the conversion - it is still strong in my memory.
I spent a lot of time with some of the England lads on the Lions tour and we got on really well - you also pick up certain traits that they have, like how one player defends, but our game-plan revolves around their team as a whole.
Preparation
We will have to take the sting out of England because they will be raring to go but we also cannot sit back and let them come to us.
We have to take our game to them, we will be looking to get off to a quick start and bring our big players into the game earlier on. We want the likes of Taulupe Faletau and George North touching the ball as much as we can.
We need to be accurate and keep hold of the game as much as we can and build something. Pressure on the opposition is the key. We are comfortable with what we need to do and we have worked really hard on that this week.
Getting the preparation right off the field is crucial and the work we have put in this week has really been of a high intensity and focus. You need to know your role and be comfortable with what you have to do.
It is going to be a tight game and preparation helps for those pressure moments when you need to put in a big kick, make a big tackle or a key decision.
You need to make sure that it is familiar to you on the training field and that you are not stepping out of your comfort zone when you run out for the actual game.
Warrior
It's great that Alun Wynn Jones is back, though I thought Jake Ball was outstanding against France and it shows the strength of the squad that he is pushing for a place.
Alun-Wyn has achieved a heck of a lot in the game and his reputation is formidable. He is a man mountain and to have him come back into the team always brings confidence to the 14 other guys around him.
I'm looking forward to teaming up with Jamie Roberts in the centre again on Sunday and it should be a good battle with Luther Burrell and Billy Twelvetrees.
In international terms you could say they are still in the early stages of their careers but Burrell has taken to Test rugby very well. He is a big physical lad and he runs really hard.
I know Billy from the Lions tour, too, and he is another distributor/playmaker type player but he can also be physical when he wants to be and I think they have played really well in the first three games
I am really happy to be back in the midfield with Jamie. We have played a few games together now and hopefully we will still have that form that we have had in previous years.
Jamie and I have made sure we are on the same page all this week - we are going to have to be because the result of Sunday's game is going to swing on the small margins.
One mistake, one moment of uncertainty could be the difference.