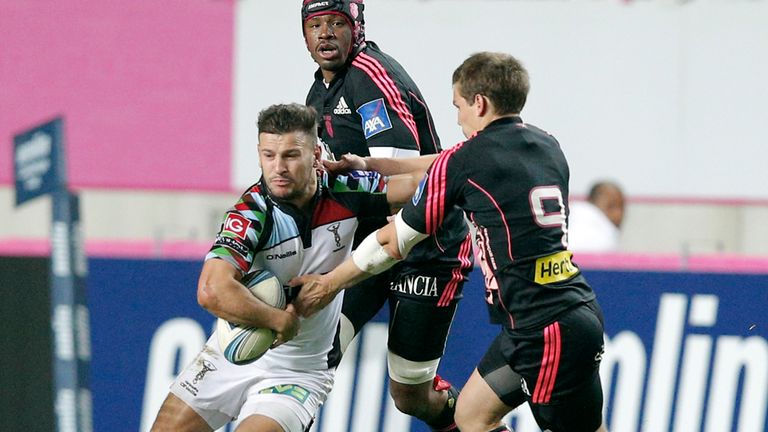 Harlequins director of rugby Conor O'Shea praised his team after they clinched a place in the Amlin Challenge Cup semi-finals with victory over Stade Francais.
O'Shea's side will face Aviva Premiership rivals Northampton at Franklin's Gardens later this month for a place at the May final, which will take place in Cardiff.
Harlequins, who won the Challenge Cup in 2001, 2004 and 2011, left Paris with a landslide victory but were made to work hard for their 29-6 win by a young Stade team.
O'Shea said: "This is the end of the season and it's when things are won and lost so we're delighted with this win.
"It was a hugely satisfying performance. It was an incredibly physical game and intense as expected.
"We know they (Stade) had players missing but they also had plenty of good players on the pitch and coming to France is always hard, especially here."
Mike Brown and Tim Molenaar scored second-half tries and Nick Evans kicked 14 points as Harlequins steadily eased out of the reach of Stade Francais at Stade Jean Bouin.
Morne Steyn kicked two from four as Stade paid for missing several early chances.
Physical
O'Shea said: "We were physical and precise and we played at a pace that finally told as we wore through the game.
"Now we have a great semi-final coming up. We've got the sniff of something and we will go for it.
"The semi-final is a long way off and it was nice just to get through a game without any injuries after so many blows. Hopefully we will see guys coming back soon.
"The lads were inspired by the supporters who came over. Perhaps we should play here more often.
"You could see reaction of Danny Care as he took to the pitch when he heard the roar and you could see he wanted to win this game for them."
Future
Meanwhile the long wait for a European title goes on for Stade Francais, who were beaten finalists last year.
Captain Laurent Sempere said: "It was a real arm-wrestle of a game and no one would have expected the scores to be so close at half-time.
"Harlequins may not have known many of our players before the game but I think when they left at half-time, they knew plenty.
"We are pleased with the way our young players performed. It was a huge step up for them to play in that intensity of game but they will learn so much from that and I am happy for the future of the club."