Rugby League
Select a team
Select a competition

Home team
Score
Away Team

St Helens

Meli, Dixon,
Goals: Foster,

10 - 22

Wigan

Gleeson (2), Goulding, Tomkins, Farrell,
Goals: Richards (2), Riddell,

First Utility Super League
Grand Final
2nd Oct 2010
KO 18:00
Att: 71,526
FT: St Helens 10 Wigan 22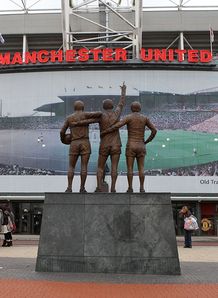 80 That's it, Wigan are deservedly Super League champions. Their 12-year wait is over. They blasted out of the blocks and won the Grand Final in those opening 20 minutes. Saints tried to rally but without half-backs Kyle Eastmond and Leon Pryce they lacked the cutting edge to get back into the game.
80 Flannery knocks on under pressure from Goulding. The Wigan players are starting their celebrations. One more set of six and a kick to touch will do it now.
79 Tomkins fails with a 40-20 attempt but even so St Helens have 80 metres to go. The scoreboard and clock are their enemies now.
78 A half-break from Smith but Wilkin's kick on the last is never going to result in a try-scoring opportunity.
77 Tomkins nearly breaks from halfway but is another to fall to an ankle-tap. He's probably done enough to be named man of the match though.
76 Wellens is felled by a ankle-tap when looking to race clear and the last-tackle play ends with Flannery's kick thundering out of play.
75 Saints need two converted tries to force golden point. Graham tries to release Wilkin but the Wigan defenders are wise to the move.
74 Foster's conversion attempt drifts wide. Wigan are in no rush to get us back under way.
74 TRY MELI - Smith provides the space for the winger to crash through Goulding and cross in the corner. Is there life in Saints yet?
74 Penalty for St Helens, it will be taken quickly.
73 Foster forces a drop-out after a clever kick on the last but Gidley's pass to the winger should have been ruled forward.
71 Foster hacks the ball out of play after Tomkins kicks on the last. Drop-out for Saints and they go short again. Hansen drops it and they have the ball back.
70 Tomkins blasts his kick high and wide of the posts. Awful effort from bang in front. Why on earth wasn't Deacon given it.
70 Wilkin is penalised and also shows dissent. The referee speaks to both the stand-off and captain Wellens but Tomkins is already shaping to kick for goal.
70 Thoughts turning towards man-of-the-match. Leuluai would just about get my vote but Sam Tomkins likely to collect the award.
69 Graham is again frustrated after being penalised for holding on. He needs to be careful as he is testing Richard Silverwood's patience.
68 Saints create an overlap for Foster but his kick inside for Gidley is gathered by Tomkins who is in the perfect position.
67 Smith does well to beat Gleeson to a clever Tomkins kick on the last.
66 Wigan opt to run a penalty when Saints were expecting them to kick for touch. Sam Tomkins steals 20 metres forward.
65 Graham looks to lose the ball on the last, the referee waves play on but Saints turn possession over on the next tackle.
65 Coley shows a neat turn of pace to chase down Wilkin who threatened to go the length of the field after charging down Leuluai's kick.
64 Clever work from Carmont and Joel Tomkins down the Wigan left centre. The play is soon back on the St Helens ten metres line.
64 Smith makes a half break on halfway but then it's Cunningham's turn to spill a simple pass. One or two heads are beginning to drop.
63 Tomkins turns Wellens around with a good kick down the middle. The chase is excellent too.
62 Mick Potter is left bemused in the stands as Smith spills a pass from Graham.
61 Good handling from St Helens and they win a penalty ten metres from the Wigan line. They still have time to get back into this game.
60 Saints have a lifeline. Flannery was obstructed by the try-scorer.
60 O'Loughlin somehow offloads in the tackle and Farrell is over. That must be the game. The video referee is checking for obstruction though.
59 Graham is livid as he feels the officials have missed a knock-on at the re-start. However his rant at the referee is rewarded only with a Wigan penalty.
58 PENALTY RIDDELL - He's trusted with this one and rewards the faith. Saints really need to score a converted try in the next five minutes.
58 Wigan now have a penalty in front of the sticks for a high shot on Feilden. Must he a shot at goal - Deacon perhaps?
57 Wigan kick to the corner, they've seen enough of Riddell's shots at goal.
56 Meli catches Tomkins high with a swinging arm. The fall is somewhat theatrical but there's no doubting the tackle was high.
55 Flannery takes the ball from Leuluai. Illegally. Penalty to Wigan and Cunningham is back on.
54 Riddell will probably shortly be relieved of kicking duties. Despite his arm pointing the way this effort is closer to the corner flag than the posts.
53 TRY SAM TOMKINS - And they take it. The full-back steps through one tackle and somehow his outstretched arm plonks the ball over the line.
53 Wigan have a chance here, six tackles from 30 metres out.
52 Hargreaves runs behind Wilkin when in possession of the ball and concedes a penalty on halfway.
52 Gidley is tackled by Garmont as he looks to release Foster.
51 No mistake from Wellens under Leuluai's high kick.
50 Wilkin spills a pass from Smith. Had he taken it he was over. That's two chances blown by St Helens. They can't afford to be so wasteful.
49 Better kick from Wilkin and Carmont can't handle it. The ball is knocked on and Saints have head and feed at a scrum ten metres from the Wigan line.
48 Signs of life at dummy-half from Roby. St Helens are still in this game.
47 Wellens is released by a clever offload but as he looks to but Meli over in the corner his pass sails into the arms of the only Wigan defender in view, Goulding. Tomkins did well at full-back for the Warriors.
46 Wonderful take from Wellens as Deacon kicks to the corner, where Richards would have been.
45 Riddell has a unique kicking style but it doesn't work this time. He slices his effort wide of the left-hand post.
45 No it isn't. They've opted to go for goal and stretch their lead to 12 points.
44 He's deemed to have stolen the ball. Wigan have six tackles on the St Helens line. The Super League title could be on the line.
44 The ball is short and then comes loose. Has Lomax stolen it? Is it a penalty or deemed to be a loose carry
44 Wigan are on the front-foot again at the start of the second and Leuluai looks to have gone over after a weaving run. Did he ground it properly? Over to the video referee.
43 Confirmation Richards won't be back. He's on crutches with an achilles' tendon problem.
43 Clever play on the last for Saint but Lomax can't exploit the overlap and is felled by Leuluai.
42 Foster collects a Leuluai crossfield kick on the last. He was under intense pressure too.
41 Better kick from Smith splits Tomkins and Goulding. The winger takes play to his 20.
41 We're back under way. Saints need to improve their kicking game and have first use of the ball this half.
Half-Time Wigan take the biggest interval lead into a Grand Final dressing room for nine years. A blistering start from them. St Helens got a foothold in the game in the second quarter but they need to improve their kicking game - and score next.
40 Wigan complete their set and kick on the last and Foster is trapped five metres from his own line. He wins a penalty for a high shot from Joel Tomkins. That's probably your lot for the first-half.
39 Another awful Smith kick on the last is straight to Tomkins at full-back.
38 Wigan are content to find touch on the last again. Gleeson the kicker this time, although he wasn't the intended recipient of Riddell's pass.
38 A better kick and chase from St Helens means Sam Tomkins can't clear his own ten metre line. Richards is limping heavily and has left the field.
37 Lovely break from Farrell and Wellens needs to make the tackle. The ball is switched to the right and Lomax is there to drop on a clever O'Loughlin grubber.
36 Smith's kicking game has been weak in the first 40. It's an area Saints need to improve.
35 Leuluai has been just about the most influential player out there so far but his latest kick is too strong and St Helens have a tap 20.
33 A couple of loose passes but Meli finds space down the right wing. However Tomkins is in the right place to collect Wilkin's kick. Meli is then penalised for using his knees on the stricken full-back.
32 Clever kick from Leuluai finds touch five metres from the Saints line.
31 A high kick from Smith lacks length. Graham then has a go but Richards takes his effort - despite the prop forward rushing towards him.
30 Dixon wriggles through a couple of tackles from the re-start.
28 CONVERSION FOSTER - It was a simple one. Now we have a game.
28 TRY DIXON - St Helens have a lifeline. Wilkin drifts towards centre-field and his perfectly timed pass sends Andrew Dixon over.
28 A welcome penalty for St Helens, Paleaaesina is on and guilty of holding down.
27 Wellens takes a clever kick and gets to his own ten metre line. Saints need some field position.
25 Tomkins produces a great tackle to halt Smith who looks to be heading over for Saints' first try. The ball is switched to the other wing and Meli is bundled into touch by the corner flag by Goulding. Good defence but better from St Helens.
24 Meli takes a swirling kick under great pressure and gains ten metres forward. At last the St Helens fans find their voice.
24 Roby tries a 40-20 from dummy-half but Richards is back and the ball is returned to within ten metres of halfway.
23 Huge Soliola hit on Hansen but again Wigan comfortably reach halfway and almost force a drop-out.
22 Another kick-off....straight to Leuluai.
20 CONVERSION RICHARDS - A fine angled effort. St Helens have not been at the races in the first quarter. Their fans are stunned and James Graham is laying down the law to his team-mates.
20 TRY GOULDING - Smart handling and the winger is over for his 29th try of the season in the corner.
20 Deacon kicks on the last, Wilkin spills it. Six more for Wigan.
19 A better kick from Smith finds the deck - and Wigan winger Goulding.
19 Richards beats Foster to another crossfield kick but Leuluai's subsequent grubber is too strong and St Helens can try to build from their own 20.
18 Wigan are determined not to get involved in an arm-wrestle up the middle. Their ball movement is exposing the Saints defence, especially in their left centre.
17 Another kick-off another simple take for Leuluai.
16 CONVERSION RICHARDS - The Man Of Steel makes no mistake from bang in front.
16 TRY GLEESON - His second and what a score. It's over 70 metres with Sam Tomkins making the break and a clever offload from Deacon sending the centre scampering behind the sticks.
15 Smith's kick on the last is very poor - it's straight to the welcoming chest of Richards.
15 This is the first time St Helens have been in Wigan's half with ball in hand.
14 A relieving penalty for Saints - O'Loughlin goes high on Wilkin. There'll be no rush to take this.
13 Another kick to Richards in the corner causes problems galore for Saints but Wigan can't create a scoring opportunity despite the efforts of the winger and Carmont. The centre really should have taken Smith on from five yards out.
12 Carmont is held up inches short by Smith. Now it's the last.
12 Another set of six for Wigan, Smith knocks on as he tries to collect Richards' knock-down from O'Loughlin's kick to the corner.
11 Sam Tomkins is hauled down five metres short by a desperate Gidley tackle.
10 Every time the Warriors have the ball they look dangerous but the latest sweeping move is ended by a Foster knock-on. Head and feed at the scrum for Wigan five metres from their opponents' line.
10 Wigan are now attacking inside the Saints 20 for a second time.
9 First penalty of the game. Saints are not square at marker.
9 Clever offload from Keiron Cunningham and Puletua takes play into the Wigan half. Smith kicks on the last but Sam Tomkins is under no pressure and taks it safely.
8 Wigan are making ground from dummy-half but again when boot is put to ball - this time from Gleeson - Wellens is in the right place for Saints.
7 Saints complete this set but Jon Wilkin's stab-kick forard is too strong and out of play. Tap 20 for the dominant Warriors.
6 High kick on the last from Sam Tomkins but Paul Wellens collects safely.
5 Leuluai collects the kick-off. Saints are not lining up as we were told beforehand, Soliola is in the centre.
4 Richards is wide with the conversion attempt. Saints need to settle.
4 Smart handling move from Wigan and Martin Gleeson looks to have crossed in the corner. It's over to video referee Ian Smith though. Shouldn't take long for him to hit the TRY button.
3 A mistake from Soliola and his loose pass is collected by Pat Richards. Wigan are 15 metres away from the line.
3 The Warriors have started brightly but Meli does well to collect a high Leuluai kick
2 Wigan's strong defence means Saints only reach their own 30 metre line before Mattie Smith kicks on the last. Sam Tomkins takes on the full and play is already back on halfway.
2 Foster collects but slips and Saints take possession ten metres from their own line.
1 Leuluai takes the swirling ball under great pressure. It's a composed start from Wigan who reach halfway before Leuluai boots boot to ball on the last.
1 We're under way via the right boot of James Foster.
Pre-Match A minute's silence in memory of Terry Newton is impeccably observed.
Pre-Match So have the two coaches got it right? Email me your thoughts to dave.ord@bskyb.com. Kick-off is at 1800 BST.
Pre-Match Wigan go into the game as slight favourites with Sky Bet giving away a two points start. They line-up as expected with Sam Tomkins at full-back and Paul Deacon and Thomas Leuliai at half-back.
Pre-Match Good evening and welcome to the 2010 engage Super League Grand Final. Mick Potter has tweaked the St Helens team with Matt Gidley and Francis Meli now the centre partnership and Johnny Lomax coming in on the wing.
The Wigan team: S. Tomkins, Goulding, Gleeson, Carmont, Richards, Deacon, Leuluai, Fielden, McIlorum, Coley, Hansen, J. Tomkins, S. O'Loughlin. Replacements: Prescott, Riddell, Paleaaesina, Farrell
The St Helens team: Wellens, Foster, Gidley, Meli, Lomax, Wilkin, Smith, Graham, Cunningham, Hargreaves, Soliola, Flannery, Puletua. Replacements: Roby, Clough, Dixon, Emmitt.
Sky Bet Odds:
Click Here for Your Free Bet
Features

Sam Burgess has been named on Bath's replacements bench for Friday's clash with Harlequins at the Recreation Ground and much is expected of the former rugby league star known as 'Slammin Sam'.

There's not many sports people that can teach a rugby league team how to be more physical, but the Warrington Wolves have found just the thing.

In the most competitive tournament since it was regularised in 2009, all four teams go into this weekend's final round-robin fixtures in the Four Nations Series with a chance of reaching the final in Wellington on Saturday week.

Read the thoughts and opinions of Stevo with skysports.com