Rugby League
Select a team
Select a competition

Home team
Score
Away Team

Huddersfield

Robinson (4), Grix (2), Ferres, Lunt (2), Kopczak, Cudjoe (2), Murphy,
Goals: Brough (12),

76 - 18

Hull

Briscoe (2), Shaul,
Goals: Tickle (3),

First Utility Super League
Preliminary Semi-Final
19th Sep 2013
KO 20:00
Att: 5,547
Giants v Hull FC live!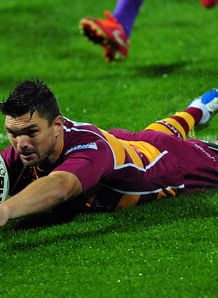 That brings our coverage of the try-fest at the John Smith's Stadium to a close. Thank you for joining us and make sure you do so again for the second preliminary semi-final between Leeds and St Helens tomorrow night, which promises to be a mush more competitive encounter.
80 FULL-TIME, GIANTS 76-18 HULL FC. And that is all she wrote. Huddersfield are through to the qualifying semi-finals in some style after giving Hull a record-breaking thrashing. Robsinson scored four tries in the first half while Grix, Cudjoe and Lunt chipped in with two each. Will Warrington dare pick the GIants in Club Call after that?
78 TRY, KOPCZAK! Is that the grand finale? Kopczak goes in by the posts from close range to set a new record for points scored by one team in a play-off game (Beating Bradford's 71). Brough slots over a simple conversion. "Hull have been annihilated," says Eddie. Indeed. 76-18
76 Some potentially worrying news for Huddersfield as Grix has been taken off with an apparent groin injury.
73 TRY, FERRES! Huddersfield score again as Patrick breaks free before spilling the ball trying to offload under pressure from Horne. It looked like it should have been a knock-on but replays show that Horner knocked it out backwards one-on-one, therefore it was a loose ball and play on. Ferres collected and went over but Brough couldn't score the conversion - his first miss of the night. 70-18
71 TRY, LUNT! ...And just as I say that Lunt takes a simple pass through a gaping hole in the defence to score his second try of the game. Brough converts to stand alone as the Huddersfield record holder for points in a season and the Super League record holder for goals in a play-off game. 66-18.
69 Huddersfield are certainly taking things a little easier now as they complete a set of six which ends roughly on the halfway line. Hull are now looking a bit more dynamic with ball in hand but the final pass is sorely lacking.
67 TRY, BRISCOE! The Hull winger has another score as he collects a high kick and touches down in the corner with McGillvary standing there watching. Poor defence from the Giants man there. Tickle slots over a great conversion from the touchline.
64 Murphy almost breaks down the left but is pulled back by Crrokes, much to the chagrin of the Huddersfield fans, who were looking for a high tackle.
62 Hull get pegged back on their own line and have trouble running it out. They eventually manage to kick it downfield as the Giants look to have taken their foot off the pedal slightly, They have important business to attend to next week, of course.
60 Hull get another set of six but again it ends in a dropped pass. Danny Tickle is the culprit this time.
57 Hull are still trying to mount some offence but a dropped pass by Horne puts paid to that.
55 Former Wigan player Brian Carney, who was on the end of a 70-0 defeat to Leeds and a 75-0 hammering by St Helens during his career, is telling the rest of the booth what it is like to suffer a huge defeat. "It doesn't sink in until the next day," he says.
53 TRY, BRISCOE! Huddersfield concede a goal-line drop-out as McGillvary catches the restart with his foot out the back of the in-goal area. Hull come forward and, after earning a repeat set of six, Briscoe steps one in at the corner. 60-12
50 TRY, CUDJOE! And that is Hull's decent spell well and truly over. The defence slackened again as Chan literally jogs through the line before the ball is fed out to Cudjoe to score. Brough nails the conversion again to both equal the Huddersfield record for points in a season and the Super League record for goals in a play-off game. 60-6.
47 Hull bear down in the home tryline again and Horne opts to go for the powerplay. However, Brough hauls him down with a fantastic tackle and Huddersfield will be able to run it out of danger with a fresh set of six.
46 Huddersfield are still deep in their own half but Brough almost unlocks the defence with another kick on the last tackle. Hull contain it this time though.
44 We hear from the sidelines that Ta'ai did in fact suffer some sort of knee injury in that painful-looking tackle in the first half. Shaul is now carried off the field after a tackle from McGillvary and it looks like his game - and therefore season - is over.
41 Hull make the brighter start in the second half with Andy Lynch trying to burrow over before being stopped on the line. A penalty for the markers not being square gives the visitors another set of six mere metres out but an attempted flicked pass out of the back of the hand scuppers things for Jason Crookes and allows the Giants to clear.
40 Here we go, second half is under way.
Some half-time notes for you: Brough is one goal away from the the play-off record of 10 and Robinson is one try away from the play-off record of five.
40 The hooter goes for half-time and the boos are loud and clear from the travelling Hull support. And they have good reason to be unhappy as that is the most points Hull have conceded in a half in their 148-year history. That is officially Hull's worst half, ever.
38 TRY, ROBINSON! He's in again for his fourth try of the half! Brough chipped it through the middle and Robsinson was first to the ball in the in-goal area (have you heard that somewhere before tonight). Brough slots over the conversion and this is getting ugly for Hull.
36 Brough misses out on a 40-20 as Hull get a rare feel of the ball but their set of six comes to nought. Hull on the front foot again now.
34 TRY, LUNT! Huddersfield carve their opponents open again. Wardle is the one who makes the break this time, with Lunt receiving the final pass to score another try before Brough sneaks the kick over. 48-6, If this was a boxing match...
31 TRY, ROBINSON! It's a first-half hat-trick for Huddersfield's pocket dynamo. Again it was a kick through from Brough, the ball took a favourable bounce from a Giants point of view and Robinson was on hand to collect and score. Brough converts from in front of the posts. 42-6, yikes.
29 Lengthy stoppage now as Ukuma Ta'ai is folded back awkwardly. It looked like it could be a very serious knee injury and there were some sombre tones from the booth but Ta'ai eventually gets to his feet and is able to complete the play-the-ball!
27 Hull bear down on the tryline but McGillvary picks off what would have been the decisive pass and the Giants are able to clear the danger.
26 Holdsworth is now down and getting attention after a seemingly late hit by Ferres. Meanwhile, the Sky pbooth are discussing some of the biggest comebacks in Super League history. Surely not?
24 TRY, SHAUL! Hull have one back as Holdsworth lofts a high kick towards the posts. It bounces off the protective padding on the upright and bounces towards Shaul, who grounds with ease to score what can even at this early stage be called a consolation. 36-6
24 More Hull fans are heading for the exits and it looks like even coach Peter Gentle has seen enough as he leaves his seat and takes off downstairs.
20 TRY, GRIX! These tries are going in too fast for me to keep up with! Danny Brough equals the club record of 147 goals in a season after Cudjoe had sauntered through the defence before playing in Grix. The commentary booth are unanimous in branding the Hull defence "appalling".
18 TRY, MURPHY! Huddersfield are in again as Aaron Murphy races onto a kick through from Brett Ferres before picking up beyond the defence and grounding the ball. It is again sent upstairs for an offside ruling and although Murphy seemed to be slightly in front of the ball when it was kicked, the try is given! 30-0 already, how many more to come?!
16 Another high shot from Gareth Ellis draws another penalty and another opportunity for Huddersfield to come forward.
15 It's looking so bad that some Hull fans seem to be heading for the exits already! "It looks like he's leaving, and it looks like Hull are leaving the Super League play-offs," says Eddie Hemmings on Sky Sports 1.
13 TRY, ROBINSON! The Giants predictably run the return close to the visitors' line before Robinson runs through some very weak tackling for his second try of the night. Brough adds his best kick yet and this one is almost in the books...after 13 minutes. 24-0.
11 Hull are completely at sea here. The latest error sees Jamie Shaul drop a high ball, which trickles out of the in-goal area for a goal-line drop out.
8 TRY, GRIX! A knock-on by Crabtree gives Hull a much needed set of six deep in opposition territory, but Westerman loses the ball after a big hit from Brough and Grix runs it all the way up the other end for a third try! This game is in danger of being over before the 10-minute mark! Brough adds the extras. 18-0
5 TRY, ROBINSON! The Giants surge forward after the penalty as Brough slots a kick through to Luke Robinson, who picks up and scores by the posts. Richard Silverwood refers it upside but it's clear Robsinson is onside. Brough adds the simplest of kicks. 12-0.
4 The hosts continue to come forward as Hull's star man Gareth Ellis is penalised for a swinging arm and Brough sends the kick into the corner.
1 TRY, CUDJOE: Huddersfield lead in the first minute. Shaun Lunt made the break before the ball was fed out to Cudjoe, who dived over for an easy score. Brough adds the extras and it's a perfect start for the hosts. 6-0
The visitors are first out on the pitch, with the Giants following them out of the tunnel. There is a decent-sized crowd at the John Smith's Stadium following some of the disappointing attendance numbers we have so far in the play-offs.
We are roughly five minutes away from kick-off at the John Smith's Stadium. Huddersifled may have slipped up last week but they are big favourites to bounce back tonight. The Giants are 30/100 to win with Sky Bet, while the visitors are outsiders at 100/30.
Hull: Shaul, Crookes, Horne, Yeaman, Briscoe, Holdsworth, Miller, Watts, Houghton, Johnson, Ellis, Tickle, Westerman.
Bench: Lynch, Green, Pitts, Heremaia
Huddersfield: Grix, McGillvary, Cudjoe, Wardle, Murphy, Brough, Robinson, Crabtree, Lunt, Kopczak, Ferres, Chan, Lawrence.
Bench: Patrick, Ta'ai, Ferguson and Wood
Kick-off is at 8pm. The team news is in...
Sky Bet Odds:
Click Here for Your Free Bet
Features

Sam Burgess has been named on Bath's replacements bench for Friday's clash with Harlequins at the Recreation Ground and much is expected of the former rugby league star known as 'Slammin Sam'.

There's not many sports people that can teach a rugby league team how to be more physical, but the Warrington Wolves have found just the thing.

In the most competitive tournament since it was regularised in 2009, all four teams go into this weekend's final round-robin fixtures in the Four Nations Series with a chance of reaching the final in Wellington on Saturday week.

Read the thoughts and opinions of Stevo with skysports.com