Rugby League
Select a team
Select a competition

Home team
Score
Away Team

Wigan

Goulding, Farrell, Thornley, Charnley,
Goals: Richards (3),

22 - 12

Leeds

Moon, Sutcliffe,
Goals: Sinfield (2),

First Utility Super League
Qualifying Semi-Final
27th Sep 2013
KO 20:00
Att: 14,600
FT Warriors 22 Rhinos 12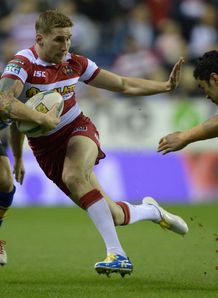 The Wigan Warriors will play the Warrington Wolves in the 2013 Grand Final at Old Trafford next Saturday.
The hooter goes and it's Wigan who have won and are in the Grand Final.
80 In to the last minute, Wigan have won this.
77 Sinfield has added the extras.
77 Sutclifee has pulled a try back for Leeds, but it's nothing more than a consolation.
76 The clock is Leeds' worst enemy now. Wigan have one foot in the Old Trafford door.
75 Richards has missed the long-range conversion.
74 Bailey has lost the plot and just gives Wigan a penalty by laying on Tomkins.
74 Richards has missed the conversion, but it shouldn't matter.
74 Smith make the break on the last instead of going for the drop goal. The hosts kept it alive and Charnley had the easiest chance to settle the contest.
74 That should be that. Wigan have scored again! Charnley has gone over.
70 Matty Smith went for the drop goal, but it was a bit of a shocker.
70 Wigan are hunting another try, this could finish Leeds off.
69 Penalty for Wigan now for McGuire's high shot on Charnley.
67 Leeds complete their set of six. The kick comes in, but it's well taken by Tomkins.
65 Deary me. Just as Leeds are building the pressure Hardaker has knocked on. That came after a super run from Burrow.
63 Grubber kick by McGuire and it'll be a goal line drop-out from Wigan.
63 Leeds have a penalty for a late hit on McGuire.
61 Outstanding tackle from Hansen denies Moon. The centre beat Tomkins and had the line to go for before being denied.
58 Wigan's grubber kick is knocked on by Ablett. Goulding collects the ball and scored with ease.
58 TRY for Wigan! Goulding has scored.
56 Mistake from Watkins has gifted the ball back to Wigan.
53 Richards has added the extras. Wigan's six-point advantage is restored.
52 The video referee is having a look at the grounding, but that's a try. Wigan are back in front.
51 Farrell crashes over for Wigan, but Bentham has called upon the video referee.
50 McGuire knocks on after Achurch tries to offload. Wigan in a good position now.
48 McGuire has been put on report for pushing on Green's arm. Leeds not been penalised, but the review panel will have a look at it.
46 Sinfield adds the extras.
46 Leeds have scored a try. Ablett breaks through Wigan's defence. He is able to run and run. He had support from Moon and he picked out the centre who coasts home. Kick to come.
46 TRY! Leeds have scored.
44 Good run from Achurch boosts Leeds' field position, but their kick on the last is poor. Watkins is struggling for Leeds.
41 Wigan get the second half underway. Leeds have ball in hand.
The teams are back out for the second half.
The half-time hooter goes and it's Wigan who are leading Leeds 6-0.
39 Good work from Hall and Moon again. Sinfield's cross-kick picks out Jones-Bishop, but Wigan have it back.
37 Wigan are finally denied when Green's kick bounces out of play.
36 Leeds bomb it on the right. Richards breaks clear and only an amazing stop from Kirke halts his progress.
33 Wow! Superb break from Wigan. They are attacking, but the hosts drop it and then Leeds break and go down the other end. Hall with the strong run, but it comes to nothing.
32 Another mistake from Leeds, this time Achurch has lost possession on the half way line.
29 Forward pass from McGuire halts Leeds' play.
29 Leeds have their first penalty of the game. Bentham has pinged the Warriors for offside.
27 Knock-on from Tomkins and now Leeds have it back. The tackling here is ferocious.
23 Blake Green has a 40/20 attempt, but it comes up just short, much to his frustration.
23 Just the try from Thornley separating the teams at the moment.
20 High kick from Burrow, but it's well collected by Tomkins. Wigan back in possession.
17 Another mistakes from Leeds. This time is Jones-Buchanan who drops the ball.
15 Leeds find space down their right-hand side, but Jones-Bishop is bundled into touch. Wigan have the ball back.
11 You don't see that often. Leeds were caught out on the last tackle and were forced to turn over possession on the half-way line.
10 Leeds have survived. Jones-Buchanan blocks the grubber kick and then gathers possession.
8 It's all Wigan now. Hardaker drops the bomb so the Warriors will have it back.
6 Richards adds the extras from out wide.
5 Wigan spread it out wide. Richards is caught by Jones-Bishop but he passes it back on the inside to Thornley.
5 TRY! Wigan have scored through Thornley.
5 Penalty to Wigan and now it's the home side with an excellent chance to open the scoring.
4 Good response from Wigan. Tomkins makes a break, but Leeds bring him down. Wigan then kick for the corner but Jones-Bishop takes the ball ahead of Richards.
2 Jones-Bishop goes for the try line, but the video referee has spotted that Leeds' winger has dropped it. No try
2 Joel Moon forces a knock-on from Wigan, Leeds will have possession in an attacking position.
1 Leeds get the contest underway! Wigan have the ball first.
The teams are out on the pitch!
We're just ten minutes away from the big kick-off here at the DW Stadium!
It is interesting to note that champions Leeds have won 15 of their last 16 play-off games.
Here are the teams for tonight's clash from the DW Stadium:
Wigan: S. Tomkins, Charnley, Goulding, Thornley, Richards, Green, Smith, Dudson, McIlorum, Mossop, Hansen, Farrell, Flower. Replacements: Hughes, L. Tomkins, Crosby, Taylor.
Leeds: Hardaker, Jones-Bishop, Watkins, Moon, Hall, McGuire, Sinfield, Leuluai, Burrow, Peacock, Jones-Buchanan, Ablett, Bailey. Replacements: Clarkson, Achurch, Kirke, Sutcliffe.
Leeds are hoping to reach Old Trafford for an incredible eighth time in ten years while Wigan are hoping to make it to Manchester since the featuring in the 2010 final. That year they beat Leeds to reach Old Trafford before toppling St Helens and becoming champions.
These teams met at this stage last year. Against the odds it was Leeds who emerged victorious with a 13-12 success from the DW Stadium.
Welcome to Sky Sports' interactive coverage of Wigan Warriors' clash against the Leeds Rhinos for a place in the 2013 Super League Grand Final.
Sky Bet Odds:
Click Here for Your Free Bet
Features

Sam Burgess has been named on Bath's replacements bench for Friday's clash with Harlequins at the Recreation Ground and much is expected of the former rugby league star known as 'Slammin Sam'.

There's not many sports people that can teach a rugby league team how to be more physical, but the Warrington Wolves have found just the thing.

In the most competitive tournament since it was regularised in 2009, all four teams go into this weekend's final round-robin fixtures in the Four Nations Series with a chance of reaching the final in Wellington on Saturday week.

Read the thoughts and opinions of Stevo with skysports.com