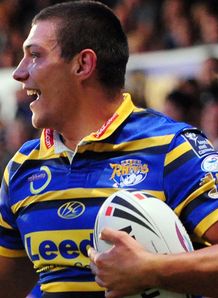 I've been saying all season that it's a real pleasure to play outside Keith when I'm at such a young age and he's as experienced as he is
Ryan Hall
Quotes of the week
Related links
Teams
Players
Also see
Leeds winger Ryan Hall reserved special praise for team-mate Keith Senior after his five-try haul in the 76-12 demolition of Castleford.
The 21-year-old scored a first-half hat-trick before adding two further tries after the break and he was delighted with his personal performance.
"That was my first senior hat-trick," he said. "It's good to get three, never mind five.
"I've got a couple of braces this year but it was good to get this many under my belt."
However, Hall - who took his try tally for the season to 26 - said he owes Senior for much of his success this season as the veteran centre continues to supply the assists.
"I've been saying all season that it's a real pleasure to play outside Keith when I'm at such a young age and he's as experienced as he is," he said.
"I've learned a great deal from him this year and hopefully I can continue to learn from him.
"I do thank Keith personally quite often and especially tonight."
Teamwork
Coach Brian McClennan was also keen to emphasise the teamwork that led to a result that will boost the side as they aim to repeat last season's Grand Final success.
"We kept our composure and our discipline and we kept on playing," he said.
"That was the really pleasing aspect. We just wanted to have a really strong attitude about us and be really aggressive.
"It gives us a bit of confidence because we played like we know the Rhinos can and it was good fun.
"It's good to hear Ryan crediting Keith because it was a real team effort."
Terrible
Tigers coach Terry Matterson blasted his players for their efforts in the match and vowed to address the issues that led to the capitulation.
"We gave up," he said. "We've worked hard at this place to build on things but it wasn't good what happened here.
"We've got to find out why and move on. I really feel for the fans.
"From 20 minutes onwards, our defence was appalling. I didn't think it could get any worse but it did.
"There is no place for anyone to hide. The team performance was terrible."
Sky Bet Odds:
Click Here for Your Free Bet