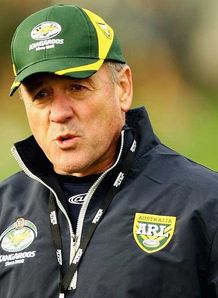 It was one of those games where we never got out of second gear. There was too much dropped ball and too many mistakes
Tim Sheens
Quotes of the week
Related links
Teams
Also see
Australia coach Tim Sheens believes his side made "too many mistakes" despite sailing to a 42-4 win over France and securing a place in the Gillette Four Nations final.
The Kangaroos led by just 8-0 at the break but upped the ante in the second half with six tries to confirm their spot in the Elland Road decider.
Sheens confessed the Kangaroos were forced to fight for their win by a hard-working French team.
"We expected a good hard game from them," Sheens said.
"It was one of those games where we never got out of second gear. There was too much dropped ball and too many mistakes. But we got away with no injuries."
Sparkling debut
Man-of-the-match Michael Jennings had a sparkling debut with a hat-trick of tries, strengthening his bid for a place in the Kangaroos' final side.
"We hadn't finalised the squad so we'll have a look at the game," said Sheens.
"He'll come into consideration for sure."
After missing out on a place at the 2008 World Cup, Jennings admits he is desperate to feature in the showpiece.
"I just did my job," added Jennings.
"Hopefully I'll get picked."