Rugby League
Select a team
Select a competition

Home team
Score
Away Team

Bradford

Royston, Whitehead, Ah Van (2),
Goals: Ah Van (3),

22 - 26

Wigan

Finch, Richards (2), Tomkins, Farrell,
Goals: Richards (3),

Tetleys Challenge Cup
Fifth Round
22nd May 2011
KO 15:30
Att: 5,828
Potter: Sending-off sank us
Bulls coach blames red card for Challenge Cup defeat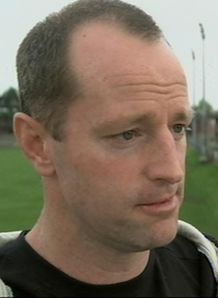 I thought he was trying to stop the try. It was without a doubt the turning point, that was plain to see.
Mick Potter
Quotes of the week
Related links
Teams
Also see
The sending-off of winger Gareth Raynor was the deciding factor in Bradford's 26-22 Challenge Cup defeat by Wigan, according to coach Mick Potter.
The Bulls were forced to play much of the match at Odsal Stadium with 12 men after Raynor was shown the red card, when he knocked Sam Tomkins unconscious as the England full-back scored Wigan's second try.
Potter said that Raynor had been attempting to dislodge the ball from Tomkins hand and pinpointed the incident on the half-hour mark as the turning point in the match.
The Bulls boss said he would be bringing the matter up with the Rugby Football League's director of referees Stuart Cummings.
"I'll go through the appropriate channels," said Potter. "I thought he was trying to stop the try.
Groggy
"It was without a doubt the turning point, that was plain to see.
"12 v 13 in the second half was tough. It wasn't impossible but it was tougher than it would normally be."
Wigan coach Michael Maguire however, said he thought referee Steve Ganson had made the correct decision.
"He didn't miss him so I thought it was a fair call," he said. "Sam took a fair knock. He was definitely out when the doctor got to him and he's still quite groggy.
"But I'm hoping he'll be okay for next week. We'll assess that as the week goes by.
Despite the numerical disadvantage, Bradford staged a determined fightback and pushed the Warriors right to the final whistle.
Resilience
Potter said his side needed to carry that performance through into the Super League where the Bulls' form has been poor this season.
"It was a big step in the right direction," he added. "We need to back this up next week.
"Our execution was a lot better and I thought overall we worked better as a team."
Maguire praised the Bulls' resilience and admitted that the final whistle could not have come sooner.
"Just to get the win was good for us," he said. "It was definitely not a performance we're capable of but credit has to go to Bradford who came out and performed.
"I thought in the second half they controlled the game better than we did, particularly when they had the wind behind them.
"Even though they had 12 men, I thought they scrambled pretty hard. We had to dig in there. I'm just happy to get away with a win."
Sky Bet Odds:
Click Here for Your Free Bet
Comments (2)
John Newby says...
once again the referee decides who wins
Posted 08:22 23rd May 2011
James Hardy says...
Accidental or otherwise that deserves a red card Mick I'm afraid. It wasn't the referee's decision but Gareth Raynor's to swing a clenched fist towards an oncoming Sam Tomkins. Either Way Bradford purposely made the game scrappy enough for the red card to not be too much of a factor. There is a difference between wrestling DURING the tackle and wrestling AFTER the tackle is complete. So whilst Wigan are often criticsed for there technical abilities they are clearly physically stronger than most teams, and moreover are penalised more harshly when they get it wrong. And not to mention there is also a difference between onside and offside. Bradford were consistently offside all the game. However it seems that teams are only penalised if one man in the defence moves up early, where as if the entire team is offside this is either unnoticed or deemed to be correct.
Posted 19:35 22nd May 2011

Read the thoughts and opinions of Stevo with skysports.com