Rugby League
Select a team
Select a competition

Home team
Score
Away Team

Bradford

Kearney, Hargreaves, Whitehead,
Goals: Sammut (3),

18 - 38

Salford

Patten, Gibson, Moon (2), Ashurst, Veivers, Owen,
Penalty Trys: Holdsworth,
Goals: Holdsworth (5),

First Utility Super League
25th Mar 2012
KO 15:00
Att: 11,290
Veivers happy with his Reds
Potter laments number of errors by Bulls in heavy home defeat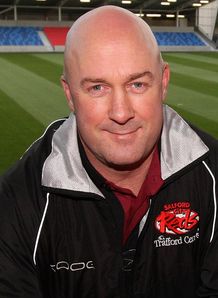 We are at 50 per cent at the moment and at this stage in the season I'm pretty happy with that.
Phil Veivers
Quotes of the week
Related links
Teams
Also see
Phil Veivers was a "pretty happy coach" after seing his Salford side bounce back from two heavy defeats with a 38-18 win over Bradford.
Joel Moon scored two tries as the Reds, who had conceded 96 points in their previous two games against Leeds and Catalan Dragons, opened up a 30-6 lead by the break at Odsal.
Josh Veivers, Luke Patten, Ashley Gibson and Matty Ashurst also crossed in the first half, while Gareth Owen touched down after the interval.
Daniel Holdsworth also kicked five goals as Salford, who had initally fallen behind to a try from Brett Kearney, moved above their opponents in the table.
"We were a bit fortunate with a couple of our tries - we had the luck of the bounce - but you create your own luck and we've had ones go against us this year already," Veivers said.
"It's not an individual game - it's a team game and the team got us through.
"It wasn't difficult to get the confidence high.
"What was difficult was to get some self-belief that they can be mentally tough and hang in games and set a platform for themselves.
"They were very positive in the week and knew today was a very important game for both teams as to where it puts us with our wins and losses.
"We are at 50 per cent at the moment and at this stage in the season I'm pretty happy with that.
"The second half they (Bradford) upped the tempo and we didn't go with them.
"They went through the middle of the ruck a little and we just didn't control it, we didn't get enough numbers in the tackle but that's the only negative for us.
"On the whole I'm a pretty happy coach."
Errors
Bradford had gone into the game off the back of three wins in their last four matches, their last being a 12-8 triumph over St Helens last Saturday.
However coach Mick Potter felt his side simply made too many errors against Salford, although he was pleased with their second-half display.
"They are a solid team and you can't afford to be a bit down on your game and we were," he said. "We made too many errors which handed them field position and opportunities.
"Perhaps we took for granted that we would do what we did last week, rather than actually doing it.
"We might only have been five percent off what we were last week and the other team burned us.
"They had skill enough to capitalise on it and did.
"We got better in the second half but the tempo of the game had already rolled toward them in the first half."
Sky Bet Odds:
Click Here for Your Free Bet
First Utility Super League Table

Read the thoughts and opinions of Stevo with skysports.com