Rugby League
Select a team
Select a competition

Home team
Score
Away Team

Castleford

Orr, Dixon, Owen, Griffin, Youngquest (2),
Goals: Dixon (5),

34 - 30

Hull K R

Withers, Welham (3), Hodgson,
Goals: Dobson (5),

First Utility Super League
30th Mar 2012
KO 20:00
Att: 6,396
Millward praises battling Tigers
Sandercock admits Chase was the difference between the sides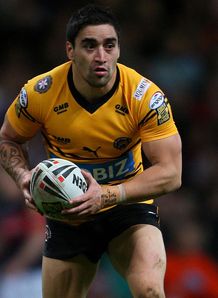 Related links
Teams
Also see
Castleford coach Ian Millward was delighted to be talking about a victory after seven straight defeats for the Tigers.
The hosts edged out Hull KR 34-30 at the Probiz Coliseum and Millward said: "I was impressed with the blokes at the back end and the way they held their composure and increased their intensity in the second half.
"We've still got issues with our consistency. We build some pressure then release it.
"I thought a couple of tough calls went against us as well, but it's great to be talking about a victory and we can improve on that.
"Some of the errors we make are a bit naive. At times the desire's there, it's just getting the right sort of structure in place and sticking to it.
"But we led at half-time and led at full-time and that's a true indication of the game.
"I was impressed with the fans and the way they were got behind the team and kept trying to lift the players.
"We had a chance to draw the game and chose not to with a kick because I felt we were dominating the game."
The experience of veteran half-back Danny Orr was crucial for Cas, and Millward admitted afterwards that he should not have been playing.
"I was really impressed with Danny Orr. He picked with an injury in the warm-up, but I thought he was outstanding and in the last two weeks he has given a real captain's knock," he added.
"Rangi Chase had some really good touches today and I really liked the workrate of Richie Owen, Nick Youngquest, Kirk Dixon and Josh Griffin."
There was a controversial incident in the closing stages involving Hull KR's Liam Salter, which Rovers coach Craig Sandercock described as a "big call" by referee Roberts Hicks.
Salter was carried over the try line, with Sandercock believing he had already been tackled.
Big call
"It's a big call for the referee to make at the end allowing our player to be lifted off the ground into the in-goal area because my interpretation of the rules are that once a player is on the deck once a hand is placed on him that constitutes a tackle," said Sandercock.
"I need to have a look at that again because that young referee has changed the course of the game and I just hope he has got that decision right. If he hasn't he has cost me two points and I expect the full consequence of that decision to be placed on the referee if he has got it wrong.
"To defend our line like that in the last 10 minutes repeatedly was a good effort, but unfortunately it was not enough in the end."
Away from that decision, Sandercock admitted Hull KR contributed to their own downfall as they slipped to their third defeat in four games.
"In the first half we were guilty of too many unforced errors. We looked good in attack, but we didn't pay Castleford's defence enough respect," he added.
"To Castleford's credit they came back at us and Rangi Chase was too good for us tonight."
Sky Bet Odds:
Click Here for Your Free Bet
First Utility Super League Table

Read the thoughts and opinions of Stevo with skysports.com