Rugby League
Select a team
Select a competition

Home team
Score
Away Team

Widnes

Cross, Hanbury, Phelps, Ah Van,
Goals: Ah Van (5),

26 - 22

Huddersfield

Grix, Faalogo, Ferguson,
Goals: Brough (5),

First Utility Super League
3rd Jun 2012
KO 15:00
Att: 4,644
Betts - We are on target
Brown full of praise for Vikings as Giants are beaten again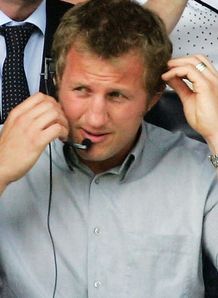 We are heading in the right direction and there is a hell of a lot of work going on 24/7, seven days a week to make this club stronger in the right way.
Denis Betts
Quotes of the week
Related links
Teams
Also see
Denis Betts believes Widnes' 26-22 victory over Huddersfield shows that the club are "heading in the right direction" in the Stobart Super League.
The Vikings lifted themselves off the foot of the table thanks to a win over the Giants that was only clinched by a last-gasp try from Cameron Phelps.
The former Hull and Wigan full-back was in the right place to scoop up the loose ball and plunge over the line after Rhys Hanbury's kick had struck a post.
The result means London Broncos, who were beaten 22-6 by Wakefield, now prop up the rest in the standings.
Target
"The target was not to finish bottom of the table and that's what we are pushing toward," Betts said.
"Nobody gave us a hope and I know I have said it many times but the fact is some didn't give us a hope of winning a game let alone beating sides that are stretching themselves extensively in the salary cap they are that far away from us.
"We are heading in the right direction and there is a hell of a lot of work going on 24/7, seven days a week to make this club stronger in the right way."
Widnes had stunned their opponents with a three-try opening salvo in the first 11 minutes, only to fall behind for the first time in the match at 22-20 with just five minutes remaining.
But in the dying seconds Phelps dived on the loose ball for the match-winning try, Patrick Ah Van adding the conversion to seal a memorable result.
Betts added: "That was a really good win and I think we were good value for it. Even when they went ahead I don't thing it depicted the game. It was probably our most aggressive win in how we went about it which I enjoyed.
"The most satisfying thing today was our defence only having just over 20 points scored against us.
"These are the things we have talked about constantly all year, getting the scoreboard on our side in games by working hard to ensure we are in a position so some of our attacking plays can help us, which is what we did today. We showed a lot of enthusiasm and endeavour to protect our line."
Huddersfield coach Nathan Brown said his side needed to play with more discipline and control after their fourth league loss in a row.
"I thought we actually hung in there well for most of the game. They scored their last three tries from kicks and it wasn't if our effort wasn't there and it wasn't like we went out there and didn't try," he said.
"They got away to 16-0 which if you keep giving the ball to the opposition and they come up with some nice kicks that can happen.
"Then we got ourselves back in the game and in front and then didn't find touch with a penalty. We just don't have the game sense at the moment to understand how to build into a game and adapt to situations.
"Every time we score a try our thought process is how do we score again, not why don't we kick it in the corner, chase hard and play with good discipline.
"They put our attack under a bit of pressure so we thought we would try and pass our way around the attack and then we make an error, so we have to work hard and improve and I'm sure we'll come out of it."
Credit
Brown, however, was quick to give credit to the Vikings, admitting they deserved to take the two points at the final hooter.
"They have had some big scores blow out against them at different stages this year, but they have beat Wigan and now us and just got beaten by St Helens in the cup so they are getting up for games," he added.
"They can't maintain the intensity on a weekly basis, because they only had six months notice they would be in the competition.
"You have to give them credit, they ripped in hard today at different stages and deserved to get the result."
Sky Bet Odds:
Click Here for Your Free Bet
First Utility Super League Table

Read the thoughts and opinions of Stevo with skysports.com