Rugby League
Select a team
Select a competition

Home team
Score
Away Team

Bradford

Elima, Kearney (2), Ainscough (3), Lulia, Bateman,
Goals: Gale (7),

46 - 32

Castleford

Chase (2), Massey, Williams (2), Thompson,
Goals: Dixon (4),

First Utility Super League
4th Jun 2012
KO 20:00
Mixed feelings for Potter
Millward left to lament Tigers' first-half display at Odsal Stadium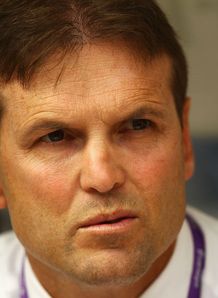 We'll probably have a look at the video but won't get time to do too much about it - the turnaround is just too short.
Mick Potter
Quotes of the week
Related links
Teams
Also see
Bradford coach Mick Potter admitted there was still plenty for his side to work on despite their 46-32 victory over Castleford on Monday night.
The Bulls leapfrogged rivals Leeds into eighth place in the Stobart Super League table after coming out on top in a high-scoring encounter at Odsal.
Recalled winger Shaun Ainscough scored a hat-trick of tries, his second treble of the season, while there was also a brace for full-back Brett Kearney.
However Potter was concerned about the amount of points his team conceded, particularly as they have little time to work on their defence before taking on St Helens on Friday.
Urgent
"I was happy with our first-half performance although I probably wasn't happy with some of the defensive things we did," he said.
"That needs to be addressed with a matter of urgency, although we haven't got much time given that we have the St Helens game on Friday.
"We'll probably have a look at the video but won't get time to do too much about it - the turnaround is just too short.
"There are some things to address and we are coming up against a team (St Helens) who can play a lot of rugby and can put a lot of points on you.
"It was good for the fans today but for the purist it wasn't - both coaches will be upset with the defences and number of points conceded."
The hosts at one stage led 34-10 but were forced to hold off a brave comeback bid from the Tigers, making Potter nervous in the stands.
The former Saints boss also hit out at the schedule as he prepares to face his old employers next.
He said: "It was a bit frustrating watching from upstairs - I'm not sure if we took our foot off the accelerator or what but they came back and credit to the Castleford team for digging in.
"There were a couple of St Helens people watching and looking at tonight you'd think they'd be fairly confident.
"It'll be a tough match and one where we have to make sure we get all hands on deck.
"Perhaps the people who did the draw at the start of the year needed to look at that before it came out.
"It's all very well in hindsight but it's not what you want and if everyone had their time again, it should probably be a Saturday or a Sunday game.
"But it's in there now so we've got to grin and bear it and smile with clenched teeth, saying that it's one that slipped through the net."
Inconsistent Tigers
Rangi Chase and Rhys Williams both grabbed two tries for Castleford, who have now won just once in their last six outings.
Tigers boss Ian Millward acknowledged his team's gutsy second-half display but added: "It's a game of two halves and I was fairly disappointed with our points leaking in the first half.
"We are an inconsistent team and our completion rate in the first half was about 70% while they were at 85%.
"When I took over this club we averaged over 30 points a game against and that hasn't changed.
"I want to let the fans know we are working very hard on that part of our game.
"We got back in the game and won the second half 16-10 but that begs the question why wasn't it a 16-10 scoreline in the first half?"
Sky Bet Odds:
Click Here for Your Free Bet
First Utility Super League Table

Read the thoughts and opinions of Stevo with skysports.com