Rugby League
Select a team
Select a competition

Home team
Score
Away Team

Catalans Dragons

Casty (2), Millard, Sa, Duport, Dureau,
Goals: Dureau (7),

38 - 34

Leeds

Lunt, Hall (2), Watkins (2), Keinhorst,
Goals: Sinfield (5),

First Utility Super League
18th Aug 2012
KO 16:45
Att: 10,269
Robinson happy with the win
Youngster Ward earns praise from both coaches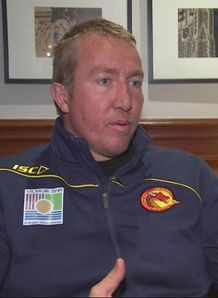 Related links
Teams
Also see
Catalan coach Trent Robinson admitted the 38-34 victory over Leeds was far from a perfect performance from his side, but he was happy just to get the victory that keeps alive the Dragons' hopes of a top-three finish.
He said: "Everybody wants to pick up those two points and it was important after two losses for the team to feel that win again.
"Some of the things in our defence were disappointing and we made some dumb choices but we saw some attack today that we haven't seen in nearly four weeks from us.
"It's a shame we couldn't stick with it for 80 minutes but that was pleasing. At this stage of the season it is about keeping the plays that you like and replacing the plays that you don't.
"It was a tense time for us at the end, we got the scores and then they got the chance to come back at us again and again and again, even in the last few minutes."
Robinson paid tribute to his forwards and also singled out Leeds stand-off Stevie Ward, 18, for huge praise.
"I thought Remi (Casty) and Greg (Mounis) had big games, I thought (Jamal) Fakir was coming back into a bit of form too, they all worked hard carrying the ball forward and I felt our ruck defence was good," he said.
Regarding teenager Ward, Robinson added: "Stevie Ward is an awesome, awesome player. It's great to see a young player coming through like that from Leeds and in our competition. It was impressive to see him shrugging off seasoned players like he did out there, he looks the goods."
Positives
Leeds coach Brian McDermott admitted the loss was not the best preparation for their trip to Wembley next weekend but was able to take some positives out of the performance.
He said: "We had a couple of blokes with bumps and bruises out there tonight so we were forced into making some positional changes like we did.
"We would have preferred to have played back home this week, so coming here was not ideal, but the positives are that we came through injury free and found a way of getting back into the contest which I was most pleased with because in the first half we weren't in the contest.
"There are some simple factors of rugby league, one of which is that you have to run harder than the opposition most times to win a game and Catalans just ran a little bit too strong for us in the first half and we didn't deal with them.
"Half-time was a big one for us, we had to change some things around and whether they came off or not is irrelevant I just thought the players made a decision to get back into the contest and that is something we can hang our hat on."
McDermott, like Robinson, also paid tribute to Ward, saying: "He probably tried to be a little bit too nice in the first half and play too much like a stand-off, he's a runner and he decided to have a crack, he got a bit angry in the second half, got the ball and showed what he can do."
Sky Bet Odds:
Click Here for Your Free Bet
First Utility Super League Table

Read the thoughts and opinions of Stevo with skysports.com