Rugby League
Select a team
Select a competition

Home team
Score
Away Team

England

Graham, Hall, Tomkins, Briscoe,
Goals: Sinfield (6),

28 - 6

New Zealand

Nightingale,
Goals: Marshall,

Gillette Four Nations
Group Stage
12th Nov 2011
KO 18:00
Att: 23,447
England rise to the occasion
Kangaroos await in next Saturday's final at Elland Road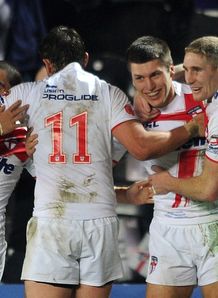 Related links
Teams
Also see
England reached the final of the Gillette Four Nations with a dominant 28-6 victory over the holders New Zealand in Hull.
It was a hugely impressive display from the hosts, who were on top from the outset and outscored the world champions four tries to one, although the Kiwis were still a threat right up until the final eight minutes.
England's win sets up another clash with Australia at Elland Road next Saturday night when they will look to avenge their 36-20 defeat by the Kangaroos at Wembley last weekend.
England had an early scare and were grateful for the keen eyes of the video referee after Kieran Foran touched down inside five minutes.
Sam Tomkins inexplicably allowed a high bomb to bounce on the 20 metre line and Foran was able to cross and touch down.
It looked a certain score but the video referee spotted men offside and England were instead awarded a highly fortunate penalty.
The rest of the half belonged almost exclusively to England.
Last weekend's double tryscorer Ryan Hall was forced out in the corner by good work from Lewis Brown and after Jeremy Smith's cheap shot on Tomkins - which was put on report but deserved a yellow card - Sinfield's kick was well collected by Gerard Beale.
Midway through the half an electrifying run from Tomkins took England 60 metres upfield and four tackles later his grubber kick forced a drop-out.
But again the chance went begging as Kirk Yeaman knocked on an ill-judged bullet pass from Sinfield.
When England conceded their first penalty for an offside on 23 minutes they had to defend a set close to their own line for the first time but they did it without alarm.
The England breakthrough finally arrived on 26 minutes. Jack Reed was illegally taken out off the ball under Sinfield's bomb and after the Leeds player was held up over the line, the ball was quickly spread out wide and Yeaman put his Hull colleague Tom Briscoe sliding in at the left corner. Sinfield converted from the touchline and England led 6-0.
That could have been doubled on 35 minutes when James Graham crashed over under the posts but the video referee ruled that Simon Mannering had held the ball off the ground with his legs.
The Kiwis' only spell of pressure of the half came when an Isaac Luke burst and a Graham knock-on gave them a scrum 10 metres out, but a terrible pass from Benji Marshall flew into touch.
And England had the last word of the half through Sinfield's boot, as Luke was penalised for attempting to twist Chase's knee in a tackle, a cynical and dangerous ploy.
Brilliant
The Kiwis quickly paid for more indiscipine just after the break, as back-to-back penalties gifted England more attacking position. Sinfield's crossfield kick was well collected and flicked back by Reed and Ben Westwood put Ryan Hall in at the corner for a brilliant one-handed finish. Sinfield converted from the touchline once again and England led 14-0.
But on the hour mark the world champions finally came out of their shells, mounting some sustained pressure on the England line.
England survived three successive sets but on 58 minutes their defence was stretched and Gerard Beale's quality pass put Jason Nightingale in at the corner for a finish that equalled Hall's for quality.
Suddenly there were nerves in the English camp as the Kiwis scented a comeback, but Sinfield's penalty stretched the lead again after Marshall's high shot on Tomkins.
The game's key moment arrived eight minutes from the hooter, with the Kiwis pressing the England line and looking set to score.
Somehow Briscoe emerged from a melee with the ball and raced 70 metres to relieve the pressure. And it was left to Graham to apply the killer blow, the NRL-bound prop blasting over between two tacklers and this time getting the ball onto the turf.
That settled it and the Kiwis had virtually thrown in the towel when Jamie Jones-Buchanan put Tomkins in for a late try to add some gloss to the scoreline.
Sky Bet Odds:
Click Here for Your Free Bet
Comments (3)
Oddemann Finkelstein says...
All honour to England who outplayed the pathetic Kiwis in every phase. But what a biased crowd! I've never heard anything like them - watching the game on TV, in Norway. From before the kickoff they demonstrated not even a hint of sportsmanship, wanting to spectate a would-be exciting match, and were out for Kiwi blood. Besides, the commentators Hemming and Carney were immensely partisan, attempting pitifully to praise a Kiwi movement with the annoying 'To be fair ...' Yet they were anything but 'fair'. And for half the game they forgot which player had the ball and were drooled on about past feats and games.
Posted 10:18 13th November 2011
Andy Cartwright says...
Bring on the Ozzies, come on England!!! In with a real chance. I think Chase that he really wants to play for England, well in Rangi and well in the rest of the team. Brilliant tonight!
Posted 21:41 12th November 2011
David Mckeown says...
Sterling and dominant display .The pack was immense and the defence much improved. Still though I don't think the halves look quite right. To have so much ball and territory and struggle so long to score points is something that shouldnt be glossed over . I'm genuinely shocked Widdop is playing such a bit part . The guy is a Storm superstar!! Surely he should be at 6 , Sinfield doing his thing at 13. That gives us more attacking options and creativity.As it is we sometimes looked a bit disjointed in the first hour near the line and lacking in zip.Id love to see Widdop , Chase and Tomkins as our main offensive weapons with Sinfield more an organiser. Still we're in the Final! A few tinkerings and who knows?
Posted 20:33 12th November 2011

Read the thoughts and opinions of Stevo with skysports.com