Rugby League
Select a team
Select a competition

Home team
Score
Away Team

England


Penalty Trys: Hall,
Goals: Sinfield (2),

8 - 30

Australia

Lockyer, Thurston, Thaiday, Inglis, Yow Yeh,
Goals: Thurston (5),

Gillette Four Nations
Final
19th Nov 2011
KO 18:00
Att: 34,174
Aussies pile on the agony
England still searching for success against the Green and Gold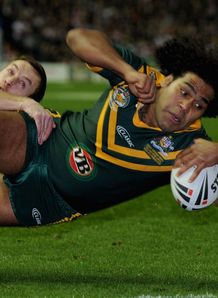 Related links
Teams
Also see
Australia regained the Gillette Four Nations title with a 30-8 victory over England in the final at Elland Road.
Just as they were two years ago on the same ground, England were in the contest until around the hour mark, when the Kangaroos took control and ultimately cruised home to victory.
But this time the disappointment for the hosts cuts deeper because hopes were so much higher coming into the game.
England genuinely believed that this was their time to beat Australia in a major tournament after nearly 40 years of failure, and for more than half the game a capacity crowd at Elland Road dared to believe with them.
But those hopes disappeared in 15 second-half minutes as Australia ran in three converted tries.
England certainly rode their luck to stay with the Aussies as they survived a series of first-half scares after Sam Thaiday beat Tom Briscoe to Jonathan Thurston's cross-kick to touch down in the corner after just three minutes, a try which Thurston converted.
Jack Reed was forced into a try-saving tackle on Akuila Uate in the corner and Chris Lawrence was unlucky to have a try chalked off by the video referee for offside, after Sam Tomkins failed to deal with a steepling kick from Darren Lockyer.
Lockyer could not believe it when Thurston failed to pass when he was free for a simple score, then Tony Williams burst through only to drop the ball over the try-line.
England were hardly in the game - except on the scoreboard - but they took their chance when it came.
They finally built up some pressure on the Australia line after two knock-ons and Kevin Sinfield's fine pass looked to have put his Leeds colleague Ryan Hall in at the corner.
Penalty try
But the winger dropped the ball touching down - as he was clattered by a high shot by Thurston - and the video referee awarded a penalty try.
The Australians edged ahead again with the last kick of the half when Lockyer's break forced Garreth Ellis to be caught offside, Thurston knocking over the kick for an 8-6 half-time lead.
England's best period came immediately after half-time as they piled on the pressure but decided to take the two points on offer after Ellis was tackled without the ball.
That was the signal for Australia to assume control.
Jamie Jones-Buchanan was penalised for holding on and moments later Darius Boyd put Jharai Yow Yeh in at the corner, with the metronomic Thurston converting.
Just past the hour mark Paul Gallen burst through the middle and Thurston was on his shoulder to slide in under the posts.
England's last chance arrived five minutes later. Uate failed to deal with a high kick but James Roby's pass to Ellis went to ground and Greg Inglis quickly made them pay, an outrageous dummy taking him over unopposed.
All that remained was for Darren Lockyer to have the final say in his last appearance on a rugby field.
He duly did, completing his 59th and final cap by sliding in a grubber kick against an upright and then touching down. His conversion attempt is best forgotten. England will feel the same about the entire second half.
Sky Bet Odds:
Click Here for Your Free Bet
Comments (10)
James Greenwood says...
The main difference? Playing to the rules. As long as they continue to be allowed to cheat they will win.
Posted 11:03 20th November 2011
Ronnie Davis says...
Maybe everyone is missing the point, England are not very good at Rugby League. They will never beat the Aussies in a series or a final, If the Aussies play at full tilt for 80 mins and not the last 20, we would not have anymore test matches between the 2 countries as the Aussies would win by 60-70 points each time.
Posted 10:28 20th November 2011
Mick Burwell says...
it was the same old story we was not good enough when we play the aussies i watch the game and it was a good game but the aussies have a class on there own where do we go from here the aussies are a good side but there can be beaten and there are not world beaters
Posted 09:34 20th November 2011
David Brook says...
Why was Rangi Chase still in the side, he had a poor first and second game and still gets picked for the final, in a Castleford shirt he's brilliant but in an England shirt it just didn't work, come on Mr Mcnamara better team selection required
Posted 09:10 20th November 2011
Mark Haslam says...
Not a bad performanace from England a lot of positives can come out of it. But England/GB still have a long way to go before they match the Aussies. Firstly just look how fit the Aussies are. Theres not an pinch of fat on the whole team pure muscle, strength, speed and skill. British clubs need to look at the fitness of players coz them Aussies are on a complete different level and that needs to be compared too. More training and money needs to put into our game. Well done to England thou, they had a great competition and they gave the Aussies a scare for 60 minutes. Also Farewell to Lockyer the guy is just a legend to the sport. How he kept up that pace for so long so beyond me. And after his performance last night wow there is no signs of give to me. Congrats to the Aussies!
Posted 08:43 20th November 2011
Andrew Lindsay says...
They finally built up some pressure on the Australia line after two knock-ons and Kevin Sinfield's fine pass looked to have put his Leeds colleague Ryan Hall in at the corner. Penalty try But the winger dropped the ball touching down - as he was clattered by a high shot by Thurston - and the video referee awarded a penalty try. WHY WASN'T HE SENT OFF????? He hit that man WITH FULL INTENT head high. Spirit of the game???
Posted 01:20 20th November 2011
James Wilson says...
Another embarrassingly one sided game. Can't fault the lads for trying there hardest but the difference in quality is huge. Tired of hearing steveo spout rubbish about how good super league is. Tonight high lighted again that defending in super leage is weak thus when we are attacking we have no idea how to finish against an organised aussie side. They cut us to pieces at will.
Posted 23:38 19th November 2011
Paul Jones says...
Fortunate England play in all white....it saves you carrying surrender flags onto the pitch!
Posted 21:34 19th November 2011
Mark Collins says...
As expected a big defeat, Why? poor team selection - utility player at 6, a back on the bench (Widdop), Morleys usual 10 min stint (total for game) poor games from Yeaman & Briscoe (considering the size of the opposing wing + centre but what was suprising is the lack of concentration). Morley cannot defend, Sinfield would wander in defence and Yeman & Briscoe lacked communication from rest of the team (to be honest they look overawed by the occasion - rabbits caught in the headlights). Tomkins given no protection in catching resulting in him looking forward at what was coming rather than concentrating on the ball. Virtually all the first half attack went down Briscoes side - why.
Posted 20:17 19th November 2011
Davidmckeown Mckeown says...
The main difference? The halves. Lockyer and Thurston were outstanding. That was one of the greatest performances from a pair of half backs I've ever seen. One or both were in every play, orchestrating everything. Then there's Chase and Sinfield. Chase has a dig , but it's a big step up. As for Sinfield , it was just painful watching . When will we stop falling into the trap of picking loose forwards at 6 !! Ha ha Sinfield does it at Leeds he can do it against Australia! No Steve its a different level. We looked totally unthreatening and uncreative. Near the line it was all forwards. I'm genuinely shocked a star who's played every game for Melbourne is a bit part player. If I was Widdop I'd say don't ring me again...
Posted 20:12 19th November 2011

Read the thoughts and opinions of Stevo with skysports.com