Rugby League
Select a team
Select a competition

Home team
Score
Away Team

England

Atkins, Cudjoe, Briscoe, Charnley,
Goals: Brough (2),

20 - 32

Exiles

Hodgson (2), Meli (2), Monaghan, Dureau,
Goals: Hodgson (4),

International Match
Test Match
4th Jul 2012
KO 19:45
Att: 7,865
England fall to classy Exiles
Hodgson the hero as Super League's overseas stars shine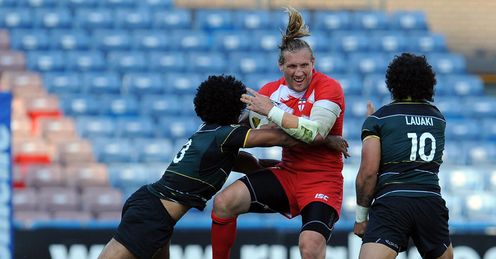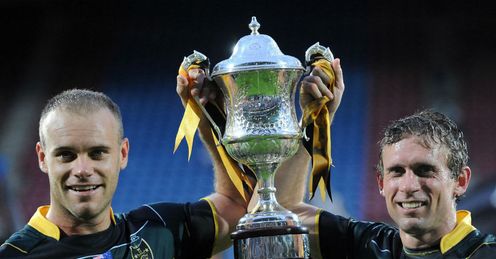 Related links
Teams
Also see
The Exiles made sure the 2012 International Origin Series would end all square with a 32-20 victory over England at the Galpharm.
Skipper Brett Hodgson scored two tries and kicked four goals to help Super League's overseas stars run out comfortable winners in Huddersfield, meaning they retain the trophy they had won last year at Headingley.
Francis Meli also touched down twice in the second half as the Exiles gained revenge for their 18-10 loss in the opener at a rain-soaked Langtree Park.
England, without rested quartet Ryan Hall, Kevin Sinfield, Sean O'Loughlin and Sam Tomkins, as well as the now-retired Jamie Peacock, did manage four tries, though a young side led by Jon Wilkin were taught a harsh lesson by their more experienced opponents.
Open game
Amazingly the first half passed without a penalty being called, and the open nature of the game suited the much-changed Exiles down to the ground.
They broke the deadlock in just the fourth minute when Hodgson crossed for his first of the night, the full-back running on to a pass from Scott Dureau to burst through just as it appeared the opportunity had gone begging.
The opening try was a pre-cursor for what was to come, with England's left flank being left horribly exposed on numerous occasions.
Only the efforts of Warrington duo Ryan Atkins and Stefan Ratchford denied Steve Menzies, who continues to prove age is no barrier, from getting in at the right corner, while Daniel Holdsworth was held up over the line.
It therefore came as a surprise that England scored the next try, Ryan Atkins the man to get it when he somehow managed to go untouched down the left for a superb solo effort that Danny Brough couldn't quite convert.
The Exiles response was a superb flowing move, again down their right, that was finished off by Dureau under the uprights, and they touched down again on the same flank before the break through winger Joel Monaghan.
In between Josh Charnley forced his way over after good work by the Huddersfield pairing of Brough and Leroy Cudjoe, though Steve McNamara's side still trailed 16-10 at the break.
Squeezed in
The gap was increased when Meli squeezed in at the left corner despite pressure from Charnley, who didn't last much longer in the contest as a calf problem forced him out of the action.
Yet when the impressive Holdsworth was held up just short seven minutes later, Hodgson took it upon himself to burrow over from dummy-half. His fourth conversion followed, opening up a 16-point lead.
England gave themselves a glimmer of hope when winger Tom Briscoe produced a fine finish out wide, diving over with his feet raised, though that was quickly extinguished when Meli added a simple run-in.
A Leroy Cudjoe effort, converted by Brough, gave England a consolation effort in the closing minutes. For McNamara, however, it will have been of little consolation; he has much to ponder after seeing his young troops toppled.
Sky Bet Odds:
Click Here for Your Free Bet
Comments (7)
Steven Ruddock says...
The atmosphere at the match last night was terrible. It was sad to hear England players getting booed because they play for a certain club. The mentality of some RL fans is ridiculous. They need to be able to differentiate between club and country and get behind England when they are playing.
Posted 15:05 5th July 2012
Daz C says...
The England team players are in super league action week in week out! What a disappointment. A lack of passion and shocking defence meant the result was inevitable. Stop making excuses for these players and "MAN UP"!
Posted 13:11 5th July 2012
Simon Robinson says...
The Exiles didn't need to be classy as the England team was a second string offering. I actually believe the English Knights would have put up a better fight. These games are supposed to raise the profile of RL. If McNamara keeps leaving out the stars people will not pay good money to watch it. Never mind looking for the future. If we are going to play the Exiles we need to make it serious. This contest is laughable compared to the State of Origin. I went to the Galpharm to watch this. I will not waste my money on an international again. I would rather watch a good SL game. We may as well keep playing against Wales and France. What a pitty.
Posted 12:40 5th July 2012
Stewart Ibbotson says...
7,800 crowd says it all really. The RFL need a drastic overhaul, root and branch review of all things Rugby League and who was resposible for giving the Bulls a B licence? We are a joke!
Posted 09:58 5th July 2012
Nathan Pitt says...
hodgson was mint !!!!!!!!!!!!!!!!!!!!
Posted 09:11 5th July 2012
Howard Cadman says...
I have nothing against the report I just question the timing of holding the series. If it is necessary to those involved in the England coaching staff to arrange games of this nature, please arrange it at the end of the season. The disappointing attendance figure for the match showed in my opinion a general lack of interest shown by supporters to the nature and worthwhile of such matches.
Posted 07:37 5th July 2012
Matt Sk says...
Still nothing compared to the State of Origin
Posted 05:28 5th July 2012

Read the thoughts and opinions of Stevo with skysports.com