Home team

England

Easter,
Penalty goals: Cipriani (2),
Drop goals: Armitage,

14 - 28

Australia

Ashley-Cooper,
Penalty goals: Mortlock, Giteau (6),
Conversions: Giteau,

International Match
15th Nov 2008
KO 14:30
Ground: Twickenham
Att: 80,688
England 14-28 Australia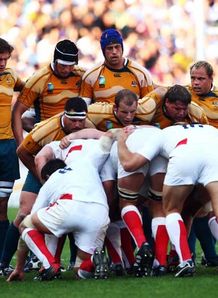 Full-time: Australia have scored a 28-14 victory after playing efficiently - but no more than that. England looked disjointed and certainly indisciplined - in short, experience told in the end. Stay with us at skysports.com for a match report and reaction...
80 With Australia's scrum resurgent Sky Sports' Stuart Barnes nominates Stephen Moore as his man of the match...
77 mins England are camped five metres out but Australia's scrum really has delivered today and does so again. Mortlock clears his lines...
71 England press forward but replacement Wycliff Palu crunches in no uncertain fashion into Cipriani. It's the last action the fly-half sees, with Toby Flood on as replacement...
70 TRY! and it's potentially a match-winning one for Australia. England's defence are sucked in in front of the posts and the Wallabies take advantage of the overlap, the ball being juggled along the line before full-back Adam Ashley-Cooper crosses emphatically. Giteau then converts...
67 Harry Ellis is on the field in place of Care. Sheridan is off again with Phil Vickery on as replacement...
65 mins England concede a penalty for a hand in at the scrum - Australia were really on top in there and Al Baxter really looks up for this match. Mortlock kicks this time and shows he can do it as well as Giteau, handing his side a seven-point advantage...
58 England concede for holding on and Giteau kicks another penalty to create a bigger buffer for Australia...
54 mins Sheridan concedes a penalty for not binding in the scrum and Giteau boots his fifth penalty to push his side in front once more...
53 Nathan Sharpe charges down a kick and sets out towards England's line. Cipriani gets there first but slips in goal. It's a five-metre scrum for Australia...
52 Cipriani misses another, more difficult, drop goal but does so in the knowledge that England have a penalty anyway. He finds the target this time and the home side take the lead...
49 Cipriani fashions a chance after breaking superbly through the centre. The ball is then played up and down Australia's line before the fly-half receives the ball once more...and misses the drop goal. England should have gone ahead there...
45 mins It's currently Australia applying the pressure, with Sackey booting the ball into touch on the left-hand flank as Hugh McMeniman lurks. They then play the ball to the openside but Armitage makes an intervention and the danger passes...
41 The second half is underway and Sheridan is back on the field. Sackey concedes another penalty - not being 10 metres away - but Australia this time kick to the corner...
Half-time: There's only one point in it - the match being as close as many predicted it might be. That England are behind is wholly their own fault, but they did at least close the half looking the better side in open play...
41 Now it's Sackey's turn to be offside but, on the stroke of half-time, Giteau misses for the first time this afternoon....
40 mins It's Australia's turn to be indisciplined in front of their posts and Cipriani is, this time, absolutely spot on with the resulting penalty...
37 TRY! Sheridan is replaced by Matt Stevens and, after about two minutes of both English forward power and resolute Australian defence, Nick Easter burrows over. But Cipriani misses an easy-looking conversion...
34 Australia lose control of the ball and England drive forward with, at first, Care. Sheridan eventually crosses under the posts but the video referee says he didn't ground the ball...
33 Martin Johnson's brow looks even more furrowed than usual...
32 England's indiscipline in near proximity to their posts - offside this time - is again their undoing and Giteau bisects the posts for the fourth time...
29 Great kicking from Australia again and they once more take territory - Care this time failing to deal with the ball as he perhaps might...
27 mins England concede another penalty - this time for hands in at the ruck - and Giteau kicks his third of the afternoon...
25 Danny Care chucks the ball straight in the direction of Mortlock's head. Australia then punt the ball forward and Sackey clears unconvincingly...
22 England have points on the board at last and it's down to that man Delon Armitage, the full-back scoring with a looping drop goal...
20 Lee Mears comes closest yet for England in the left-hand corner but Australia clear. The chance came as a result of Cipriani's break from midfield....
18 Nick Easter is robbed of the ball and Australia break. However, Tom Palmer back-tracks well to tackle Peter Hynes...
17 Australia are controlling the pace of the game right now, they're getting more quick ball and making much more of it than England...
15 Danny Cipriani has the chance to pull the deficit back to three points but hooks his penalty right of the right-hand post...
10 England fluff an Australian line-out they looked to have won deep in oppostition territory and Giteau breaks. However, his pass to Stirling Mortlock around the half-way line fails to find its target...
6 England captain Steve Borthwick makes another unforced error and, this time from closer range, Giteau makes it 6-0...a score completely down to indiscipline from the home side...
2 Tom Rees concedes a penalty for going off his feet when tackling George Smith and Giteau finds the target from distance...
1 min A switch kick from Matt Giteau gets us underway...
Andrew Sheridan, the star of England's World Cup quarter-final win, is one of four players that started in Marseille to make Johnson's XV today, along with Phil Vickery, Nick Easter and Paul Sackey...
As you'd expect it's a full house - a crowd of over 80,000 - this afternoon at the home of English rugby...
England won comfortably against the Pacific Islanders last weekend but manager Martin Johnson says he wants to see much more intensity from his side this afternoon...
Australia have won only once on their last five visits to Twickenham and, lest we not forget, also lost last October's World Cup quarter-final. They beat Italy 30-20 last weekend but coach Robbie Deans has named a much more experienced line-up this afternoon. That experience will this afternoon be up against, arguably, England's greater match fitness.
England: Armitage, Sackey, Noon, Flutey, Monye, Cipriani, Care, Sheridan, Mears, Vickery, Borthwick, Palmer, Croft, Rees, Easter.
Replacements: Hartley, Stevens, Shaw, Haskell, Lipman, Ellis, Flood.
Australia: Ashley-Cooper, Hynes, Cross, Mortlock, Mitchell, Giteau, Burgess, Robinson, Moore, Baxter, Chisholm, Sharpe, McMeniman, Smith, Brown.
Replacements: Polota-Nau, Dunning, Mumm, Palu, Cordingley, Cooper, Ioane.
Referee: M Jonker (South Africa)
Live minute-by-minute updates from Twickenham start at 2.30pm (GMT).
Sky Bet Odds:
Click Here for Your Free Bet
Features

Rupert Cox shares his highlights from the week's rugby action in his round-up blog.

The biggest and toughest hits and tackles plus the best tries from the world of rugby union.

Rupert Cox shares his highlights from the week's rugby action in his round-up blog.

Read the thoughts and opinions of Phil Edwards with skysports.com