Home team

Ireland

O'Leary, Earls (2),
Penalty goals: Sexton (3),
Drop goals: Sexton,

27 - 12

Wales


Penalty goals: Jones (4),

RBS Six Nations
13th Mar 2010
KO 14:30
Ground: Aviva Stadium, Dublin
Att: 81,340
Ireland v Wales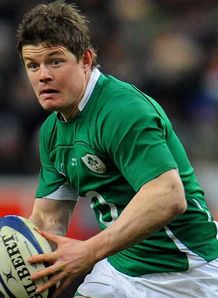 80 reland content to wind down the clock with a rolling maul. But Wales manage to snag it back and they launch a last-gasp attack, looking for pride. The clock has run its course and Hook's pass to no one bounces into touch. That sums up Wales's day. Clinical win for the Irish - the Triple Crown and possibly the title are still within their grasp. Thanks for joining us. Now it's over to our man in Edinburgh. Enjoy.
76 Here come Ireland now, working their way into Welsh territory. Sexton drops back into the pocket - he's not going to, is he? He is! And it's good! That's confidence!
75 Another shocking line-out for Wales - that's what has killed them.
73 Wales win a penalty from the scrum and Stephen Jones punts to the corner. This is their moment. This must be their moment. A good take and a maul rumbles towards the Irish line. Disaster! Penalty to Ireland and Delve gets himself isolated. Sexton clears his line.
71 Penalty to Wales as Ireland stray offside once again. He warns O'Driscoll he'll sin-bin the next offender. Wales plant a line-out on the green 22 and use their big men to attack down the middle. Now it goes wide, but a pass from Shane Williams to Hook floats forward.
68 More endeavour from Wales but not many metres gained.
65 Here come Wales again, feeding off a failed crossfield kick from Sexton to Earls. But it's all a bit lateral and the ball bobbles into touch.
63 Wales on the attack and Ireland infringe in defence. Stephen Jones opts to go for goal, and he keeps his side in touch with a nice nudge.
60 Here come Ireland, working around the tail of a line-out. O'Leary with a fab line! He's through! He feeds Earls who duly collects his second of the day! TRY! Sexton misses out on the extras once again - that one isn't even close. How long before we see O'Gara?
56 Ireland launch an attack of their own, working the forwards through the thick of it. Now Sexton looks to Bowe with a crossfield kick, but it's too long. But good thinking - Ireland have spotted that Byrne has developed a limp.
54 Wales now have a chance as Stephen Jones plants a line-out in the green 22. Again they look to Roberts. He's brought down by Wallace - but Wales win a penalty as Wallace is deemed to have not released the centre before attempting to rip the ball off him. Let's just say referee Craig Joubert is from south of the equator. Stephen Jones pockets the easy points.
51 Big call here. A long kick downfield is taken dead by Byrne and he then throws the ball away, conceding a penalty. He's not happy with that, especially as Sexton looks to the sticks. He's got it. Ireland extend their lead.
49 Another solid scrum, and another penalty as Ireland buckle. Scrum called once again. Wow! Massive scrum from the Irish! The drive the visitors clear off the ball! Sexton clears and Croke Park erupts!
45 Great scrum from the Welsh! Delve picks up and almost gets across. Wales win a penalty as Ireland kill the ball and opt for another scrum!
44 Wales are back on the attack via Roberts once again. They have worked their way into Ireland's 22 and are looking dangerous. Good defending from Ireland - they hold up the ball and Wales get the put-in at a scrum in the shadow of the green sticks.
42 SECOND-HALF: Ireland restart the game. They will be wary of Wales's love of second-half revivals. Roberts batters his way out of his 22 before Stephen Jones puts some high on the ball. Kearney returns the favour. More kicking follows. Until Murphy marks the ball. A cagey start to the second half from both sides.
40 One last change in this half for Ireland as they form a line-out on the red 10-metre line. But look at this! Wales steal it! Is the start another famous Welsh fightback? Hang about - Ireland snag it back and it's booted downfield. Three Irishmen lead the charge, but the ball beats them to touch. That's the half. Join is in ten for the concluding stanza.
37 Byrne is back on as Wales attempt to work Williams into the game. This is fine attack. Roberts on the charge! He's stopped just inches short! Ireland are off-side and Wales have a penalty for their efforts, and Stephen Jones bags the three points.
35 Wales hanging on here - this is not the first time that they have gone to pieces when down to 14 during this tournament. They lose yet another line-out! It's booted downfield and O'Driscoll is pinged for playing the ball off his feet after catching Hook in possession.
31 Here come Ireland once again, working line-out ball towards the red 22. O'Connell attacks the fringe and feeds O'Leary! The scrum-half is clear! He runs it home unchallenged! TRY! Sexton unable to find the sticks from far out on the left. This time he fades it. This is a worry for the Irish - possibly their only one.
27 Okay, time for Ireland to up the gears. They need to make hay whilst Byrne cools his heels. And here they come - Sexton collecting a bomb. Wales kill the ball. Penalty awarded. It is taken quickly and O'Driscoll feeds Earls into the gap! TRY! It's suddenly gone all wrong for Wales. Sexton's conversion hits the post - that's a shocker, he's bang in front.
25 And riposte from Wales as they come charging back. But Ireland look like they have snaffled it back. Yes, and Byrne is yellow-carded for holding on!
23 Wales lose another line-out! And here comes Bowe on one of his magic lines! Sexton is on his outside - he's been held back. Shirt pulling. That's a penalty. Sexton lines up the shot of goal, but there's bad news for Ireland as D'Arcy hobbles off. Kearney is on as Sexton takes the lead with a sweetly-struck penalty.
21 Here come Wales, moving the ball down the line. Now for the little grubber - it's collected by Murphy at pace and Ireland break! Wales manage to regroup and an attempted up-and-under from Sexton strays into touch.
19 Poor fielding from the restart by Ireland but they manage to recover the ball and O'Leary kicks to touch.
18 Ireland can answer back here - they have a line-out 15 yards inside Wales's half. They spin it wide, and Sexton makes a half-break down the middle. Thomas is all over the ball on the deck - penalty. Pretty cynical stuff as Ireland would have made good use of quick ball. Sexton calls for his tee. This is an easy shot than his first and he duly brings his side level.
15 Wales are slowing taking control of this game, and a dropped pass saves Ireland from some real danger out wide.
13 Another steal for Ireland's jumpers! But Wales snag it back. Now the man of the moment, O'Driscoll, is pinged for going off his feet at the tackle. Stephen Jones fancies this - an angled kick from the 10-metre line. It's wide.
9 Penalty to Wales as Ireland come in at the side of a ruck just inside the red half. Byrne plants a line-out on the green 22. This time they win it and spread the ball wide and left. Penalty now as Sexton fails to roll away from the tackle. It's bread and butter for Stephen Jones and he duly opens the scoring. Wales have taken the lead in Dublin.
6 Ireland gather the drop-out and run the ball back via the hands. But Wales snatch up a loose pass and clear downfield. Earls runs it back - they are full of running - but is caught by the men in red who win a scrum in midfield as the maul collapses. Now the scrum collapses as first ones always do. Good shove from Wales and Jones punts to the corner and dead.
3 He's pulled it! Not a good kick at all.
2 Ireland steal the first line-out of the game! And now they break out of their 22 via Wallace.Martyn Williams is pinged at the breakdown and Sexton calls for his tee. He's central but about 45 yards out. No wind here today.
1 And we're off! The game is underway in Dublin, with Stephen Jones hoisting a high, hanging kick down the middle. Murphy takes and Sexton kicks downfield, but only as far as Byrne. Another kick downfield. Murphy marks, but not he misses touch. It's kicked back. Earls takes and is bundled into touch just outside his 22. First blood to Wales.
0 Here comes BOD! The crowd doff a collective cap as he takes to the pitch ahead of his side. Wales remain in a tight huddle off to the left. A wonderful moment.
0 Welcome to Croke Park! We are here in Dublin for Ireland's meeting with Wales. This fixture has garnered Glam Slams in the recent past. Not today. For Wales it's all about pride while Ireland still have a shot at the title and the Triple Crown. It's nice and dry and the stadium is buzzing with excitement, and Ireland will rise as one to salute the great Brian O'Driscoll as he takes to the pitch to win his 100th cap. Can he top that with a win? Let's find out. We're just moments from the action. Well, more than moments - we've just heard that the game will now kick off at 14:40 GMT, ten minutes late. It's seems the fans have taken their time getting from the city's drinking holes to the ground!
Sky Bet Odds:
Click Here for Your Free Bet

Read the thoughts and opinions of Phil Edwards with skysports.com