Home team

Leinster

Hines, Sexton (2),
Penalty goals: Sexton (4),
Conversions: Sexton (3),

33 - 22

Northampton

Dowson, Foden, Hartley,
Penalty goals: Myler,
Conversions: Myler (2),

European Rugby Champions Cup
Final
21st May 2011
KO 17:00
Ground: Millennium Stadium, Cardiff
Att: 72,456
O'Driscoll - Sexton inspired us
Ireland star reveals fly-half's contribution both off the pitch and on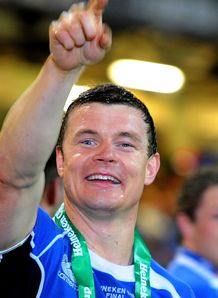 There were some inspirational words from Jonathan at half-time which picked us up, he was a man possessed. He said this game would be remembered if we came back and we will remember this for a long time.
Brian O'Driscoll
Quotes of the week
Related links
Teams
Also see
Leinster centre Brian O'Driscoll said that "inspirational" words from Jonathan Sexton helped them come from behind in stunning fashion in the Heineken Cup final against Northampton.
Having been 22-6 down at half-time in Cardiff, the Irish side proceeded to turn the match on its head as Sexton ran in two tries as they raced into the lead before the hour was up.
Nathan Hines then added another, with Sexton eventually scoring 28 points in what was a man of the match performance - both off the pitch and on according to O'Driscoll.
He told Sky Sports 1: "We had some choice words at half-time. We knew if we could hold on to the ball we had them in trouble.
"There were some inspirational words from Jonathan at half-time which picked us up, he was a man possessed. He said this game would be remembered if we came back and we will remember this for a long time.
"We knew we had that (second-half display) in us. We played against a tough opposition but we knew if we held on to the ball we knew we could create chances."
Even so, O'Driscoll was at a loss to explain how his men had been so poor during the first half, during which Northampton scored three tries as their opponents made handling errors and wilted in the scrum.
"We coughed up so much ball, but that was the difference. In the second half we held on to it and the passes stuck as well," he said.
Matchwinner Sexton, who fell just two points short of Diego Dominguez's record for a Heineken final, refused to take too much credit for his half-time team talk, but said: "We were shellshocked and we needed half-time. We regrouped.
"I'm a bit of a nerd when it comes to sport and I said that we see in sport that teams can come back like Liverpool [in the 2005 Champions League final] a few years ago. Stuff like this happens. We had to believe and we took our chances."
Leinster boss Joe Schmidt hailed his side's turnaround and credited scrum coach Greg Feek, the former New Zealand prop, with masterminding the set-piece transformation in the second period.
"The realisation at half-time was that we had worked for nine months and we had given it away," said Schmidt.
"Northampton are a very good team and they took every bit of advantage. We felt we hadn't really played, hadn't really looked after the ball.
"The comeback was down to a lot of resolve from the players who showed a heck of a lot of character.
"We talked about belief before the game, we talked about believing in ourselves and each other. I reiterated I still believed we could do it.
"And Jonny (Sexton) was quick to reiterate that. There was a big following of that.
"Feek got the forwards together and we ironed out the scrum. We locked them down really well in the second half.
"After that it was a case of holding the ball. I spoke about that, Jonny spoke about that.
"I knew we'd have to score first at half-time. Once that happened we sensed the momentum shift. The players did and the crowd did."
Fatigue
Meanwhile, Northampton director of rugby Jim Mallinder said his side's fatigue after their Premiership semi-final loss at Leicester may have been a contributory factor in the loss.
Unlike the Saints, Leinster had been able to withdraw some key players during their more comfortable Magners League semi win over Ulster.
"We were tired, you could tell at half-time," he said.
"It was just a case of telling the lads to dig in for just 40 more minutes but the long season took its toll in the end.
"It was a full on game, it was very fast and credit to all the players involved."
Mallinder withdrew the likes of Soane Tonga'uhia and captain Dylan Hartley as his side trailed in the final quarter, and he said: "It was because they were exhausted.
"They were shot. It would have been nice not to have had a full-on game last week, and Leinster managed to take their five best players off in their game. We could not do that against Leicester.
"But we will come back stronger. We have always improved and we have said, in the huddle at the end, let's see if we can win it next time."
Northampton's Ben Foden said the feeling of dejection on the final whistle was "150% the worst I have felt after a game".
The England full-back added: "It is a bitter pill to swallow. We play this game to be in moments like this.
"This is the pinnacle of professional rugby at club level, to get to our Champions League final and going in at half time 22-6 up, we had one foot through the door.
"But no final is won in 40 minutes. They blew us away in that 15 minutes after half-time. They were crowned European champions for a reason, they played tremendously well all season.
"For a neutral it would have been a tremendous spectacle to watch, a hell of a final, but when you are on the wrong end of the result it always stings no matter how you have lost.
"We are a young team and these moments bring us together."
Sky Bet Odds:
Click Here for Your Free Bet
Comments (7)
Joe La piazza says...
I have enjoyed many rugby matches over the years but this Heineken Cup Final was totally absorbing, quite magnificent. The praise due to all the players and their coaches cannot be too high. If the show put on by the two teams in next Saturdays Champion's League Final is half as good, then we are in for another treat. Congratulations to both teams.
Posted 22:30 22nd May 2011
Michael O'callaghan says...
Fair play to Leinster as that game looked over at half time.What a turnaround and a well deserved second EHC. Congratulations from a Munster fan :)
Posted 15:12 22nd May 2011
Brian Mulcahy says...
I agree with Jim. The reason Leinster are the best in Europe at the moment is due to their fantastic all round squad and team management. They could afford to rest key players because the quality of replacements are good enough to come in and perform at a high level. Mallindar can bemoan the fatigue factor but it is a cop out. He should improve his squad and use better squad management. If the players are tired its the fault of management dur to lack of adequate back up players. Also I question their mentality. Did he really believe Northampton had one hand on the trophy at HT?? Well Foden certainly believed that! Surely they should have expected a Leinster storm in the second half. Every one else did! I think maybe overconfidence helped lead to their downfall along with the sensational Sexton! Leinster had by far the toughest route to get to the final and are deserving Kings of Europe!
Posted 13:26 22nd May 2011
Mark Fahey says...
Have to say that was probably the best final we will ever see. Huge appreciation need to go to both teams. Saints were on fire in the first half but that 2nd half display from Leinster was something really special. Great advert for our game!!
Posted 09:13 22nd May 2011
Andy Armstrong says...
Perhaps the Saints need a rethink, their strategy of spending all their money on a small group of players leaves them no option but to play them into the ground; following this policy will only lead to more heartache at this time of the year. Their best team simply can't play for 80 minutes because of fatigue. There's no point blaming the salary cap because the Tigers and Sarries manage their resources in a much better way. Saints choose the cop out method, anyone can pay a couple of props the best part of half a million quid a year between them - where's the back up, plan B Jim?
Posted 08:59 22nd May 2011
Mark Lee says...
Northampton are probably the fittest team in Europe - check out their fitness profile -jim and team have done a fabulous job since they took thr reins - bottom line for me saints could not have played better in the first half and Leinster could not have played better in the secind half great teams have more leaders around the pitch than Northampton have at present but watch this space , mark l [npton]
Posted 23:07 21st May 2011
Jim D says...
Come on now Mallinder. Instead of praising an incredible second half performance where you're team was blown away you choose to blame it on fatigue, such a cop out. I completely agree that theres an element of fatigue involved at the end of the season but to belittle the Leinster performance reeked of bitterness to be honest. And lets not forget that Northampton have a reputation of not being able to finish matches in the last 20-25 mins. So maybe Jim should concentrate on getting his team fitter for next season. Congrats to Leinster and unlucky Saints. We'll see you again next year, hopefully.
Posted 20:53 21st May 2011

Read the thoughts and opinions of Phil Edwards with skysports.com