Home team

England

May, Foden, Turner-Hall, Banahan,
Conversions: Goode (3),

26 - 33

Barbarians

Balshaw (2), D'Arcy, Jack, Elsom,
Conversions: Blair (4),

International Match
30th May 2009
KO 16:15
Ground: Twickenham
Att: 35,284
Thanks for the memories
Corry and Lewsey ecstatic after bowing out in victory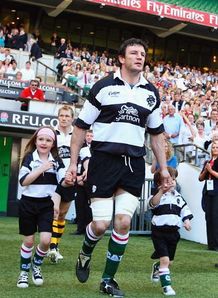 It's been very special, the national anthem, the game...Looking back, everything about the day will put a smile on my face.
Martin Corry
Quotes of the week
Related links
Teams
Players
Also see
Retiring stars Martin Corry and Josh Lewsey admitted they would treasure the memories from the Barbarians' 33-26 triumph on Saturday.
The pair both played their part in setting up tries during their farewell appearances at Twickenham as England were outscored by five tries to four.
Iain Balshaw (13, 46), Chris Jack (22), Rocky Elsom (43) and Gordon D'Arcy (51) ran in the Baa-Baas' tries as the visitors opened up a 33-5 lead.
Despite late tries for England's Jordan Turner-Hall, Tom May and Matt Banahan, the Barbarians emerged resounding winners and 35-year-old Corry was elated.
Momentous
"Everything about it has been great - apart from last 20 minutes," Corry joked on Sky Sports 1. "It's been very special, the national anthem, the game... Looking back, everything about the day will put a smile on my face.
"The kids will remember this one forever as well as me. Having the family and my kids here today, it's been very special.
"It's very rare that you can choose the way you go and the manner you do it."
Lewsey has also decided to hang up his boots in favour of a new challenge - climbing Mount Everest - and was also touched by the occasion at the home of English rugby.
"It was a lot of fun," he said. "Playing with some of the names there and the calibre of some of the players - the rugby we played in the first-half was fantastic.
"It's been fantastic - a great day. The game was played in the true Barbarians spirit."
Criticism
England coach Martin Johnson was not quite so gushing in his assessment of his side's performance, though.
"It's very disappointing the way we conceded the first two tries in the first-half," he said.
"Maybe there was a little bit of rustiness there in some of the guys, I don't know. We came back at the end, but at times our basic skills weren't good enough."
Johnson was evasive when asked if he would be making wholesale changes for next week's clash with Argentina, though.
"We've got to pick a team for next week. You pick the guys and you've got to back them," he added.
"Games like that are different to a Test match. The Barbarians moved the ball a lot. We had opportunities to turn them over but we let them get away with it and gave away two weak tries. It's frustrating. The standard of performance you expect is higher than that and they know that as well.
"Next week will be a different type of performance. The Pumas know how to win a Test match. We need to figure them out and put a plan together that's going to be effective against them."
Sky Bet Odds:
Click Here for Your Free Bet

Read the thoughts and opinions of Phil Edwards with skysports.com