Home team

Australia

Giteau (2),
Penalty goals: Giteau (2),
Conversions: Giteau (2),

20 - 21

England

Ashton, Youngs,
Penalty goals: Wilkinson, Flood (2),
Conversions: Flood,

International Match
19th Jun 2010
KO 11:00
Att: 48,392
Johnson hails 'special' win
England silence critics with Sydney triumph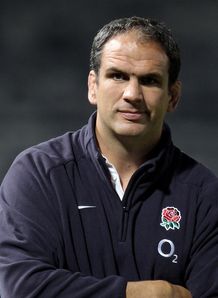 I got asked on Tuesday 'is it about time you dominated a Test match in the southern hemisphere?' It doesn't happen very often but if you win one it is pretty special.
Martin Johnson
Quotes of the week
Related links
Teams
Also see
England's 21-20 win over Australia in Saturday's second Test in Sydney was 'pretty special' according to manager Martin Johnson.
The victory, England's first over a Tri-Nations side since Johnson took charge in 2008 and their first in the southern hemisphere since the 2003 World Cup final, was the perfect way to silence criticism surrounding his leadership.
England's performance was a vast improvement on the one that saw them crash to a 27-17 defeat in Perth last weekend.
And the dynamism of try scorer Ben Youngs and Courtney Lawes, who had both been given their first Test starts, played no small part in the turnaround.
But, fittingly, it was Jonny Wilkinson, who broke Aussie hearts with his injury time drop goal at the same venue seven years ago, who kicked the decisive points at Sydney's Olympic Stadium.
"I got asked on Tuesday 'is it about time you dominated a Test match in the southern hemisphere?' It doesn't happen very often but if you win one it is pretty special," he said.
Consistent
"We always want to win. The pressure from the outside and the negativity around the team when you are not getting results makes it difficult for the people around you.
"I have said all week I don't worry about my record or my job, I worry about this team getting better.
"Today we showed we can play. We knew we could, we just had to go and do it. We have still got to be better and more consistent but we have won the Test match.
"A lot of things we didn't do well last week we improved on. Defensively we were sharper and we took our tries early on.
"We finished our opportunities with Ben and Chris (Ashton). We kept ourselves in the game when we were behind.
"We said at half-time the game would come down to work-rate and we stayed in there. It was a huge effort for the players to front up in the last game of the season.
"There has been a lot of negativity around them at times in terms of their ability. They have been mentally tough to come through that and play well."
Intensity
The result was only England's third Test win on Australian soil and Johnson would like it to become a springboard for next year's World Cup.
"We had a chat to the players in the week about what happens at the end of the tour," he added.
"The less experienced players need to understand they need to get better and the players need to understand where to improve.
"The team improved from last week and plenty of young players will be better for the experience of the tour and the victory and the defeats, and coming here to play very good teams.
"Ben Youngs is a good example. He played very well today. He is very level-headed. Hopefully he will be thinking 'if I work harder I can be better and we can have days like this again'."
Australia captain Rocky Elsom felt his side did not produce the intensity to match England, who upped their tempo and physicality from last week.
"It is Test match rugby. They are a desperate side and they needed a win and we knew that. Our intensity was not where it should have been. We didn't expect them to be so hard on the ball," said Elsom.
Wallabies coach Robbie Deans added: "Our intensity tapered from last week, most evidently in the defensive line. We didn't force England to work hard enough for the points they scored in the first half.
"England will be much happier having got the result. It is significant for all parties."

Read the thoughts and opinions of Phil Edwards with skysports.com