Home team

Newcastle

Fielden, Swinson, Goosen,
Penalty goals: Gopperth (3),
Conversions: Gopperth,

26 - 27

Leicester

Salvi, Slater, Mafi,
Penalty goals: Twelvetrees (4),

Aviva Premiership
17th Sep 2011
KO 15:05
Ground: Kingston Park
Att: 4,214
Tait rues rotten luck
I don't know what we have to do to get a win says Falcons boss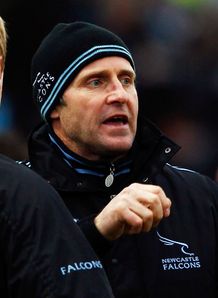 Related links
Teams
Also see
Newcastle director of rugby Alan Tait cursed his side's bad luck following their 27-26 defeat to Leicester on Saturday.
The Falcons remain rooted to the bottom of the Premiership after Steve Mafi's try three minutes from time denied the hosts by a single point.
To make matters worse Newcastle were controversially denied a penalty in the closing seconds at Kingston Park as they pushed hard for the win.
"It's disappointing," said Tait. "You just wonder if it had been the other way around with Leicester chasing and putting on the pressure, and then us getting bodies in the way, would it have been giving away a penalty?
"It's really tough for the boys. We scored three good tries, but to be fair we let Leicester have another soft try and we have to cut out these soft tries otherwise we're going to make it difficult for ourselves every week.
Fantastic
"Effort-wise the boys were fantastic. They're absolutely drained and that's all we can ask of them. If they come off that field and have expressed themselves and given absolutely everything and are out on their feet we can't ask for anything more.
"You have to work for your luck rather than get it and I just don't know what these guys have got to do to get a win.
"It's gone on for a while now and all it would take is that one win, but we just keep getting knocked. You just have to get yourself up and start all over again.
"Maybe at 26-22 we should have tried to shut up shop but you have to remember this team is a new team and they have to learn how to win and it's tough.
"Sometimes it is about brains, not brawn, and we had a 10-minute period when we should have kicked it long and we didn't and Leicester came back at us and went up the field and scored.
Delighted
"If we'd stuck it in the corner Leicester would have struggled to get out of their own half, but that's what top-class rugby it all about, thinking under pressure."
Tait's opposite number Richard Cockerill appeared to agree that his team had been the more fortunate towards the end of the game.
"It's the same as it has been for the last two weeks," said Cockerill. "We've played well enough in parts to win the game and then played poorly enough in other parts to give it away.
"It's been the story of the last three weeks. We could have lost the game today pretty easily, but we could have won the game last week or the week before just as easily so you just have to keep working hard.
"We had to overcome the disruption of two props going off and George Skivington being injured and that didn't help.
"We went behind but we kept plugging away and in the end we did enough to score the points and get the win and I'm delighted with that.
Disappointing
"It's a relief to get that first win and the lads have worked hard to get that first win and to get that is crucial for us.
"We kept playing and made some mistakes, but we were in it right to the death and if you do that you hope your luck will change and it did today.
"Newcastle could have won it and I feel for them but we have had some tight calls against us in the past. This week it went with us and that's the game.
"There is some relief in the dressing room and if we'd lost today it would have been hugely disappointing. We have been away for two games and six points from three games isn't great but it's okay.
"We have Saracens, Bath and then Quins who are on fire, so we have three very tough games and we have to makes sure we get as much out of those games as we can."
Sky Bet Odds:
Click Here for Your Free Bet

Read the thoughts and opinions of Phil Edwards with skysports.com